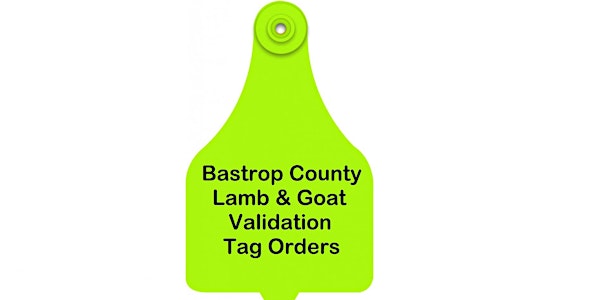 2022-2023 Bastrop County Major Lamb & Goat Validation
Bastrop County major show livestock exhibitor's orders for: Major market Lambs & Goats, Breeding Sheep & Breeding Goats, Wether Dams & Does
When and where
Location
Bastrop Area Livestock Show Barn 801 American Legion Drive Bastrop, TX 78602
About this event
Bastrop County major show livestock exhibitor's orders for:
State Fair Market Lambs & Goats, Breeding Sheep & Breeding Goats, Wether Dams & Wether Does showing at the State Fair of Texas or Heart of Texas shows in the fall
Order what is necessary, the Extension Office does not order extra. Refunds will not be given.
Ordering DOES NOT enter a participant into any show
Vaccinations/health papers NOT REQUIRED for VALIDATION
Validation Information
For dates and details, visit please contact your County Agent or Ag Teacher.
What to do before validation:
All TLBA Lambs and TGBA Goats MUST have their TLBA/TGBA Tags in the ear BEFORE coming to validation – they must be recorded on the paperwork at that time.  NO EXCEPTIONS.  The Validation Committee is not allowed to administer these tags and is not allowed to record the tag number if it is not in the ear before validation under any circumstances. 
TLBA tags required for the San Angelo Livestock Show
Goats have the option of being registered with the ABGA or USBGA with the appropriate tattoos
San Antonio will only accept ABGA registration papers for goats, NOT USBGA
Breeding Lambs/Goats and Wether Dams/Does may only be registered to one exhibitor
Breeding Lamb/Goat Exhibitors need to check to see if the tattoos listed on their registration papers are on the Lamb/Goat in the location listed and are legible BEFORE coming to validation.  If they need to be tattooed, please make arrangements with your AST/CEA ahead of time.
Decide if your registered Ewe/Doe will be shown as a breeding animal or as a wether dam/doe – they may be validated as one or the other, not both. 
Check Breeding Lamb/Goat Registration papers: Registration papers for breeding lambs/goats must only have 1 exhibitor listed as the owner and the ownership date must be dated October 1st of this year or before (note that this is the beginning of this month and is earlier than the others)
What to bring to Validation: 
Your lambs/goats
Breeding Lamb/Goat exhibitors will need to bring an ORIGINAL COLOR copy of their registration papers to be scanned on site – the Validation Committee must keep this copy and send it in with your paperwork (these may be sent ahead of time to MLMickelson@ag.tamu.edu or mailed to the Bastrop County Extension Office)
Family email address
Family mailing address
Physical address where your animal is being kept
Validation Process:
For breeding animals, the committee will verify that your lamb/goat has the tattoos & breeder tags listed on your registration papers and check for exhibitor ownership and date
The committee will pull a hair sample and tag ALL lambs/goats with a state validation tag
The committee will tattoo market animals, all wether dams, and unregistered wether does with the county tattoo number.  (Registered wether does will use their flock tattoo number – we will use TGBA tags to determine this)
The committee will nose print all lambs
Exhibitors, Parent/Guardian, and AST/CEA will complete sign the following documents:

Carbon copy validation form
Ethics Policy
Hair Card
At validation the following must be present:
1. Animal being validated2. Registration papers for Breeding Animals (may be emailed to MLMickelson@ag.tamu.edu ahead of time)3. Parent/guardian - must be present to sign paperwork.
Parents may sign for exhibitor if child cannot attend
Parents unable to attend must sign waiver & paperwork before validation
Ag Teachers CANNOT sign on behalf of parent