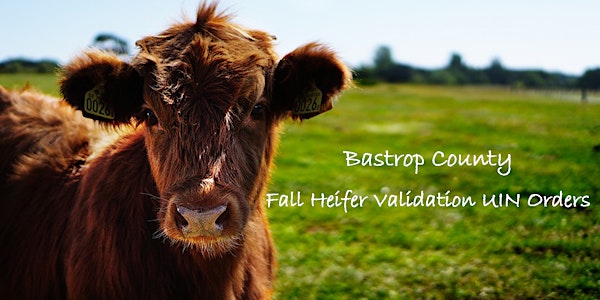 2022-2023 Bastrop County Fall Heifer Validation
Bastrop County major show livestock exhibitor's orders for: Breeding Heifer validation for 2022-2023 major shows
When and where
Location
Bastrop Area Livestock Show Barn 801 American Legion Drive Bastrop, TX 78602
About this event
Bastrop County major show livestock exhibitor's orders for:
Breeding Heifer validation for the major shows
Only heifers that have not already been validated for major shows, that have changed ownership, or that have changed breed will be required to validate. Once validated, the heifer is eligible until the end of her show career and DOES NOT need to attend major show validation again UNLESS she changes breed or ownership
Order what is necessary, the Extension Office does not order extra. Refunds will not be given.
Ordering DOES NOT enter a participant into any show.
Validation Information
For dates and details, visit please contact your County Agent or Ag Teacher.
Prior to attending validation
1.  Obtain ORIGINAL registration papers showing:
Exhibitor as sole owner
Ownership date by November 1st of this year
2. VERIFY identification tattoo/brand on registration paper MATCHES what is physically on heifer. If do not match, options are:
Change registration papers to match what is physically on heifer
Change heifer (re-brand and/or re-tattoo) to match what is on registration papers
Do not validate heifer
This refers to identification brands, not ranch holding brands
3. If tattooed, CLEAN heifer's ears and verify IDENTIFICATION TATTOOS are legible. If not, have heifer re-tattooed. EXCEPTION, do not clean ears if heifer was tattooed within last 7 days.
4. SUBMIT a color copy (scanned or paper) to County Extension Office (Do NOT submit a photograph of registration papers) 
5. Vaccinations/health papers NOT REQUIRED for VALIDATION
At validation the following must be present:
1. Animal being validated
2. Registration papers for Breeding Animals (may be emailed to MLMickelson@ag.tamu.edu ahead of time)
3. Parent/guardian - must be present to sign paperwork.
Parents may sign for exhibitor if child cannot attend
Parents unable to attend must sign waiver & paperwork before validation
Ag Teachers CANNOT sign on behalf of parent