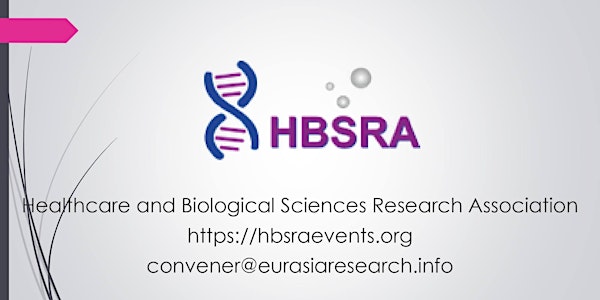 2022 – 13th International Conference on (ICPP), 18-19 November, Singapore
Location
The National University of Singapore Society (NUSS) The Graduate Club, Suntec City Guild House, 3 Temasek Boulevard (Tower 5), #02- 401/402 Suntec City Mall, Singapore
The National University of Singapore Society (NUSS)
Singapore, 402
Singapore
2022 – 13th International Conference on Psychology & Psychiatry (ICPP), 18-19 November, Singapore
About this event
Conference Name: 2022 – 13th International Conference on Psychology & Psychiatry (ICPP), 18-19 November, Singapore
Registrations for Online LIVE Conference on Zoom Meeting Also Open
Conference Dates: 18-19 November, 2022
Conference Venue: The National University of Singapore Society (NUSS) The Graduate Club, Suntec City Guild House, 3 Temasek Boulevard (Tower 5), #02- 401/402 Suntec City Mall, Singapore
Contact E-Mail ID: convener@eurasiaresearch.info
Conference Application Form: https://hbsraevents.org/online-application?association=hbsra&postname=16027
Organizing Scholarly Association: Healthcare & Biological Sciences Research Association (HBSRA)
Conference Language: English
Conference Themes: Healthcare, Life-Sciences & Nursing
(Vernacular Session, e.g., European Languages, Arabic, Bahasa, Thai, Chinese, Turkish, Japanese, Russian, will be organized for a minimum of 5 or more participants of a particular language)
(Only English language, full-length, original papers will be considered for publication in conference journals)
HBSRA is a scholarly association, which provides a platform for researchers, practitioners, students, and educationists to be a part of one of the largest networks for sharing ideas and research.
President: Dr. Cecilia O. Martinez, Dean, College of Nursing, University of Manila, Manila, Philippines
Vice President: Dr. Saliha Bozdogan Yesilot, Faculty of Health Sciences Nursing Department, Cukurova University, Adana, Turkey
Vice President: Svetlana S. Muradyan, Lecturer & Chair of Special Pedagogy and Psychology of ASPU (after Kh. Abovyan), Armenia
Vice President: Yoshiko Yamaguchi, Research Associate of Home Care Nursing, Faculty of Nursing, Kwassui Women's University, Nagasaki, Japan
Also, you may participate in the conferences organized by the association. Please find a list of our upcoming conferences: https://hbsraevents.org/hbsra
Who should attend:
Researchers, Practitioners, Students, and Educationists
Benefits of Participation:
Networking, Publication, Certification, Collaboration, Branding
The association also provides scholarships to needy and scholarly students
Institutional Membership:
The members of the association may also apply for the Institutional Membership.
Please write to email ID convener@eurasiaresearch.info to apply for Institutional Membership.
Themes:
The papers and abstracts can be submitted/uploaded as per the theme of the association. Please find the below themes covered under the association
HBSRA:
Publication:
The paper presented in the conferences is considered for publication in our collaborated journal 'LIFE: International Journal of Health and Life-Sciences'.
Please find the link for the journal: https://grdspublishing.org/index.php/life