Description
FAQs
There's an amazing woman in the world today. . .
and that woman is YOU!
This woman is . . .
✅Creating more impact than she believes!
✅More capable than she feels!
✅Has a unique voice and insight worth sharing!
✅Ready to expand her comfort zone!
✅Craving more connection !
✅Ready to rediscover and nurture the awesomeness that is already inside!
✅Looking for ways to empower her mindset!
✅Willing to invest in herself and embark upon a day filled with transformation, motivation and inspiration!
No one can take your place in this world!
You were meant to:
Be Brave. . .
Be Bold . . .
Be YOU!
You don't have to be "THE BEST" at anything,
Just be "YOUR" best! That's who others need!
Join us on a vibrant and interactive journey of becoming the best version of yourself!
✅Invest in yourself!
Reserve your spot by midnight on February 14, 2020, and receive:
3 FREE GIFTS valued at over $50! Gifts include a free book, upgraded swag bag and more!
See Early Bird Ticket description for details.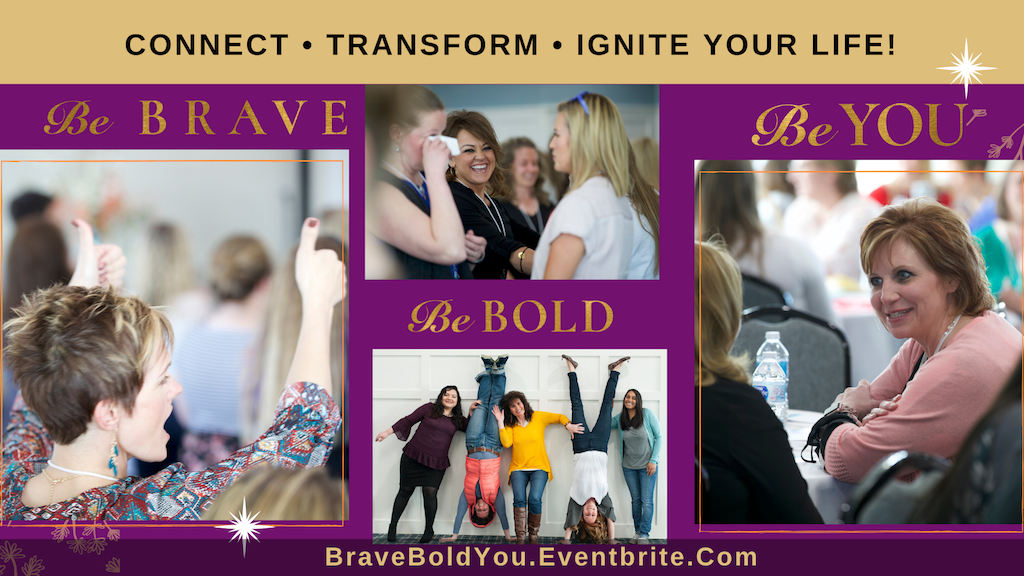 OUR CAUSES

The Ignite team is committed to bringing high quality events that are not only enjoyable and interactive, but also transformational for all who attend. We also believe in giving back to our community and causes we have seen empower those they serve.
A portion of proceeds will be donated to:
•Haven Women's Shelter: "The Haven provides emergency shelter, short term transitional housing and supportive services to homeless families and single women. We work with people to develop a plan that will lead them to self-sufficiency. If our clients use the tools that are available at the shelter, they can make a better life for themselves." https://www.eicap.org/our-programs/family-services/haven
•JRM Foundation for Humanity: "Our main focus is to help support projects on Regional, National, and Global levels that address issues regarding Women and Children's health and education. We also fight the evils of Child Labor and Bonded Slavery around the world." -JRMFoundation.Org
Remember to follow this organizer for future events!
⭐️WHAT DO PREVIOUS ATTENDEES HAVE TO SAY?
Whether you attended the previous two events with the themes: Breaking Down Walls and Building Connection (Women's Event) or Ignite Your Champion (Men and Women attended), you know that these are top notch! And if this is your first year attending, welcome to the party!!
TESTIMONIALS:
⭐️
"Ignite was a first class event from the moment you walked through the doors until the second you departed. Charity Haderlie knows how to ignite your soul so that you can be the champion in all aspects of life. I have over 3,000 hours of speaking experience behind me, and this event is one of the best I've ever spoken at. I was honored to present and left feeling as if I received more than I offered. Hugs to all the people who loved themselves enough to attend and to Charity for her willingness to create a space to ignite your inner champion." -Sherry Winn, 2x Olympian, Keynote, Author
⭐️
"I love that this caliber of event has come to East Idaho. It helped me to give myself more credit and to be kinder to myself. It has really helped my mindset. I have done a lot of different trainings, mentored with a lot of mentors, been to a lot of different seminars that have talked about mindset. I am, in fact, am an emotion coach and I teach mindset and I have gained a lot of additional information that was so valuable. It has been phenomenal. The caliber of speakers have really impressed me and blown me away. I hope you'll have the chance to attend this even next year or any event that Charity puts on!" -Shelly Shumway
⭐️
"This event was AMAZING!! It had something for everyone! I was on an emotional rollercoaster, a journey that left me feeling empowered and motivated to change. The speakers were from all walks of life and were raw with emotion! I seriously can not wait until the next one!!" - Jessica Hunter
⭐️
"It has been so wonderful to connect with like-minded individuals who are on a path to move forward on their journey. No matter where you're at in your journey, these events take you to the next level. I've been so inspired and so motivated to take even further steps to set new goals and reach new standards in my life. I'm really grateful for Charity and all who put on this event and am super excited for the next one!" - Cynthia Clark
⭐️
⭐️
"It was one of the best events I've ever been to. I've been to so many across the country and am an executive producer of an event myself and it totally has outdone what I have done with events. What Charity puts on and the speakers she brings are amazing at helping you take the next steps and get to the next level, whether in work or personal relationships. I highly recommend you put her next event on your calendar! Make sure you attend! Charity knows how to put on a fantastic event that is not just good feeling, but it will change your life!" -Dr. Drew Brazier Psychologist, Founder of MindCurrent
⭐️
"I absolutely loved Charity's event! So inspirational and a complete game changer for me. Exactly what I needed and when I needed it! I was inspired with the genuine love for all and her amazing "super power" to exemplify connection with others. I walked in with 'filters' on, but left with them totally removed and empowered to embrace my beautiful journey, and amazing connection along the way! For showing me how to do all that, I sincerely thank you!" -Brenda Bohman
⭐️
"This was an amazing event! Helped me identify and let go of some deep thoughts and beliefs about myself, so that I can move forward and progress faster in relationships and business." -Jessi Coletti
⭐️
"I did not think I was going to leave feeling this empowered and this grateful for this new self discovery of who Aubrey is." -Aubrey Holt
⭐️
"Amazing event! Charity always puts on an incredible event. It's all about mindset, it's about changing paradigm, it's about changing perspective and if you haven't been to one of her events, you need to make sure you're there next time! This was such a good event with amazing speakers! We had a chance to really deep dive and learn about how we can change our lives. Be sure to join the next one!" -Ryan Harris
⭐️
"Truly inspirational! Charity has a talent for connecting and engaging her listeners in a unique and satisfying way!" -Melinda Hortin
⭐️
"I would definitely go again, no question about it! Remembering to take our 'lenses' off, making deeper connection in relationships, creating new friendships and having such an inspirational and uplifting energy all around you! With music, gifts, snacks-it was the total package!! I look forward to the next one!" -Melissa Crandall
⭐️
"[Ignite] inspired my girlfriend and I to better get to know ourselves, change our lives and ultimately change the world we live in! The speakers were incredible, down to earth and inspiring; the setup was professional, the exercises and information shared with the audience was life changing" -Adam Barone, attended Ignite Your Champion
MEET OUR TEAM: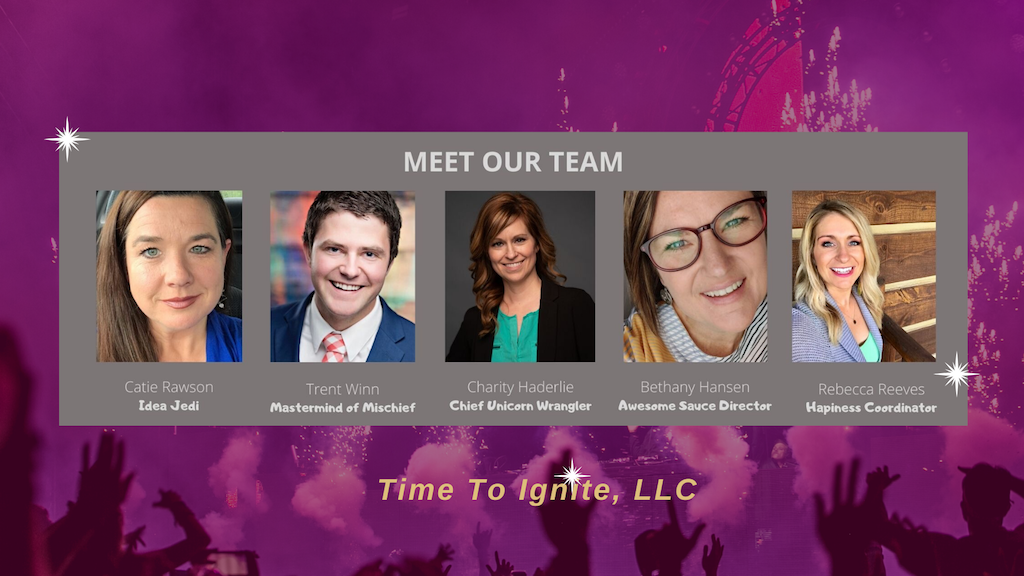 What is the DEC and where do I park?
The DEC -Downtown Event Center, is a beautiful NEW event center located in the heart of downtown Idaho Falls. A modern & elegant interior which showcases its history. A beautiful place for us to come together for a women's event where we will learn together, laugh together and lift each other to greater heights!
PARKING: Plenty of FREE on street parking on the weekend or bring your parking lot ticket into the event for validation.