The 2021 Winterfest Boat Parade is sponsored by Eta Nu Chapter of Omega Psi Phi Fraternity, Inc. & CORE Foundation.
About this event
The Eta Nu Chapter of Omega Psi Phi Fraternity, Inc. & Community Organization for Resource Equity (CORE) Foundation invite you to "Enjoy the Ride". Sail with us along the Fort Lauderdale intercoastal waterway during the 2021 Winterfest Boat Parade's 50th Anniversary Celebration aboard the Grand Princess Yacht.
Yacht tickets are $150 per person which includes dinner, drinks, music, and a wonderful time.
Enhance your holiday by entering the car raffle. You'll have an amazing opportunity to win an Audi A3!
DON'T DELAY - PURCHASE YOUR TICKETS TODAY
Boat Parade Tickets - $150 per person
Raffle Tickets - $20 suggested donation per ticket
Christmas Party (December 10th) - $30 in advance/ $35 at the door
Sponsorships and vendor opportunities available - Call 954-445-1515
YOUR ONE-STOP WINTERFEST WEEKEND GET-AWAY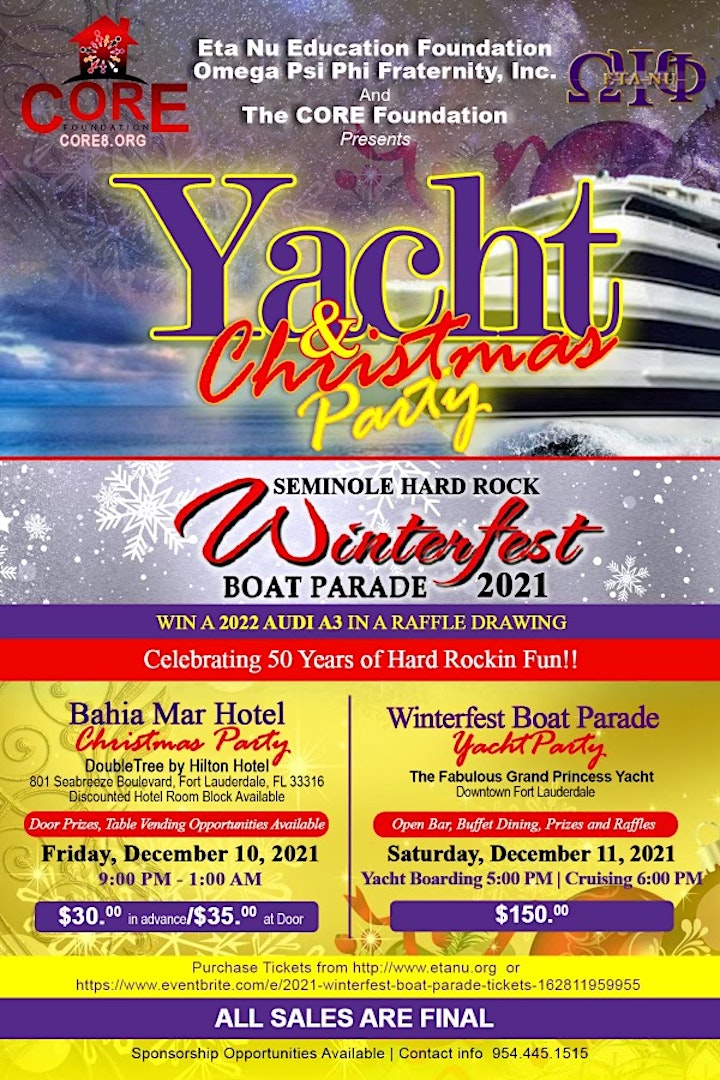 Organizer of 2021 Winterfest Boat Parade
What is the ETA NU Education Foundation?
SUPPORTING COMMUNITY GROWTH THROUGH UPLIFT AND SCHOLARHIP
The ETA NU Education Foundation (ENEF) is committed to partnering and working with the residents and businesses in our community. Our goal is to collectively provide educational opportunities for our community's most important natural resource "Our Kids"
The ETA NU Chapter of Omega Psi Phi Fraternity was established on June 11, 1969 in Pompano Beach, Florida and in 1999 the "ETA NU Education Foundation" (ENEF), a 501(c)(3) organization was formed. The foundation was created to better serve the community by working with individuals and corporations to expand the reach of the organizations goals of scholarship and community uplift. During our four plus decades of existence, the ETA NU chapter has embedded itself as a priceless jewel in the Broward County community and infused it with the spirit of the fraternity's four cardinal principles: Manhood, Scholarship, Perseverance and Uplift.