The event of the year for transportation related organizations and public policy makers.
About this event
The Washington Highway Users Federation is holding the WHUF Interim Briefing Washington State Transportation Event of the Year! This event provides a space to connect with stakeholders, state legislators, WSDOT, the Governor's Office and others who are involved in the transportation space throughout the state.
As the state continues to work through a variety of transportation challenges, the WHUF Interim Briefing provides a unique space for policy makers, stakeholders, advocates and others to network, collaborate and engage on relevant transportation issues. Below is a sneak peek of the topics that will be covered at the Interim Briefing this year:
State Transportation Update
WSDOT Secretary Roger Millar and Megan Cotton, Tribal & Federal Relations Director (WDSOT), will provide an update on the state's transportation system and the impact to the state from the potential passage of a Federal Infrastructure Package.
Planes, Trains & Ferries, Oh My!
A panel of representatives from various state offices will dive into the non-traditional forms of transportation and how these aspects of the transportation system expand how people, goods and services move throughout the state.
Transportation Leadership Panel
Several House and Senate Transportation leaders from both sides of aisle will share an update on the continual negotiations around a transportation revenue package and other pressing issues that warrant prioritization during the 2022 Legislative Session.
Please Note: The WHUF has reserved the Ballroom space of the Tacoma Convention Center for the Interim Briefing this year, which is a space normally dedicated to events quadruple in size. This is in an effort to ensure all attendees have sufficient space and are able to maintain social distancing. There will be individual tables set up to ensure each attendee has their own seating space and are 6 feet apart from one another.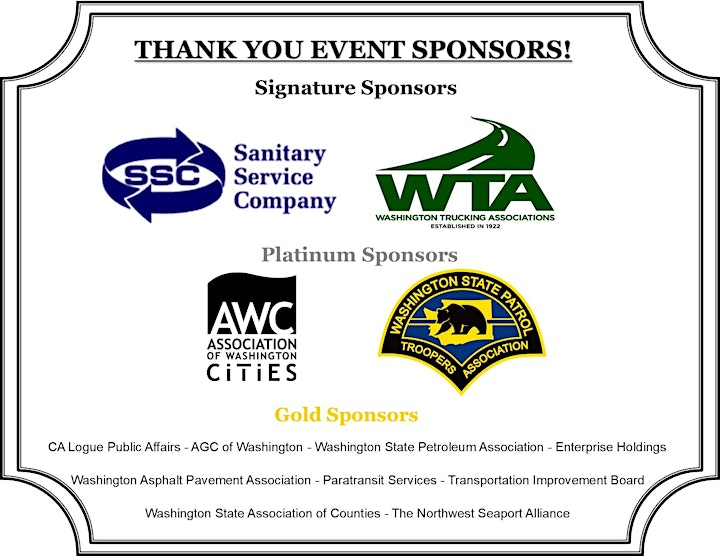 Organizer of 2021 WHUF Interim Briefing