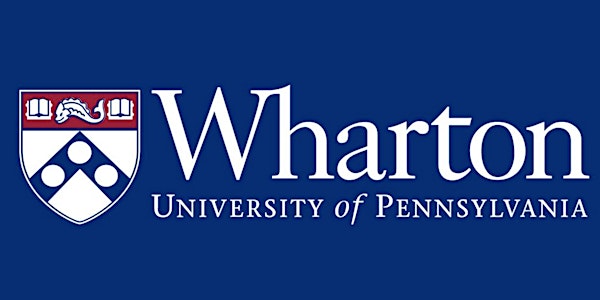 2021 Wharton Undergraduate Consulting Conference & Case Competition
Wharton Undergraduate Consulting Club 2021 Conference: Path to Purpose
About this event
Each year, WUCC hosts a day-long consulting conference for undergraduate students from across North America. Although we are saddened that we won't be able to hold our conference in person, we are excited to carry on this tradition virtually.
This event features panelists from top firms, MBA and consultant coffee chats, recruitment presentations, a career fair, and an optional company-sponsored case competition.
The 2021 Wharton Undergraduate Consulting Conference will be held on Friday, April 16th on Zoom. We are excited to welcome Kausik Rajgopal as our Keynote Speaker. Mr. Rajgopal is a Senior Partner and the Managing Partner of McKinsey & Company's Western US region, co-leading the firm's global financial technology efforts. He also leads the Public Sector Practice on the West Coast with a focus on improving operations and successfully managing transformational change.
With everything online this year, we are offering two types of registration. The first allows participants to compete in the case competition and gives them access to the Zoom links for the other events (such as panels and resume reviews), which we encourage them to share with their schools. The case competition is an opportunity to analyze a business case and present your recommendations to a panel of industry professionals in a 15-minute presentation over Zoom. Each team must contain 3-4 members, and winning teams will be awarded cash prizes ($1000 for first place and $600 for second place) and opportunities to connect one-on-one with company representatives. The "early bird" registration fee is $75 per team and is available until Friday, March 5th at 11:59pm EST. Afterward, the price per team will be raised to $95 and the final registration deadline is Friday, March 26th at 11:59pm EST. This cheaper price is a ~30% discount from previous years to compensate for the virtual setting. The spots are limited and will be allocated on a first come first serve basis. The only exception to this rule is if over two teams from the same school register. If 3+ teams from one school register, we will send a short case to the teams and select the best two. The other team(s) will be refunded for the ticket they purchased.
The second type of registration does not include access to the case competition, but it does grant your school access to all of our other events. This will be available at a flat price of $20 per school.
Please see our FAQ if you have any questions, or feel free to email us! We hope to see you there!
*Please only submit one registration per team.