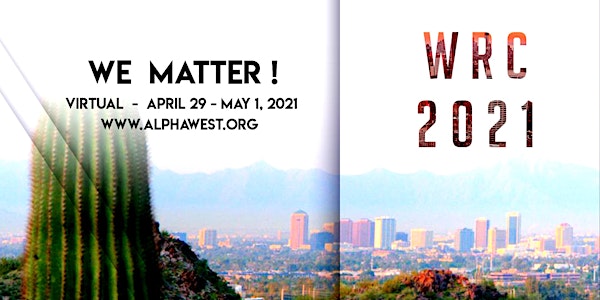 2021 Western Region Convention
2021 Alpha Phi Alpha Fraternity, Incorporated Western Region Convention
When and where
Location
Crowne Plaza Hotels & Resorts Phoenix - Chandler Golf Resort One South San Marcos Place Chandler, AZ 85225
About this event
Brothers of the Western Region,
Your Western Region Leadership Team is pleased to issue this call to the 2021 Western Region Convention of Alpha Phi Alpha Fraternity, Inc. to be held both virtually via ZOOM and in person at the Crowne Plaza Phoenix-Chandler Golf Resort located 1 N. San Marcos Place, Chandler, AZ 85225; April 29th – May 1st, 2021.
This year's theme will be "We Matter ! : Ever Steadfast, Ever Resilient". Although the hybrid model for the convention will make this convention unlike any we have had before, we are confident, the use of technology will make for an enhanced, robust, dynamic and enjoyable experience for all.
While all Collegiate and Alumni chapters are expected to register, at a minimum, their full delegate strength, the virtual opportunity makes this convention an opportunity with high value and a lower barrier to entry. As you will see below, the registration rates make WRC2021 the most affordable Western Region Convention in some time. With registration, onsite participants will enjoy convention programming, (2) lunches and (1) dinner while virtual-only registrants will enjoy access to the convention programming. Chapters should check with their District Director for their target registration numbers.
SPONSOR A COLLEGE BROTHER :
Anyone wishing to sponsor a college brother may do so using the Eventbrite provided here or above.
GENERAL CANCELLATION / REFUND / TRANSFER POLICY :
All cancellations or refunds require a written and signed request from the purchaser TO THE WESTERN REGION FINANCIAL SECRETARY (finsec@alphawest.org) RECEIVED NO LATER THAN April 15th, 2021. A 25% administrative fee will be applied to all cancellations or refunds. Transfers of registration will be entertained until April 15th, 2021 but the original purchaser will be responsible for logging into Eventbrite and updating all attendee info for the new registrant by no later than April 15th, 2021. Any changes or requests for registrant transfers following April 15th will not be honored. A virtual or in-person "no show" will not receive a refund and WRC materials may or may not be mailed subject to availability.
NEOPHYTE REGISTRATION REFUND
Recognizing the IMDP neophyte convention fees differ from this year's hybrid convention fee model, 2019 and 2020 neophytes are eligible for a partial refund of their WRC neophyte registration costs paid at initiation minus their existing WRC 2021 virtual or onsite registration cost. To pursue this refund, neophtyes are directed to complete the following form. The WR Financial secretary will process the appropriate amount. Should neophytes choose not to complete this form before April 15th, their prior convention registration costs will be deemed a donation to the Western Region.
HOTEL :
A nightly rate of $124.00 has been secured for this year's participants whom elect to attend onsite, however, reservations must be made by April 6th, 2021 to take advantage of this rate. Reservations can be made online here.
SITE AMENITIES :
Built in 1912, the year that Arizona became a state, the San Marcos has long been dedicated to the comfort of our guests. Named after Friar Marcos DeNiza, the property and surrounding city are steeped in history (ask us about the mythical "Seven Cities of Cibola"). Our historical presence as a popular retreat and desert playground has developed over the years to become known as the place to meet, the "jewel in the desert" that Dr. AJ Chandler envisioned many years ago.
On-site Fitness Center
18 Hole Golf Course
Outdoor Pool
4 onsite full service dining options
Premium Bedding
Complimentary WiFi in guest rooms and meeting spaces
Complimentary Self-Parking Daily
Conveniently located near 3 different airports (PHX, CHD, AZA)
CONVENTION HIGHLIGHTS :
This year's Western Region Convention will advance from last year's virtual leadership academy to provide all brothers a meaningful experience you will not soon forget! A few highlights include:
Election of our next Western Region Vice President
Election of our next Western Region Assistant Vice President
24 Hour Virtual Fraternal Competitions Hall
Digital Vendors Lobby
Digital Alpha West Legends Lounge
IMDP Training and Certification
College Advisor Training and Certification
and much, much, more…
We look forward to seeing you in in Arizona or online via zoom!!!
Fraternally Yours,
Bro. Dondrell Swanson
Western Region Vice President
Bro. Asanté Day
Western Region Assistant Vice President
Bro. Jonathan D. Madison, Ph.D.
Western Region Executive Director