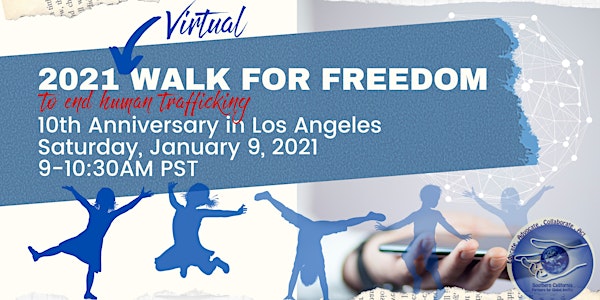 2021 Virtual Walk for Freedom: 10th Anniversary in L.A.
Join us virtually for the 2021 Virtual Walk For Freedom! This is the 10th anniversary walk in L.A.!
About this event
A MOVEMENT TO END HUMAN TRAFFICKING.
This year we will gather together online, raise our voices, and let our fingers do the walking!
Hear from activists and abolitionists
Journey with survivors and community members, students and social workers, law enforcement and religious leaders
Save the date to protest modern day slavery
FOUR STEPS TO FULLY PARTICIPATE:
PRE-REGISTER your participation today
CREATE a zoom background or a sign you can display during our virtual walk (we also have options you can download from facebook)
INVITE your friends
WATCH your email for more information (we will share zoom links closer to the date of the walk)
#LAWALKFORFREEDOM #2021WALKFORFREEDOM #STOPHUMANTRAFFICKING