In celebration of Black Music Month, Café Mocha Radio will celebrate influential honorees both in-front of and behind the music scene!
About this event
To kick off Black Music Month, Café Mocha, the #1 nationally syndicated radio show for 'women of color,' presents the Salute THEM Awards 'soundtrack of our lives' broadcasting Sunday, June 6 at 10:00 P.M ET on BNC.TV from the new National Museum of African American Music (NMAAM) in Nashville. The awards event, sponsored by AARP and Toyota with musical alliances NMAAM, Essence Festival and Living Legends Foundation, will be co-hosted by Café Mocha Gracie Award Winners Loni Love, Yo-Yo and "Ain't Too Proud" Broadway star Saint Aubyn.
The Salute THEM Awards is the second in a unique, "Saluting Our Culture," awards series that recognizes the indelible impact of those who serve as a catalyst for change through their artistry. The awards will be the first-ever to take attendees on a historical journey of Black music curated from the National Museum of African American Music. In 1979, President Jimmy Carter decreed June as "Black Music Month" in recognition of Black Music's remarkable contributions to American culture.
2021 Salute THEM Honorees:
• Sly Stone, musician, songwriter and record producer, Legend Award
• June Ambrose, award-winning creative director, stylist, costume designer, and entrepreneur, Woman of Style Award
• Jamal Josef, celebrity choreographer and author, Champion for Children Award
• Earth, Wind & Fire, 6x Grammy Award-winning male group, Creating the Legacy Award
• Bille Woodruff, award-winning music video and film director, Director's Award
• Dr. Bobby Jones, singer, TV host and "Ambassador of Gospel Music", Spirit Award
• Patrice Rushen, Grammy Award-nominated jazz pianist and producer, Trailblazer Award
• Ludacris, 3x Grammy Award-winning hip hop artist, actor and philanthropist, Game Changer Award
• Darlene Love, legendary songstress, Soul Solidarity Award
This year's tribute performers include 2021 ACM Awards new male artist of the year Jimmie Allen, multi-Stellar Award nominee and GMA Dove Award winner Maranda Curtis; and multi-GRAMMY nominated songwriting and production duo Louis York.
Presented by Toyota North America and AARP, the Salute THEM Awards honors the phenomenal contributions of Black creatives. Through a longstanding collaboration with AARP, Café Mocha is proud to bring together the National Museum of African American Music and Salute THEM Awards, as they "Celebrate Black Joy" in music.
The Salute THEM Awards benefits the Mocha Cares Foundation to support housing and services to combat homelessness and domestic violence through mentorship programs.
The awards will broadcast Sunday, June 6 on BNC.TV at 10PM EST and via www.SaluteTHEMAwards.com across all Café Mocha network's social media platforms @cafemocharadio at 7PM EST. To register for a special gift, visit www.SaluteTHEMAwards.com.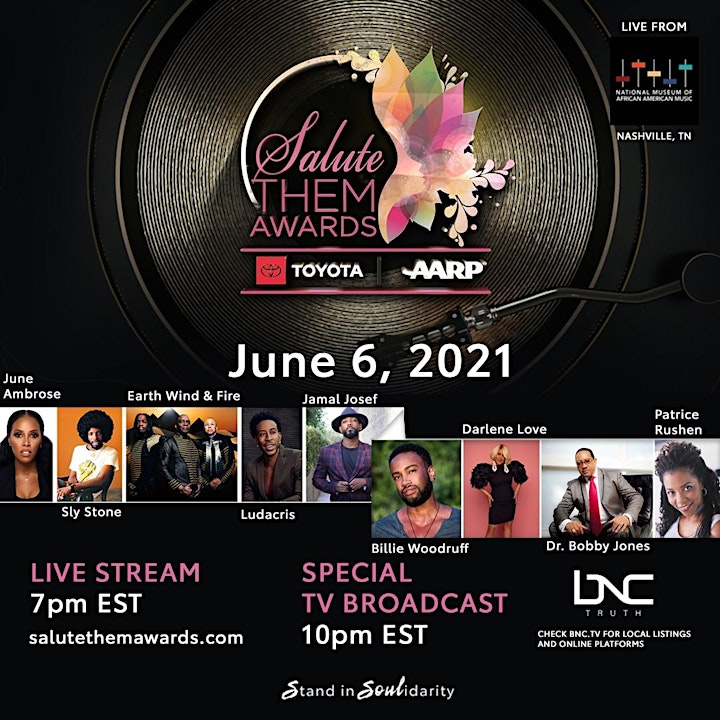 Organizer of 2021 Virtual Salute THEM Awards w/ Sly Stone, Earth, Wind & Fire and more
Two-time Gracie Award winner Café Mocha Radio launched in March 2010. It is known as 'radio from a woman's perspective' and is built on the concept of women helping other women to grow through shared experiences and information. Syndicated by Compass Media Networks in more than 35 markets and on SiriusXM channel 141, the show airs weekends and is hosted by comedienne Loni Love, also Emmy Award-winning host of TV's "The Real"; broadcast veteran Angelique Perrin; and Grammy-nominated female rap icon Yo-Yo. The two-hour girlfriend's guide to radio features the latest in urban music, compelling hot topics, and advice from an unabashedly women's perspective. Café Mocha also includes exclusive interviews with top recording artists, celebrities, politicians, and those making headlines. To learn more about Café Mocha Radio, visit Cafe Mocha Radio. Twitter, Instagram @cafemocharadio; YouTube: Cafemocharadio; and on Facebook www.facebook.com/cafemocharadio.