NATIONAL PAN HELLENIC COUNCIL - NATIONAL LEADERSHIP CONFERENCE
About this event
Overview:
Leadership training is essential for members of the National Pan-Hellenic Council to succeed as representatives, officers and advocates in our communities.  The Biennial National Leadership Conference (NLC) will focused on the needs of collegiate, alumni and Greek life staff through innovative, informative and educational programs. A variety of speakers and presenters have been invited to share information and ideas to take back to your councils.
Who Should Attend:
Collegiate and Alumni members interested in supporting NPHC operations or program initiatives. 
Incoming or potential executive board officers.
Experienced NPHC members who have served as members of an executive board seeking more advanced training.
Greek life staff and advisors that are responsible for supporting and working with undergraduates.
National Leadership Conference Will Provide You:
Leadership skills training to help you succeed as a member, in your council and within the community
An update on NPHC activities, key initiatives and resources
An opportunity to share ideas and best practices with your peers 
Networking opportunities with other NPHC members and national leadership
Refund Policy
All cancellations and requests for refunds MUST be submitted in writing by the deadline listed within this policy. Telephone request WILL NOT be honored. Letters and/or an email to the National Treasurer at treasurer@nphchq.com should be received or postmarked by no later than 30 days prior to the first day of the conference – September 29, 2021 to receive a refund of the registration fee (less the administrative fee of $25.00). No refund will be issued for cancellations received less than 30 days before the first day of the annual conference.
If you have questions, please email nlc2021info@nphchq.com.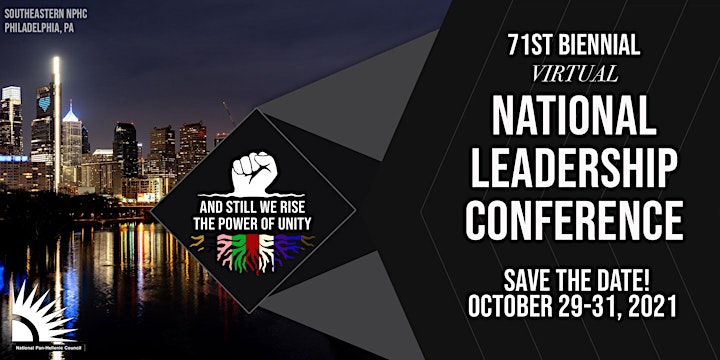 Organizer of 2021 Virtual NPHC National Leadership Conference
The National Pan-Hellenic Council, Incorporated (NPHC) is currently composed of nine (9) International Greek letter Sororities and Fraternities: Alpha Kappa Alpha Sorority, Inc. Alpha Phi Alpha Fraternity, Inc., Delta Sigma Theta Sorority, Inc., Zeta Phi Beta Sorority, Inc., Iota Phi Theta Fraternity, Inc., Kappa Alpha Psi Fraternity, Inc., Sigma Gamma Rho Sorority, Inc. Phi Beta Sigma Fraternity, Inc. and Omega Phi Psi Fraternity, Inc. NPHC promotes interaction through forums, meetings and other mediums for the exchange of information and engages in cooperative programming and initiatives through various activities and functions.

On May 10, 1930, on the campus of Howard University, in Washington DC, the National Pan-Hellenic Council was formed as a permanent organization with the following charter members: Omega Psi Phi and Kappa Alpha Psi Fraternities, and Alpha Kappa Alpha, Delta Sigma Theta and Zeta Phi Beta Sororities. In 1931, Alpha Phi Alpha and Phi Beta Sigma Fraternities joined the Council. Sigma Gamma Rho Sorority joined in 1937 and Iota Phi Theta Fraternity completed the list of member organizations in 1996. The stated purpose and mission of the organization in 1930 was "Unanimity of thought and action as far as possible in the conduct of Greek letter collegiate fraternities and sororities, and to consider problems of mutual interest to its member organizations." Early in 1937, the organization was incorporated under the laws of the State of Illinois and became known as the "National Pan-Hellenic Council, Incorporated."