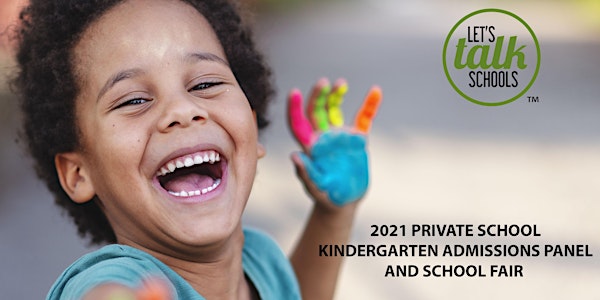 2021 Virtual Independent School Fair & Kindergarten Admissions Panel
Individual school presentations + a panel discussion about applying to kindergarten at independent schools for the 2022/2023 school year.
About this event
Let's Talk Schools presents a school fair and panel discussion on the kindergarten admissions process for private independent schools – a unique opportunity to meet admission decision-makers from top New York schools.
Join us as each school presents its plans for:
- Kindergarten application process for 2022/2023;
- What to look for on virtual tours and what to expect;
- Accessing financial aid;
- What factors affect admission decisions
This is a virtual event but capacity is limited, please register in advance for the panel and school fair sessions you'd like to attend. Be sure to check your confirmation notice for the meeting access information.
                      ----------------------------------------------------------------------------------------------------
Dates: Monday - Tuesday, August 30-31, 2020
Time: 10am - 5pm EDT Daily- individual meeting times for each school and workshop presentations
Location: Online
Free admission!
Registration is required.  We have a limited capacity so be sure to register early to reserve your space.
Meetings Schedule
Monday, August 30
10:00 – 11:15am Welcome & Admissions Panel Discussion
11:30am The Hewitt School
12:00pm The Buckley School
12:30pm The Nightingale-Bamford School
1:00pm The Cathedral School of St. John the Divine
1:30pm The Collegiate School
2:00pm Brooklyn Heights Montessori
2:30pm Speyer School
3:00pm The Calhoun School
3:30pm The Caedmon School
4:00pm The Browning School
4:30pm The Elisabeth Morrow School
Tuesday, August 31
9:00 am St. Hilda's & St. Hugh's
9:30 am The Horace Mann School
10:00am St. Bernard's School
10:30am The Allen-Stevenson School
11:00am The Chapin School
11:30am Avenues: The World School
12:00pm Hannah Senesh Community Day School
12:30pm Columbia Grammar and Prep School
1:00pm The Brearley School
1:30pm Saint David's School
2:00pm The Town School
2:30pm Bank Street school for Children
3:00pm BASIS Independent Brooklyn
3:30pm The Studio School
4:00pm Hunter College Elementary School
FAQs
 Where can I contact the organizer with any questions?
Email info@letstalkschools with questions.