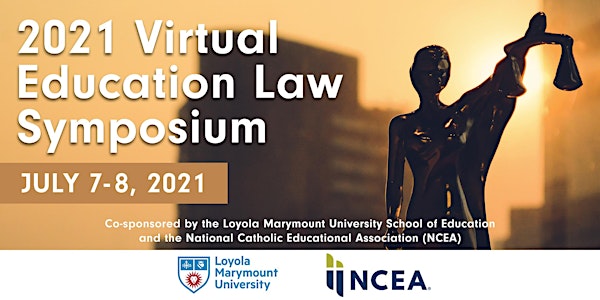 2021 Virtual Education Law Symposium
Online professional development - delivering you the latest legal updates in Catholic education and ministry.
About this event
Join us for a series of online learning sessions with experts on relevant legal issues for Catholic schools. Delivered in collaboration between NCEA and the Loyola Marymount University School of Education, our mix of live and on-demand sessions will include topics such as school law, custody and privacy, faculty and student handbooks, inclusion, personnel, public policy, medicine, technology and social media, and post-pandemic safety.
Paying by invoice is ONLY available to schools utilizing ESSA Title II-A funds through their local educational agency (LEA)/school district or EANS funding through their state educational agency (SEA). If you have questions, please contact marshall@ncea.org.
Free CEUs are included in your registration fee and can be awarded upon completion of this offering, upon your request.
Wednesday, July 7th
10:30 AM ET: Opening Prayer and Welcome
11:00 AM ET: Legal Issues: Schools and the New Normal
12:00 PM ET: Fundraising Success: Solving the Mystery in the Midst of THREE Pandemics
1:30 PM ET: Medical Issues in School-Aged Children in a Post-Pandemic World
2:30 PM ET: Remote, Hybrid, Face-to-Face Teaching: Technology Considerations & Learnings in the New Normal
Thursday, July 8th
10:30 AM ET: Opening Prayer
10:35 AM ET: Ask the Lawyers
On Demand Sessions
Catholic Schools in the United States: The intersect of Canon Law and U.S. Civil Law
Inclusion in Catholic Schools: Observing Legal Protocols in a Welcoming Environment
Parent/Student and Faculty Handbooks
Federal Education Policy and Legislative Update
Child Custody Conundrums
What is Your School Safety Profile?
Legal Issues and Administrators: From the field
The Importance of Increasing Teacher Legal Literacy
Catholic School Principals and the Law: A Panel Discussion of Best Practices on Legal Issues