The 2021 Undefeated Women's Leadership Circle is back! Our Speakers are ready to equip, encourage and enrich the lives of women. Join us!
About this event
Hello & Welcome to the Undefeated Women's Leadership Circle Series!
You are invited to join us!
Don't wait! Register today!
We have gifts for our first 5 registrants! You can be one of them!
We are beyond excitement to host the Women's Undefeated Leadership Circle for the fourth year. If you've joined us in prior years, you know this series is hosted with women in mind. Our goal is to equip, encourage and enrich the lives of women as we have done in prior years and we'll do it again in 2021.
Our dynamic speakers will connect with women sharing and teaching from their life experiences. They will bring insight and inspiration to you!
We are honored to have this dynamic panel of speakers. Like you, they are women who keep getting up, moving forward and lifting themselves up and doing the same for other women. We want you to be apart of this empowering experience.
Remember, there are four sessions with two different dynamic speakers at each of them. Our speakers will leave our guests with inspiration and ideas of what is possible as we look forward, carrying lessons learned from the past, and a larger loving perspective leading to our future.
Remember this, "We Are Undefeated!"
That's right! "Undefeated!
We'll see you in the circle!
Register Today!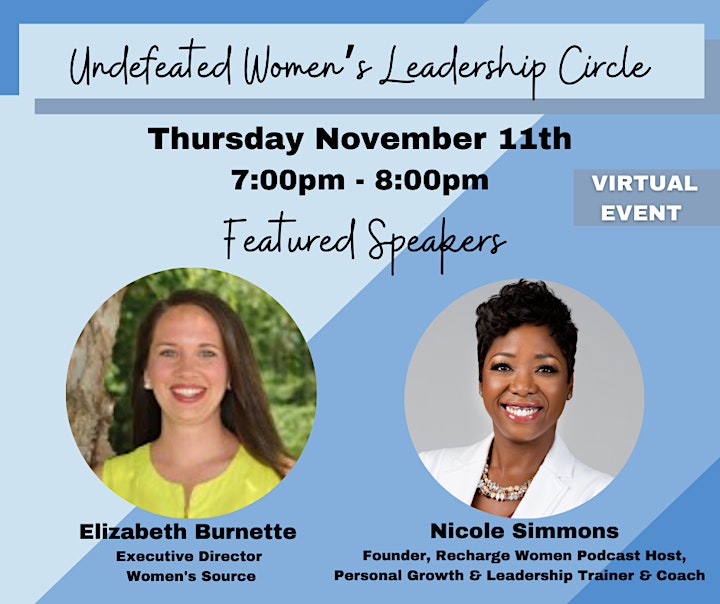 Meet Elizabeth,
Elizabeth is the Executive Director of Women's Source, a wife, mother of three, Pastor of St. Luke and a woman committed to empowering women. She has a busy and a happy life. Yes, busy and happy! Throughout her life, she's been unafraid to make changes in it when she realized it was time and needed. What about you?
Elizabeth has an empowering and inspiring talk for you. Get this, talk about those times when you just want to be heard, she is the best listener 👂of all time! Elizabeth is a wonderful person to call friend and looks forward to connecting with you.
Meet Nicole,
Nicole is a Personal Growth & Leadership Trainer, Coach & Speaker Podcast Host, Founder of Recharge Women's Leadership Network. Nicole has shared, she's the world's best wife to husband Brian, the coolest auntie on the planet according to her brilliant niece and nephews. She's the type of woman who can be found exercising on a DIY project or breaking out in a random dance because she believes you can't take yourself too seriously. Her faith in God is what keeps her grounded and is her compass. Nicole has learned, you can never live up to your fullest potential and purpose until you recognize who you are and what it is. She ask, What about you?
The link for each Session will be provided to you upon your registration! We look forwarding to serving you!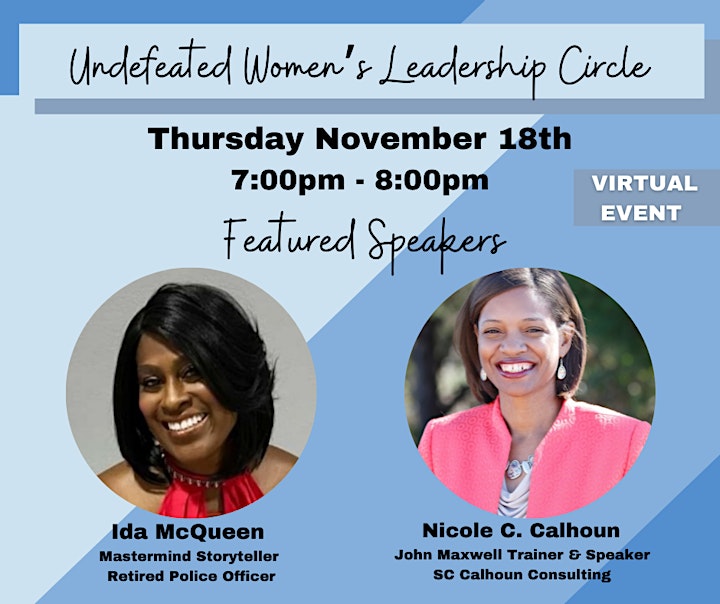 Meet "Retired" Ida,
The title before her name reads, RETIRED.
Ida started her professional career at the age of 22 at the Leon County Sheriff Office. She spent a total of 20 years in various roles beginning as a correctional officer to a warrants deputy. During her time in the position of school resource officer, she taught the G.R.E.A.T (gang resistance education and training) program and implemented youth crime watch clubs at several middle schools. She's always had a great love for her students and remains connected to quite a few of them to this day.
Early in her career at the Sheriff's Office, Ida was wrongfully arrested and fired. Due to much faith, persistence, tenacity, and the sheer mindset as well as willpower to not give up, all the charges were dropped.
In 2006 , Ida relocated to Orlando and began work at the FAMU College of Law where she eventually became the Director of Security/Police Corporal overseeing police officers and security officers. She was constantly requested by the law professor to participate in trial practices and other practice court proceedings.
Ida is a graduate of Andy Henriquez's Mastermind Storytelling Academy.
Ida says, "I am a lover of the Lord, retired police officer, and mother of one 39-year-old beautiful daughter, Alexis."
Meet Nicole,
Nicole is a high-energy and results-oriented professional who has worked with diverse multi-cultural teams around the world.
She brings 25 years of corporate and technology experience to her training workshops.
 Nicole's technical experience includes enterprise level technology systems with such roles as Software Engineering, Business Systems Analysis, Project Management, and Technology Controls & Risk.
Her industry knowledge includes Financial Services, Merchant Services, Retirement Services, Payroll Processing, Manufacturing and Automotive.
Nicole's work experience includes companies like: JP Morgan Chase & Co., General Motors, Delphi, Detroit Diesel, National Steel Corporation and Electronic Data Systems (now DXC).
 As a certified John Maxwell Team Trainer and Coach, Nicole is prepared to deliver content that adds value through an inspiring, engaging and exciting experience that you will enjoy.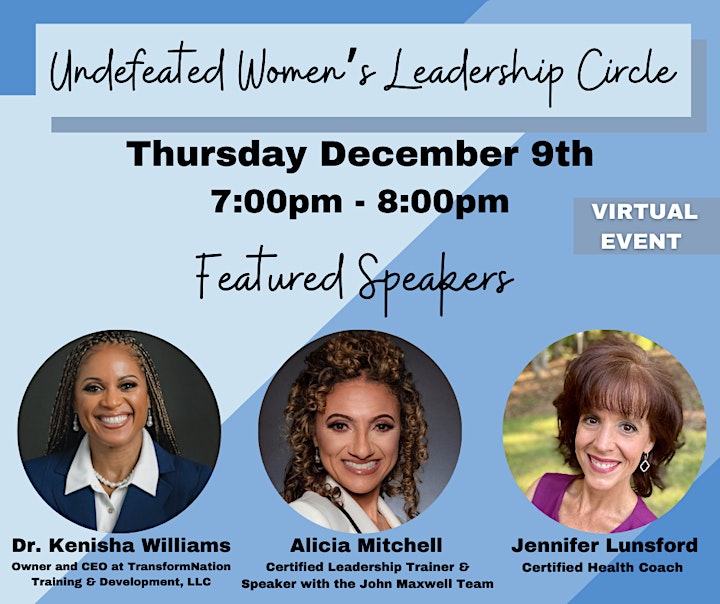 Meet Dr. Kenisha Williams,
Dr. Kenisha Williams has served in the public education for the last 21 years, as a teacher, Elementary Administrator, and Elementary School principal. She received two Bachelor's degrees in Speech Communication from LSU and Ministry.
Dr. Kenisha received her Master's Degree in Education and Doctorate in Organizational Leadership from Brandman University. She returned to Graduate School where she accelerated through the Master's Program and received her 2nd Doctorate Degree in Ministry in August 2020 with a 4.0 gpa.
She joined the John Maxwell Team in 2018 and is now an Executive Director. She's a member of the President Advisory Council (PAC) and serves on the PAC Mastermind Committee.
Dr. Kenisha is the CEO and Owner of Transform Nation Training & Development, LLC. She is a speaker, coach, trainer, teacher and writer just to name a few. God has blessed her with the gift of education, leadership, the art of connection and transparency. She has a reputation for leaving those who come in her presence electrified and changed!
Meet Alicia,
After completing fours years of high school Junior ROTC (Reserve Officers Training Corps), Alicia LaDonna Marie Mitchell joined the Air Force National Guard and was assigned to the 180th Tactical Fighter Group of Ohio as an Intelligence Operations Specialist.
As her life shifted, so did her career. Alicia went on to join the Active Duty Army, became a Combat Medical Specialist, was awarded a four-year Green to Gold Army ROTC scholarship, graduated from college and received her commission as a United States Army Officer.
She served as a Registered Nurse in the Army Nurse Corps and after nine years of honorable military service, Captain Alicia Mitchell decided to close the military chapter of her life and pursue her purpose as a civilian.
She is honored and humbled to now hold leadership positions in Destiny Christian Center and Desert Valley Hospital, the Ministry and the Healthcare Company in the community she proudly serves.
On December 9, 2020 she had the amazing privilege of pivoting again and became a member of The John Maxwell Team and has since gone on to be certified as a Speaker, Trainer and Coach of The John Maxwell Certification Program.
Although she is immeasurably grateful for her achievements over the years, her real biography is this: She has a Mission, Vision, Goal, Focus, Purpose and Destiny – to bring hope to everyone she is given and that God would forever use her for His glory!
Meet Jennifer,
Jennifer Lunsford knows what it's like to persevere when faced with defeat and disappointments. At 35 years old she decided to hit a reset button on her life and has not looked back. She would not allow a divorce in her 30's or the experience of losing a job unexpectedly to defeat, discourage, or derail her life. She decided to make her dreams come true and reach goals she would have thought impossible. Jennifer has discovered how to persevere to reach her goals and make her dreams come true, including graduating from the University of Georgia with a B.A. in Psychology in 2021 and building a business.
Jennifer is a certified health coach and is passionate about sharing her experiences with health and life with others. She wants to encourage and empower people to overcome the obstacles set before them. Jennifer lives in Fayetteville, GA, with her husband Jason.
*There is more for you from these three dynamic women, Register today for Session 3, to allow them to equip, encourage and enrich your life!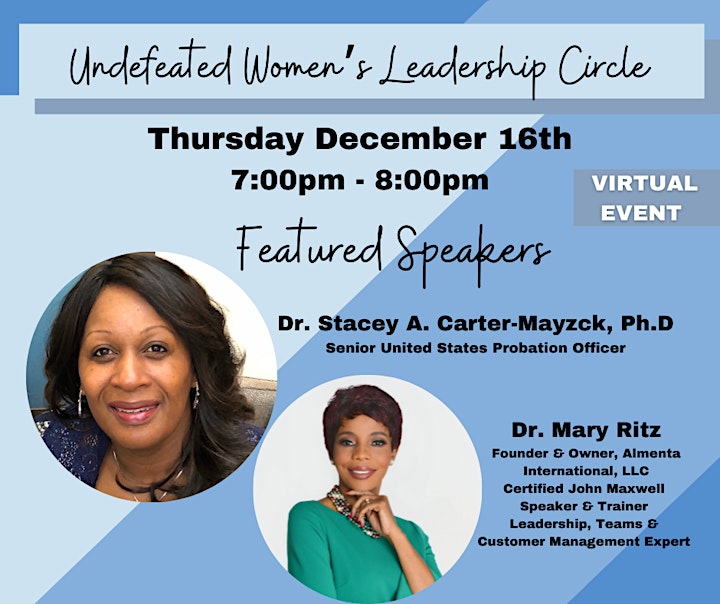 Meet Dr. Stacey Carter-Mayzck,
Stacey A. Carter-Mayzck, Ph.D. has been a Federal Probation Officer for 19 years. She likes to refer to herself as a PPO (Praying Probation Officer). Prior to her work as a probation officer, Stacey worked in various law enforcement positions including juvenile detention, federal bureau of prisons, and drug court.
Stacey, who in her youth was a missionary in the Philippines, is a member of Celebration Church located in Columbia, Maryland. She has served in the youth ministry for more than 14 years. Stacey continues to serve as a leader for the Boy Scouts of America. She has held the following positions: Den Leader, Committee Chair, Popcorn Chair, Cub Master, Unit Commissioner, Dean of Logistics, Assistant Course Director for Wood Badge (the highest adult leadership training in the scouting program), and currently Advancement Chair.
Stacey received her Bachelor's Degree in Criminal Justice from Cheyney University. She received her Master's Degree in Professional Counseling from Liberty University; Stacey completed her doctoral credits in General Psychology at Capella University. On June 2, 2021, Stacey successfully defended her dissertation at the Graduate Theological Foundation earning her Ph.D. in Addictions Psychology.
Stacey is married to, Adjutant Randolph Mayzck, Jr, and together they have 3 beautiful children, Thomas Carter (18), Cameron Mayzck (13), and Carter-Imani Mayzck (1).
Meet Dr. Mary Ritz,
Leader, Speaker, Facilitator and Consultant
A dynamic leader, speaker, facilitator and consultant with repeated success guiding strategy development, business performance improvement, and team building for customer-centric operations in industry sectors that have included financial services, communications, retail, hospitality and consulting.
Expert international facilitator, trainer, speaker and communicator, who is able to bring energy, enthusiasm, and humor to motivate team members to achieve potential and meet objectives. A highly organized manager and coach who quickly assesses needs and provides tools to resolve difficulties, enhance learning and improve performance.
Easily builds rapport with individuals from diverse cultures and able to forge productive relationships at all levels. Proven achievements in start-up, expanding and well established environments. Strong international experience includes significant work in the U.S, Canada and several countries in Africa. Decisive leader and facilitator with an entrepreneurial spirit, a global perspective and an exceptional work ethic.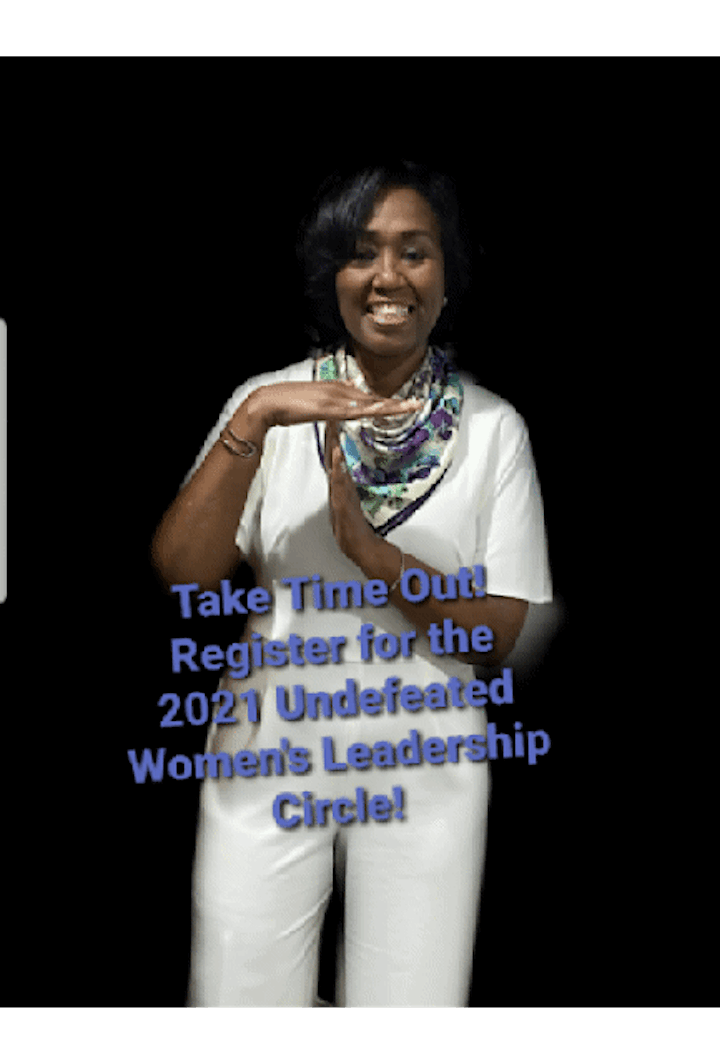 Organizer of 2021 Undefeated Women's Leadership Circle
Darlene Drew is a people builder! Her purpose and passion is helping people grow, improve and reach their potential.  She serves as the CEO of Leadership Conditioning, Personal & Professional Development, LLC.  She is also a Certified and Independent Leadership Trainer, Executive Coach & Speaker with the John Maxwell Team.  Darlene's expertise is leadership.  She helps clients reach their potential in personal and professional development.  She helps leaders develop leaders in business, organizations and groups.  Darlene is masterful in the delivery of training on leadership, communication, personal growth, and professional development.  She also utilizes a leadership assessment called the Leadership Game which is an interactive engaging training approach that afford teams to share and offer insights about themselves, colleagues and the organization prompted through the activity of the instrument of the Leadership Game.  Darlene has a long history in her career of investing in the growth of teams.  Her belief is no organization can afford to miss the opportunity to invest in their team through personal and professional development training programs.  Why? Because the cost is too high! It shows up in low morale, low production outcomes, attrition, litigation and much more.  Are you ready to start growing on purpose?  Darlene is ready to partner with you to reach your potential.