Event Information
Refund policy
Contact the organizer to request a refund.
Eventbrite's fee is nonrefundable.
2021 Ubuntu Market Vendor Sign-Up
About this event
100% OUTDOOR EVENT EVEN IN COLD WEATHER
Ubuntu Market Guidelines
The Ubuntu Market is a market showcasing local businesses every 1st & 3rd Sunday of the month .This is a 100% outdoor event that's open to the public. This page is for vendors only.
REFUNDS: Only Available if event is cancelled, your fee will be donated to educational/cultural if you decide to pull out.
The layout of our market will be very different in order to create enough space for everyone to shop safely. Please stay home if you are sick or may have been exposed to COVID-19.
Vendors will have to pre-pay & register to secure spot ($22) online.
No Alcohol or THC products allowed.All products must be legal.
Non-Food Vendors
A. Craft Vendors are not allowed to sell potentially hazardous foods, only cottage food. (See Cottage food list-If your item is not list, please don't attempt to sell it)
B. All vendors and customers are required to wear masks. (When within 4 feet of each other)
C. All vendors are recommended to wear clean gloves.
D. Round prices of items to the nearest $1 to cut down on the number of coins and cash changing hands per transaction.
E. Provide your own table, table cloth, wipes, electricity, hand sanitizer, etc. The only thing Pan-African will provide is cushioned chairs. If you need anything please let us know in suitable time so we can provide it to you.
Cottage Food List: Hot Foods, Foods that should be refrigerated & etc.
Food Vendors
A. Food Vendors must show a Certified Food Manager or Handler Certificate to vend. Don't have one? Send us a message.
B. Only foods which are pre-approved and require minimal handling will be considered. *No slicing, dicing or cutting of food products onsite, food should be prepared and cooked at your normal food facility. All cooked food products must be properly transported to the temporary site while maintaining proper temperatures.
1. Hot foods should be maintained at 135F or higher
2. Cold Foods should be held at 41F or below (Provide Ice Cooler or Double the Ice in Hot temps)
3. No product sampling, until further notice.
C. Hand washing facilities, which are conveniently located are required for all establishments which handle food. Must provide FLOWING WATER to be used for hand washing and a collection basin (bucket) for wastewater. Must set up hand wash facilities BEFORE setting up booth and preparing food. Coffee urns, drink coolers, or bottled water with a spigot are examples of what is required. At least a five (5) gallon potable water capacity should be available. Soap and paper towels must also be available.
D. Please provide coverings for all food.
E. FOOD CAN NOT BE TOUCHED WITH BARE HANDS. A barrier must be provided between the bare hand and the ready-to-eat food. Examples of physical barriers include: gloves, deli tissues, tongs, ladles, spatulas, forks, etc.
F. Hair restraints must be worn or hair must be pulled back to avoid physical contamination
G. Food handling personnel must wash their hands as frequently as necessary to keep them clean, even though disposable gloves may be used.
H. No Animals
I. Provide your own table, table cloth, wipes, extension cords, electricity , hand sanitizer, Pan-African will provide is cushioned chairs.
Any Questions feel free to email AdjwoaHogue@yahoo.com or call Adjwoa-Adgy at 214-33six-4475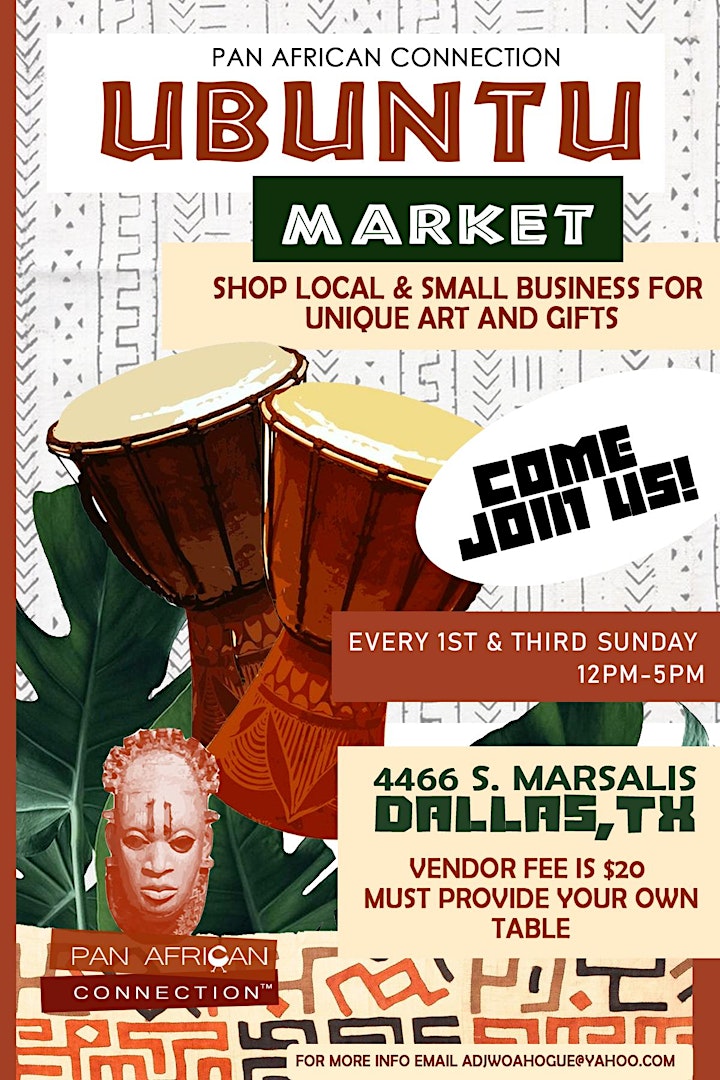 Date and time
Location
Pan-African Connection Bookstore Art Gallery and Resource Center
4466 South Marsalis Avenue
Dallas, TX 75216
Refund policy
Contact the organizer to request a refund.
Eventbrite's fee is nonrefundable.