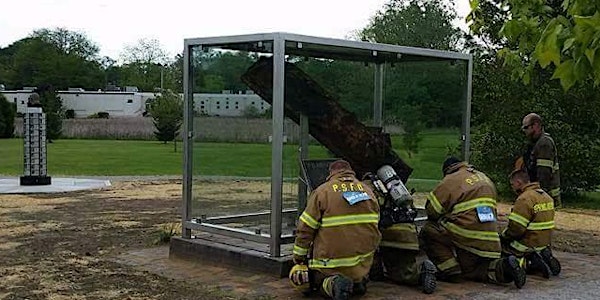 2021 Tunnel to Towers 5K Run & Walk - Jackson, MI
Come join the Run & Walk to honor the sacrifice of firefighter Stephen Siller who laid down his life to save others on September 11, 2001
When and where
Location
Cascades Falls, Jackson 1401 S. Brown St Jackson, MI 49203
About this event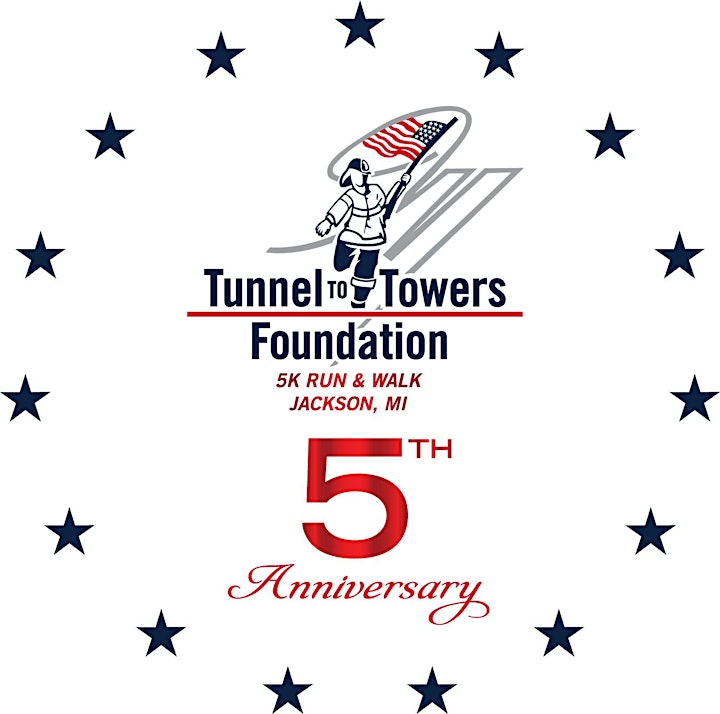 What is a Tunnel to Towers 5K Run & Walk?
The Tunnel to Towers 5K Run & Walk Series was created to honor the heroic life and death of Stephen Siller, a New York City firefighter (FDNY) who lost his life on September 11, 2001 after strapping on his gear and running through the Brooklyn Battery Tunnel to the Twin Towers.
Honor all of those who lost their lives on September 11, 2001 and support our first responders and military who make extraordinary sacrifices in the line of duty! For more information on the Stephen Siller Tunnel to Towers Foundation please visit www.tunnel2towers.org
This will be the fifth year for the Tunnel to Towers Jackson 5K, which draws runners and walkers from all over Michigan! To commemorate the 5th anniversary of this run, anyone who registers before our website closes on MAY 12, 2021 will be given a 5th anniversary challenge coin at the event.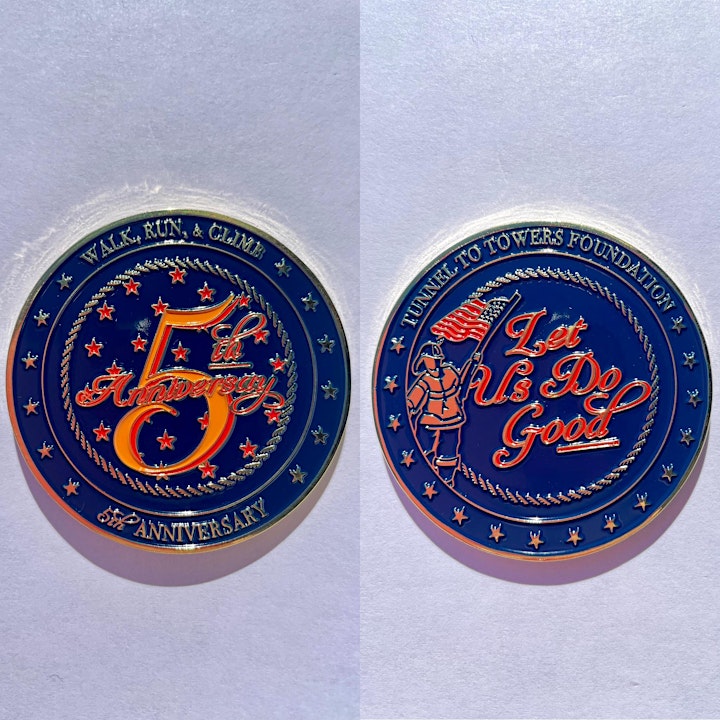 How far is a Tunnel to Towers 5K Run & Walk?
This is a 5K (approx 3.1 miles). You are welcome to walk or run this event.
What time does the 5K begin?
8:00 AM pre event registration and bib/shirt pick up
9:00 AM Starting Line Opens for Open Running - This event will have a rolling start instead of one start for all. Runners should line themselves up and start when they are able. If you want more space at the start we recommend you start at 9 am. Runners are asked to wear a mask and to practice social distancing during the event. Please do not gather in crowds.
9:00 AM Opening Ceremonies
11:30 AM Start Line will officially close.
** Please note all registrants will be asked to sign a COVID-19 waiver 48 hours or sooner prior to the event.
Where can I pick up my packet?
Packets can be picked up on Friday May 14, 2021 at the Blackman-Leoni Dept. Of Public Safety Headquarters -1996 W. Parnall Rd, Jackson, MI 49201 between 4pm – 7pm.
Packets can also be picked up on the day of event at the registration tent at the Cascades Falls. The address to the Cascades Falls Park is: 1401 S Brown St, Jackson, MI 49203.
Can I register the day of the run?
Yes. Registration will open at 8 a.m. on the day of the race. There will be a tent by the starting line, which is where the race begins and ends. We encourage you to register online early to save - if you wait until the day of the event to register you'll pay $10 more. All registration must be done via phone. There will be no paper registration at the event this year and ANYONE WHO REGISTER AFTER THE GENERAL ONLINE SALES CLOSE WILL NOT BE CHIP TIMED.
When does online registration close?
Online registration will close on May 12, 2021.
Is there parking available?
Yes.
Do I have to wear my bib number?
Yes, please display your bib on the front of your outermost garment. Those who run without a bib will be asked to leave the course and will not be allowed to finish.
I am a fast runner. Can I get a front line position?
Runners predicting a pace faster than 6 minute/mile will be seeded in the front corral (arrive early). Due to COVID-19 restrictions, we will be utilizing an open ended starting line, with no mass groups starting at the same time..
Will water be available?
Yes, two water stations will be available along the route and there will be water available at the start/finish line.
What can you bring to the event? Can I run with a stroller, backpack, wheelchair, roller blades, dogs, bicycle, etc?
Strollers and wheelchairs are permitted. Firefighter turnout gear and military backpacks are also permitted and encouraged! Please leave all personal items and valuables in your vehicle. All items should be stored securely at the owner's risk. The Tunnel to Towers Foundation will not be responsible for the loss of any items.
Can someone else pick up my packet for me?
Yes, they can. They must present a copy of your registration receipt. And don't forget to thank them!
Can I still donate to a team and/or individual after the start of the race?
Yes, donations will be accepted for 6 weeks after the event.
How can my company/organization sponsor this event?
Please send all sponsorship correspondence to Jackson@tunnel2towers.org with your contact information and someone will be in touch with you within 24 hours.
I would like to donate goods or services to this event. How do I do that?
You can contact us at Jackson@tunnel2towers.org. We make every effort to keep costs down to allow us to give the most to the Tunnel to Towers Foundation in Stephen Siller's name. Your generosity will be greatly appreciated.
As a participant, can I fundraise/encourage others to donate?
Yes! Contact us at jackson@tunnel2towers.org and we can walk you through the process or you can send donations directly to 2361 Hylan Boulevard., Staten Island, NY 10306 - please give us your information so we can add it to your fundraising page. It's easy!
What are the details about the Virtual Run/Walk?
If you cannot make the Tunnel to Towers, Jackson event in person, but you would still like to participate and support the Foundation and its programs, you can complete the T2T Jackson Virtual Run! A virtual race is a race that can be run (or walked) from any location you choose. You can run, jog, or walk on the road, the trail, the treadmill, at the gym, or on the track (or even at another race). You get to run your own race, at your own pace, and time it yourself. All participants will receive an event T-shirt, race bib and a T2T Challenge coin!
What: This is a virtual race so you choose your own course and time yourself.
When: Complete your race any time between May 15th and June 15th.
Where: You choose the course and you time yourself. Post a picture of you and your time with the #DOGOOD or #NEVERFORGET to our Facebook event page so we can all share in this together!
Why: You want to participate because you love First Responders as much as we do, you just can't always be in Jackson in person.
Cost: The price is $30 and includes an Event T-shirt, Race Bib and Challenge coin.
Packet availability: Just as with our in-person event, you will be able to pick up your event registration packet at our pre-race packet pickup location on Friday, May 14 or onsite Saturday, May 15, 2021 (see registration site for details).
UNFORTUNATELY, WE DO NOT HAVE THE ABILITY TO MAIL PACKETS.
What's new this year?
To celebrate and honor the 20th Anniversary of 9/11/01, we will be hosting a FREE community outdoor concert, at the Cascades Band Shell, following the Run/Walk. Three local bands are coming out to entertain!
Kevin Nichols
Joey D
Act III Band
Bring a lawn chair and a hoodie and enjoy the music!
Additionally we will be hosting a #NEVERFORGET Classic Car show on the ground of our event! See some cool cars on display and vote for your favorite!!!
Join us as we remember and honor all lost during the 20th Anniversary year of the tragedy on September 11, 2001! Help us #DOGOOD & #NEVERFORGET