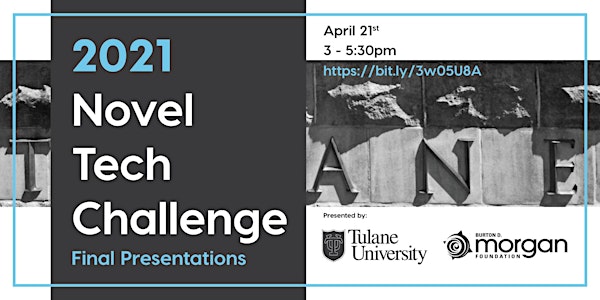 2021 Tulane Novel Tech Challenge Final Presentations
2021 Novel Tech Challenge Final Presentations
About this event
Now in its seventh year, the Novel Tech Challenge has hosted over 80 student teams from Tulane Science & Engineering, Medicine, Business, Law, Social Innovation & Social Entrepreneurship, Fine Arts, Architecture, and Public Health. The teams develop solutions to common societal problems that impact human health, the environment, and education, among others.
Last fall, the Challenge started with 9 teams. Ultimately, 5 finalists were selected in January to continue in the Challenge and compete for over $15,000 in prizes on April 21st.
The Challenge will take place over Zoom webconference, at:
https://bit.ly/3w05U8A
Agenda (all times Central):
Finals Presentations: 3:00pm - 4:30pm
Intermission/Judges Deliberation: 4:30pm- 5:30pm
Winners Announcement: 5:30pm
Please find the Finals Program here: https://tulane.box.com/s/p68rlrk9y54t472w8ughrgnmtumyjvrx
This year's Novel Technology Challenge will take place entirely virtually and is open to the community. We have planned American Sign Language interpretation for the event. If you require additional accommodations in order to be able to participate fully, please reach out to us as soon as possible via email at kmcquee@tulane.edu or by phone at (504) 988-8864 and we will be happy to assist.