TGBA Annual Sporting Clays Shoot
About this event
Time to have some fun!
Lift your spirits at the TGBA Sporting Clays Shoot!
Come enjoy the great outdoors & fresh air, great people, great food, and of course BEER (after the shoot)! Beer sponsored by Richard Frogge and provided by 81 Bay Brewing.
All proceeds from the TGBA Sporting Clays Shoot go to the Richard J. Meadows Memorial Scholarship Program! We have provided over $190,000 to over 78 recipients to date. Click the link below to watch our video and learn more.
Click the GREEN Ticket Button to buy tickets and Register Online. On Sale Now!
For more details on the Shoot or to download and print a Registration Form and mail it in, click the links below:
Team Ticket ($90 per Shooter =$360) includes:
4 x Shooters & T-Shirts
1 x Cart
Lunch
Beer & Sodas
Individual Ticket $95 (NON-Team Member Only) includes:
DO NOT register as an individual if you are part of a Team - Register with the Team
1 x Shooter & T-Shirt
Lunch
Beer & Sodas
Cart: $25 (Cart provided with each Team Ticket)
If you are not a member of a team or desire an additional cart.
Sponsorships available:
Click the GREEN Ticket button to register as a Sponsor, and then register your Team by following the instructions with your Sponsorship.
Event Sponsor: $2000 - includes 4 x Shooters & T-Shirts, and Cart
Cart Sponsor: $1500 - includes 4 x Shooters & T-Shirts, and Cart
Food Sponsor: $1000 - includes 4 x Shooters & T-Shirts, and Cart
Ammunition Sponsor: $800
Awards Sponsor: $800
Photographer Sponsor: $500
Sign in begins at 0800hrs 6 NOV 21
Lunch with Beer & Sodas will be provided following the Shoot, along with the opportunity to buy tickets for the Raffles, and Bid on Silent Auction Items.
Prizes awarded following Lunch!
Need a Shotgun?
Use the link to win the CZ Sporter in Grade 3 Sporting Clays shotgun below.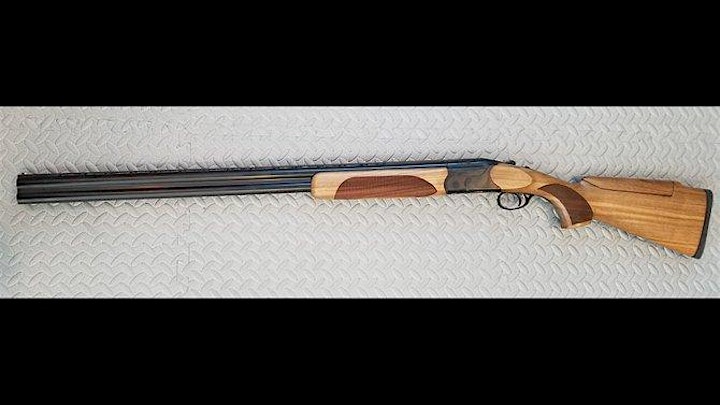 The Sporter in Grade 3 wood is one of CZ's most beautiful guns. It builds upon the Standard Grade with an intricate hand-engraved receiver with deep relief scroll work and upgraded wood furniture. It has the same deep black chrome finish, tuned triggers and Monte Carlo sporting stock, making it both beautiful and deadly on clays. This one includes the 32-inch barrel, full forend, lasercut checkering. It includes a set of 5 Kicks stainless steel extended choke tubes.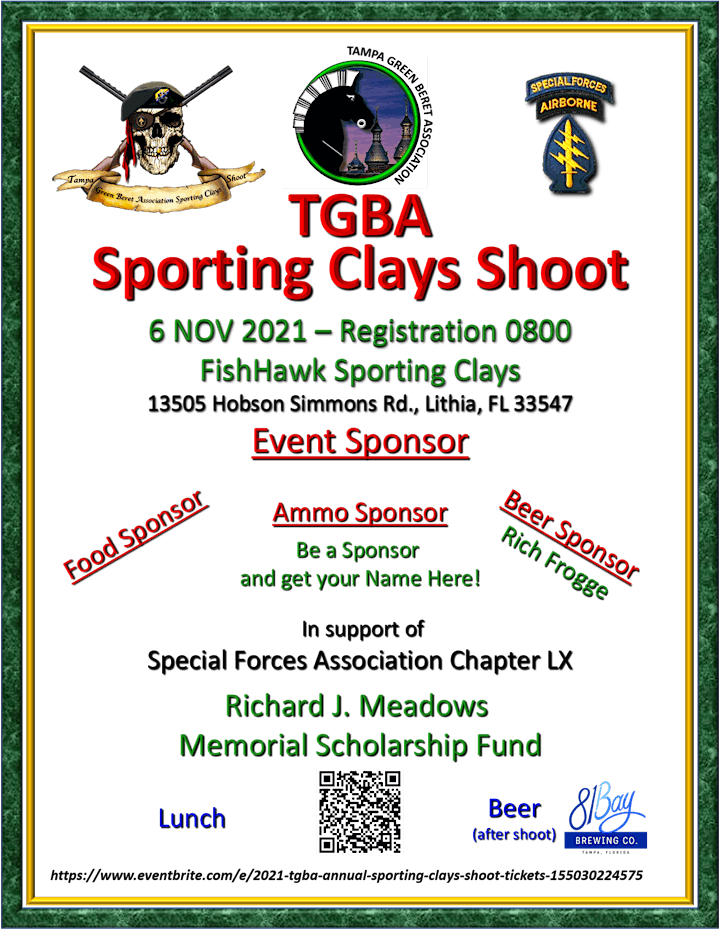 For additional questions, please click the "Contact" link at the bottom of the page.
Organizer of 2021 TGBA Annual Sporting Clays Shoot
The Tampa Green Beret Association ( and Chapter LX of the Special Forces Association, both not for profit organizations, are raising money to build and operate a Veteran Civic Center just outside MacDill Air Force Base called a "Team House" in the tradition of Army Green Berets.
The Veteran Civic Center will be the center of outreach to the large Tampa Bay veteran community, connecting Active Duty and Retired Veterans, and their families with a network of non profit companies and organizations that provide services, assistance, and hiring. The facility, right outside MacDill AFB, will be an ideal location to facilitate professional networking, pursuit of earned veterans' benefits, training education, and counseling, for those who already have, or are transitioning to civilian life in the Tampa Bay area.