2021 Texas Taiwanese Biotechnology Association Annual Symposium
【 2021 TTBA Annual Symposium 】What's next after graduation: Various career paths in academia and industry ''拿到學位,然後呢? 如何在業界與學界找到職位''
About this event
2021 德州台灣生物科技協會 (Texas Taiwanese Biotechnology Association) 年會報名正式開始了! 因為疫情關係, 今年年會將於德州時間 11/6(六) 和 11/7(日) 在線上進行, 主題為: 拿到學位, 然後呢? 如何在業界與學界找到職位。
✨Nov. 6th 2021 (Sat.; Time zone: CDT)
活動的第一天,以在業界找工作為主軸。我們邀請到台灣國鼎生技的總經理,蘇經天博士,來分享國鼎公司的新藥Antroquinonol 。緊接著由三位panelists分享在美國、台灣兩地找工作的種種面向。再來請到了HirePhD的創辦人Conny Lin 來分享自己不一樣的業界發展經歷。
09:00 ''Acquiring Triple A Resilience with Antroquinonol ''/ Today Su, Ph.D.
10:10 ''Panel discussion: Overview of industrial job hunting''/ Chen-Ming Lin (Eric), Ph.D., Chung-Hsuan Kao (Gary), Ph.D., Yu-Hui Huang, Ph.D.
11:40 ''Exploring your career path with HirePhD''/ Conny Lin, Ph.D.
✨Nov. 7th 2021 (Sun.; Time zone: CST)
活動的第二天,則轉換到了在學界找工作。首先會由在台美兩地的學者們,分享他們如何規劃與準備申請教職。接著是由UT Southwestern的Kang-Hsin Wang博士,談談他撰寫研究計畫的經驗。而在活動的最後,我們邀請到Katherine Liu博士與目前於UT Health Science Center at San Antonio的Arthur Chang,來分享如何建立在美國的人際網絡,幫助在學界的工作發展。
09:00 ''Panel discussion: How to land on a faculty position''/ Pei-Hua Chu (Candice), Ph.D., Ying-Ning Ho, Ph.D., Mei-Chun Cheng, Ph.D., Tai-Yen Chen, Ph.D.
10:40 ''Tips on grant writing''/ Kang-Hsin Wang, Ph.D.
11:30 '' How does networking affect my career''/ Arthur Chang, Ph.D., Katherine Liu, Ph.D.
擔心無法在2021 TTBA的線上年會建立人際網絡嗎?不用擔心,年會的兩天活動,都有安排breakout sessions, 讓與會者及講者們相互認識!歡迎大家利用這次機會拓展人脈。
希望今年的年會能夠讓參與者在現在或未來的工作申請更加順利!
The 2021 TTBA Annual Symposium is open to register now(ho ray). Due to the COVID pandemic, the 2021 symposium will be virtual from 8:50 am to 1:00 pm (Central time) on 11/6(Sat) and 11/7(Sun). The title of this symposium is "What's next after graduation: Various career paths in academia and industry".
Day 1-industrial job hunting: This year's symposium will kick off with the story of Antroquinonol, a newly developed medicine from the Taiwanese firm Golden Biotechnology Corporation. The CEO, Dr. Today Su, will share his experience on drug development. In the following session, three panelists working in the industry in the USA and Taiwan will discuss the process of industrial job hunting. The first day will close with the speech by Dr. Conny Lin, the funder of HirePhD. HirePhD is an organization providing advice for alternative career paths. She will enlighten the audience with the possibility of different career paths in the industry.
Day 2-land on and survive from an academic position: In the first session of the day, we are pleased to have two professors from the USA and Taiwan, respectively, share tips for landing a faculty position. In the following session, Professor Kang-Hsin Wang (Ph.D.) from UT Southwestern, a CRYPT grant winner, will share his experiences on grant writing. The symposium will close by Professor Arthur Chang (Ph.D.) from UT Health Science Center at San Antonio and Dr. Katherine Liu. They will elaborate on the importance of networking en route to their career.
Are you worried about no opportunities to network during the virtual symposium? No worries! We have online networking sessions after the talks on both dates, where we encourage participants to connect with both the speakers and fellow participants. Grab this chance to build up and expand your networks!
This symposium aims to direct various career paths in industry and academia so participants can be well prepared for the next stage. We look forward to seeing you online.
✨Follow TTBA✨
👉TTBA官網: https://www.ttbatw.org/
👉Facebook社團: https://www.facebook.com/groups/ttbatw
👉Facebook粉絲頁面: https://www.facebook.com/ttbafans
👉Linkedin: https://www.linkedin.com/company/ttba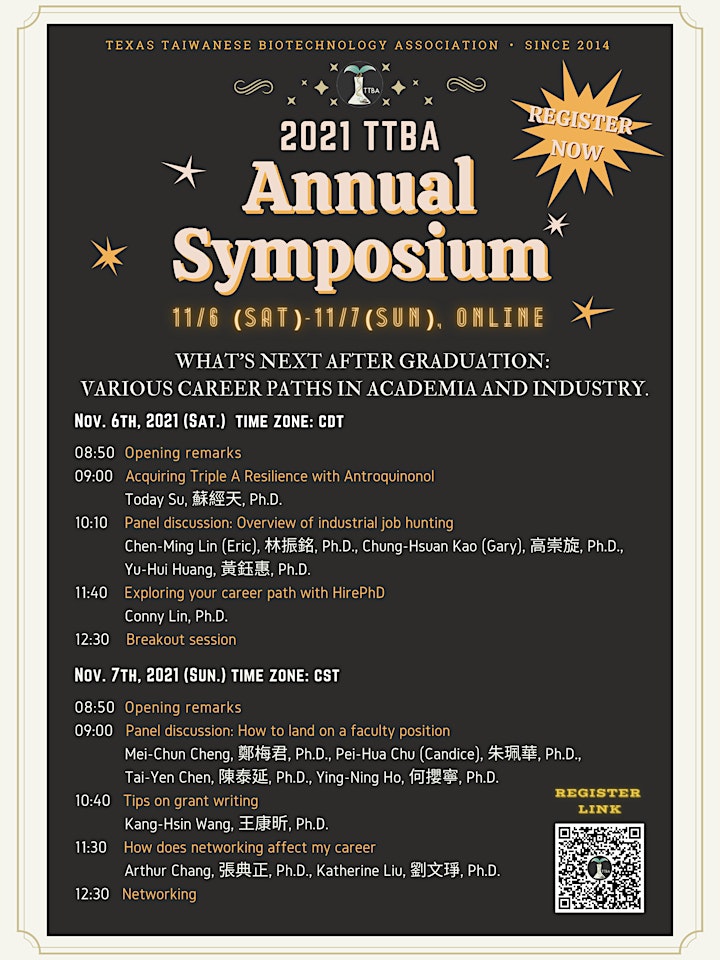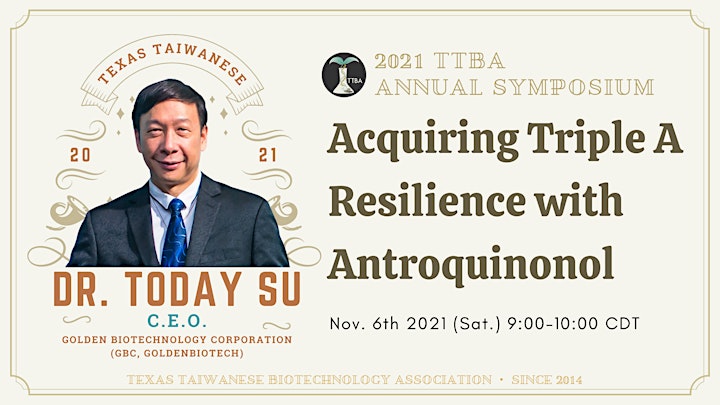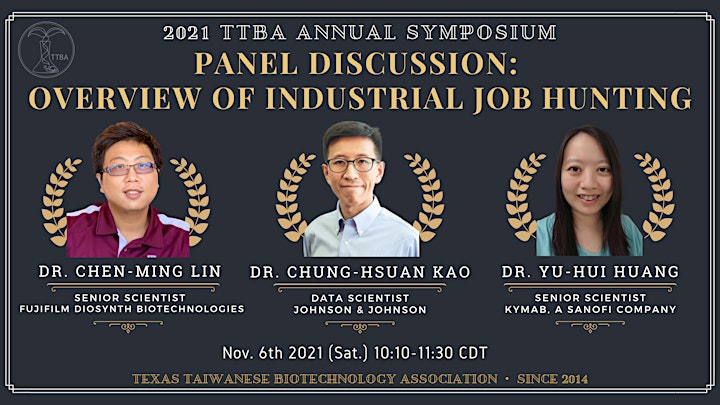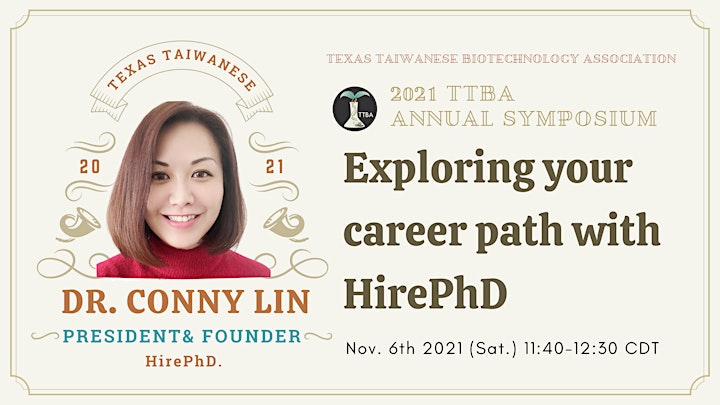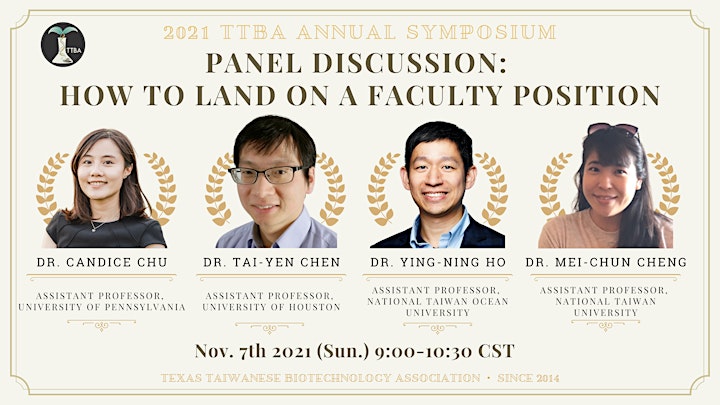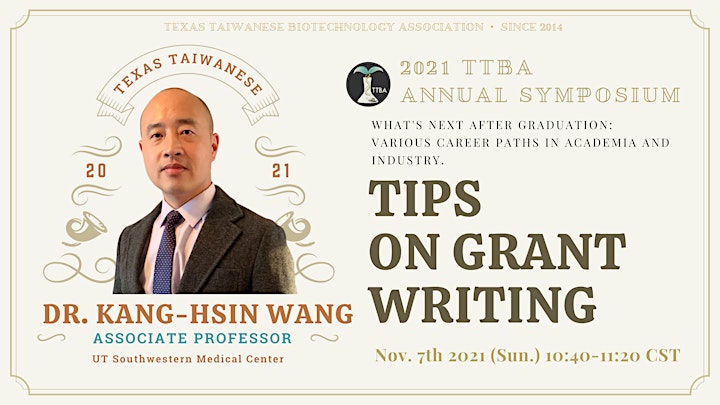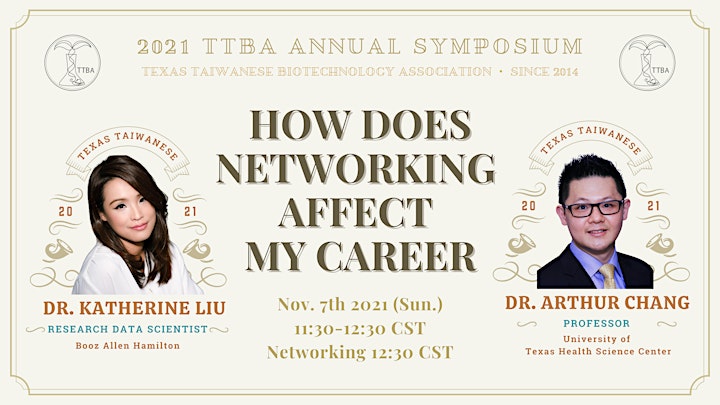 Organizer of 2021 Texas Taiwanese Biotechnology Association Annual Symposium
Texas Taiwanese Biotechnology Association (TTBA) is an organization established by a vibrant group of Ph.D. students from Baylor College of Medicine, UT Southwestern, UT Austin, and Rice University. Our mission is to facilitate intellectual conversation and networking among young Taiwanese biomedical scientists and foster their career development in the US and Taiwan.