Are you looking for a weekend with Fun-Filled Entertainment - Live Music, Good Food, National Artist and Celebrities - ALL FREE!
About this event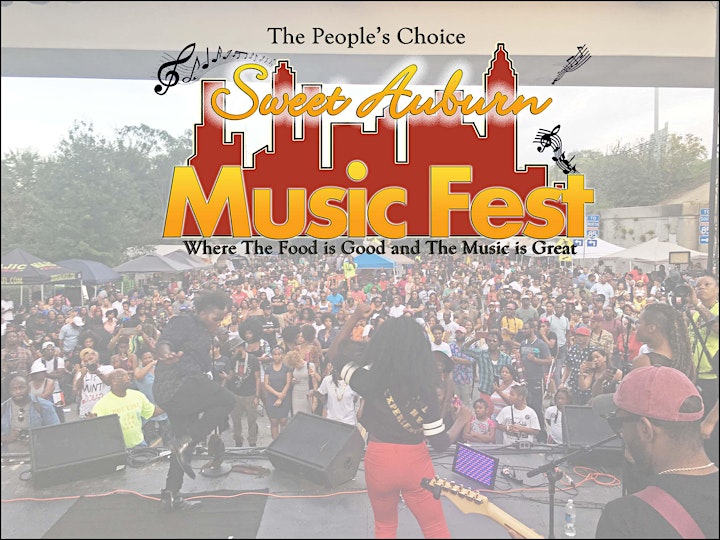 Key Points:
This is a FREE event, TICKETS ARE NOT NEEDED! The emails/ tickets are just used for giveaways during and after the event.
What:
The Sweet Auburn Music Fest (S.A.M.F.) is one of the South's largest multi-genre music festivals in Atlanta. It serves as:
A destination point for many people to rendezvous with old friends & colleagues.
A family environment to hear great live music, enjoy food and beverages in an outdoor setting, and just have fun!
Whether you are a patron or a participant, you will celebrate the Experience of being a part of a festival of Food, Fun and Music.  "Where the Food is Good and the Music is Great all the time."
With the Sweet Auburn Music Fest we create an atmosphere of harmony and peace within the Atlanta community. Closing the gap between young & old, Black & White, rich & poor with music that appeals to all regardless of creed class or color.
Attendance:
Over the course of the weekend, the S.A.M.F average attendance is seventy five thousand plus attendees. A quick glance through the crowd shows that the attendance includes participants of all ages enjoying the festival from the very young to the young at heart.
 Cost:
Admission is FREE to the public. Tickets Are Not Needed! Exhibitor items are available for purchase at variable rates.
Attractions:
Natives and tourist alike can't resist the lure of the Sweet Auburn Music Fest. For some, it's the great items to purchase, for others it's the great outdoors with the combination of good food & great music in a country fair atmosphere in an urban setting in downtown Atlanta, Georgia. TheSweet Auburn Music Fest truly is a music lovers paradise. There is no other large outdoor festival that gives great music with performances by National Artist absolutely free. Each hour on stage features either a national artist or an indie band entertaining the crowd with a little bit of - Rock, Country, Soul, Blues, or Reggae.
Car Show
Children's Amusement Area
National Artist Performing
and Much Much More!
Sweet Auburn Music Fest Location 320 Irwin St NW Atlanta, GA 30312
Parking & Shuttles
Due to the event's large number of participants we recommend taking the Marta to Auburn Avenue.The Atlanta Streetcar is the most accessible and convenient way to get to the festival. Take the North line to the Peachtree Center Station; hop on the Atlanta Streetcar at the Peachtree Center stop; and exit at the Dobbs Plaza stop under the bridge. Walk to either corner (Fort St. or Bell St.) and go North.
For More Information:
info@SweetAuburnMusicFest.com
(678) 861 - 7263
​See You There!
Organizer of 2021 Sweet Auburn Music Fest
First Class Events Entertainment – A Premier Marketing, Event Planning & Production company that caters to those who want events that scream sophistication, provide ambiance and that set the standard for networking while entertaining. We provide the solution for any of your event needs. Our professional and devoted staff are experts at organizing and executing any and all types of events.
 
Whether you are planning an upcoming corporate team building event, red carpet event, holiday party, concert, conference, gala fundraiser, or any other type of event, be it large or small, we can provide any and all aspects.  Everything is at your fingertips and completely customized for your individual needs, we take your ideas and desires and bring them into reality. We cater every event to the individual group
 
We quench your yearning thirst for new and different by offering a range of event planning services to our clientele.