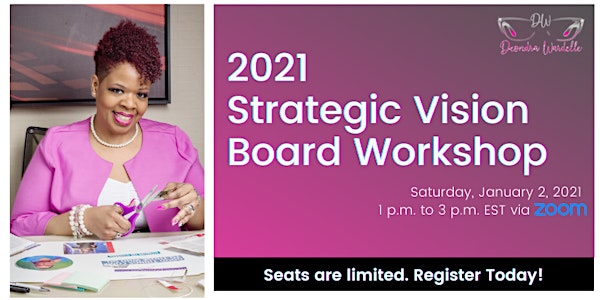 2021 Strategic Vision Board Workshop
2020 was a year of discovery as we faced many unknowns with our health, relationships, finances, technology and work/home responsibilities.
About this event
It's time to reflect on what was learned in 2020 and use it as a springboard to set your purpose-driven goals and objectives in 2021.
The start of a new year is a great time to reflect and plan. Allow Deondra Wardelle, Continuous Improvement Coach, to guide you in envisioning the 2021 you want to see and the life you plan to live.
During the 2021 Strategic Vision Board Workshop you'll:
✔ Clarify your life's purpose
✔ Understand the direction you want your life to go in 2021
✔ Identify the obstacles between where you are and where you want to be
✔ Learn how to apply the steps of Deondra's 4D Improvement Cycle® to go from dreaming to doing
The 2021 Strategic Vision Board Workshop will take place on Saturday, January 2nd from 1 p.m. – 3 p.m. EST. Don't miss this inspirational and life-changing experience. Register today !
Note: Tickets are available for purchase until an hour prior to the workshop. If you experience any issues purchasing a ticket, please contact the organizer at info@deondrawardelle.com
Thank you!