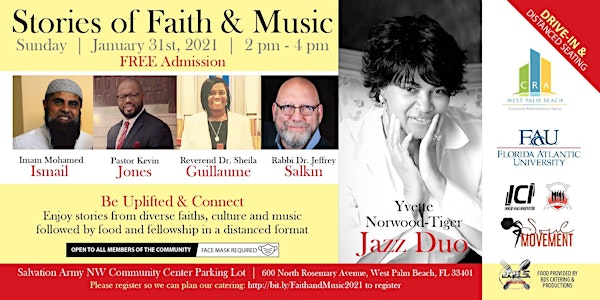 2021 Stories of Faith and Music
Stories from diverse faith traditions, music, and food. Drive-in and distanced seating. Masks required.
When and where
Location
The Salvation Army Northwest Community Center 600 North Rosemary Avenue West Palm Beach, FL 33401
About this event
Be uplifted and connect.
STORIES - MUSIC - FOOD
Open to ALL members of the community. FREE admission. Masks required. Drive-in & distanced seating.

Discouraged by how people seem to be divided? Do you ever think there must be others like you, who would like to see more harmony in the world? Us too.
Please join us on Sunday, Jan. 31.
HERE'S OUR LINE UP
2:00-3:00 pm Stories of faith with Reverend Dr. Sheila Harvey Guillaume,​ Imam Mohamed Ismail, Assistant Pastor Kevin Jones, and Reverend Dr. Jeffrey Salkin.
3:00-4:00 pm Live music with Yvette Norwood-Tiger Jazz Duo
Catered food and beverages on-site and performances by Soul Movement.
FREE admission. Please RSVP so we can order our catering!
JOIN US SAFELY
From your car: Drive-in and listen on your FM car radio
At our tables: Seating for family groups. Masks required.
Bring your own: Lawn chairs or picnic blankets
From home: Tune in to our live-streaming station (and supply your own food and drink)
MORE ABOUT OUR SPEAKERS AND MUSIC
Imam Mohamed Ismail leads the Muslim Community of Palm Beach County Inc. (MCPBC) is the first mosque and the largest organization of Muslims in Palm Beach County. MCPBC promotes spiritual and devotional growth and since its inception, embraces outreach and interfaith activities. http://mcpbc.org/
Assistant Pastor Kevin Jones serves at the Tabernacle Church, the oldest Baptist church in the City of West Palm Beach, celebrating over 125 years; it established the first school for African Americans. The congregation remains faithful to the call of social justice in Palm Beach County. http://www.tabernaclewpb.org/
Reverend Dr. Sheila Harvey Guillaume leads the Union Congregational United Church of Christ. organized on Easter Sunday in 1894. Originally located in downtown West Palm Beach, it is the second oldest church in West Palm Beach and holds a vision of being a multi-cultural, multi-racial, anti-racist congregation. https://unionucc.net/
Rabbi Dr. Jeffrey Salkin serves at Temple Israel, founded in West Palm Beach in 1923 by a handful of visionaries when six Jewish families living in this emerging community joined to create a synagogue. Temple Israel is the oldest Jewish organization in Palm Beach County and is the only Reform synagogue in West Palm Beach. Conveniently located along the Intracoastal and near downtown, the temple draws its members from all areas of the county. Its fully inclusive congregation welcomes and supports individuals from all backgrounds. https://www.temple-israel.com/
Yvette Norwood-Tiger, vocalist and international recording artist, is a Detroit, Michigan native who hails from a family of musicians. In addition to performing music from great composers such as Cole Porter, Duke Ellington, and the Gershwins, to name a few, she also enjoys singing traditional Latin and Brazilian jazz. Yvette, who performs globally including Europe, South America, and Africa, also enjoys performing songs in other languages which includes French, Italian, Portuguese and Spanish. http://www.yvettenorwoodtiger.com/
Nevada Hadary, keyboardist, will accompany Yvette Norwood-Tiger.
Learn more about Urban Stories Festival
FREE admission. Please RSVP so we can order our catering!
Thank you to our sponsors and partners.