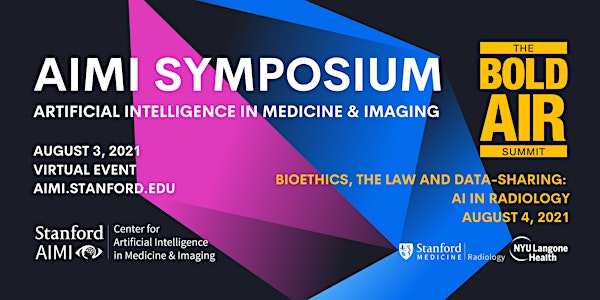 2021 Stanford AIMI Symposium + BOLD-AIR Summit
Join us Aug 3 & 4 for the Stanford AIMI Symposium + 2nd Annual BiOethics, the Law, and Data-sharing: AI in Radiology (BOLD-AIR) Summit
About this event
We invite you to join us for the 2021 Stanford Artificial Intelligence in Medicine and Imaging (AIMI) Symposium and the 2nd Annual BiOethics, the Law, and Data-sharing: AI in Radiology (BOLD-AIR Summit). The conferences are free and open to all and full event details are available on the AIMI website.
AIMI Symposium - August 3, 2021
Presented by the Stanford Center for Artificial Intelligence in Medicine and Imaging, the virtual symposium will focus on the latest, best research on the role of AI in diagnostic excellence across medicine, current areas of impact, fairness and societal impact, and translation and clinical implementation. The program includes talks, interactive panel discussions, and breakout sessions.
Program Overview (click here for full agenda details):
Keynote - Fei-Fei Li on Ambient Intelligence in Healthcare
Fireside Chat - Eric Horvitz & John Markoff on Frontiers and Directions in AI and Medicine
Fireside Chat - Rachel Thomas & Nigam Shah
Session 1 - Role of AI in Diagnostics Excellence
Session 2 - Current Areas of Impact in AI
Session 3 - Fairness, Generalizability & Societal Impact
Session 4 - New Developments in Medical AI
Session 5 - Improving Patient Outcomes with AI: Translation & Implementation
Industry/Academic Partnerships Panel Discussion
Breakout Sessions - see here for details
BOLD-AIR Summit - August 4, 2021
As artificial intelligence moves to become a reality in radiology, associated ethical and legal issues increasingly come to the forefront. Join us at the second summit on Bioethics, the Law, and Data-Sharing: AI in Radiology (BOLD-AIR). We will virtually bring together a broad range of speakers in bioethics, law, regulation, imaging, industry groups, and patient safety and data privacy, with several interactive panel discussions to address the latest ethical, regulatory, and legal challenges regarding AI radiology.
The BOLD-AIR Summit is organized by NYU Langone Health Department of Radiology and Stanford University Department of Radiology and sponsored by the Stanford Institute for Human-Centered AI and Stanford Center for Artificial Intelligence in Medicine and Imaging.
Program Overview (click here for full agenda details):
Session 1 - Data Sharing and Patient Privacy
Session 2 - Ethics of Safety, Reliability, and Patient Protection
Session 3 - Regulation
Session 4 - Ensuring Ethical Use of AI in Radiology in the Coming Decade: Panel Discussion with Curtis Langlotz, Eric Topol, Tim O'Brien, Nina Kottler, and Andrea Borondy Kitts