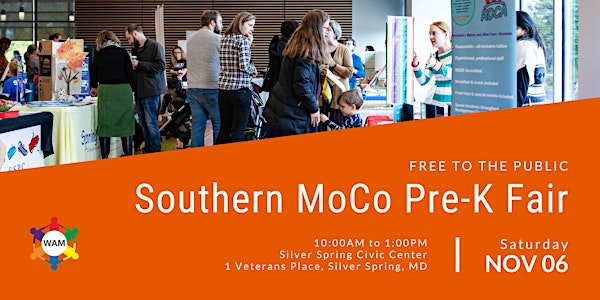 2021 Southern Montgomery County, MD, Preschool Fair
Event Information
Location
1 Veterans Pl
1 Veterans Place
Silver Spring, MD 20910
One-stop shop to meet lots of preschool reps, learn about curriculum & tuition, schedule tours, etc. Find your child's pre-K here. Ages ≤5.
About this event
Selecting a preschool can be a daunting task, especially as we want to make sure our children's first experience with learning is positive and fosters a joy for learning. By attending our in-person preschool fair, you have a one-stop shop to meet a wide range of school representatives, ask questions, learn about curriculum and tuition, schedule tours, and more.
The preschool fair is a free event and open to the community. Kids are always welcome.
WAM's 2021 Southern Montgomery County Preschool Fair will take place in Downtown Silver Spring at the Civic Building.
Visit us online at WheatonAreaMoms.org to learn more: http://www.wheatonareamoms.org/preschool-fair-and-online-directory/
Date and time
Location
1 Veterans Pl
1 Veterans Place
Silver Spring, MD 20910