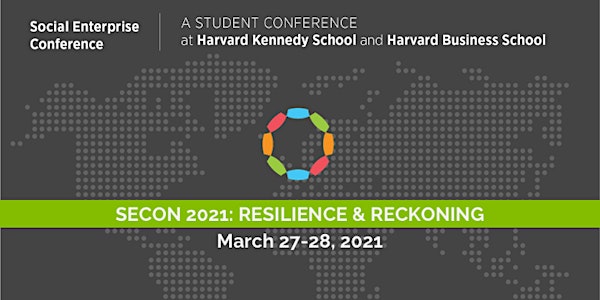 2021 Social Enterprise Conference at Harvard, Mar 27-28
About this event
The 21st Annual Social Enterprise Conference (SECON), presented by students at Harvard Kennedy School and Harvard Business School, will bring together top leaders, practitioners and students on March 27-28, 2021 to engage in a virtual dialogue, debate, and expression around Social Enterprise.
This year, the theme of SECON is:
Resilience & Reckoning
In a time marked by global crisis, we face the urgent challenge to address both the pandemic and an array of deepening social and economic issues. However, this time also brings an opportunity to reset the role that social enterprise will play in shaping the future. During SECON 2021, we will explore the space between people, decision makers, and the diverse sources of social innovation, revisiting the questions of whom social enterprise is for, what role it can play, and why. As we continue in and emerge from the pandemic, how will we define social enterprise to address the challenges of the decade ahead?
Website: http://socialenterpriseconference.org/
Remarks
Please reach out to info@socialenterpriseconference.org and we are happy to work with you on any questions or comments regarding tickets.