Location
4105 N Wilson Way
4105 North Wilson Way
Stockton, CA 95205
The 35th San Joaquin Asparagus Days celebrates the delicious green veggie while enjoying great music, delicious food and making memories!
About this event
May 13th-16th, 2021
This years event will be taking place at the Stockton 99 Speedway, 4105 N. Wilson Way, Stockton, CA 95205 with everything taking place outdoors.
Days & Hours of Operation:
Thursday, May 13th Noon-6pm
Friday, May 14th 10am-7pm
Saturday, May 15th 10am-7pm
Sunday, May 16th 10am-6pm
Asparagus Alley lines cut off at 5pm sharp on Thursday and Sunday, 6pm on Friday and Saturday.
Beer & Wine sales end at 5pm on Thursday and Sunday, 6pm on Friday and Saturday
SINGLE DAY ADMISSION PRICES
Adult (18-64) - $20
Child (6-17), Senior 65+, Military w/ID - $15
Child 5 & Under - FREE (these do no require a physical ticket at gate)
THURSDAY IS HALF PRICE ADMISSION
The return of this annual event will continue its efforts towards supporting agriculture in the region and local non-profit groups. The overall purpose of the event will remain the same. Providing an opportunity for non-profit groups to secure a source of funding especially after the year we have all endured. The San Joaquin Asparagus Festival has donated in excess of $750,000 to local charities since taking it over in 2015.
This year's event will continue to showcase delicious asparagus dishes in the Asparagus Plaza including the highly anticipated asparagus burritos, corn dogs, tri-tip, bacon wrapped asparagus and much more! A few new items this year include asparagus lemonade, strawberry & asparagus smoothies and elote style asparagus, which all sound very exquisite. Asparagus Alley will once again feature the all-time favorite deep fried asparagus and asparagus ice cream.
At the San Joaquin Asparagus Days, the safety of our guests and staff is and always has been our number one priority. The outdoor event will operate fully in accordance with state and local regulations to ensure our guests have a safe and enjoyable experience. Masks will be required, hand washing and hand sanitizing stations will be provided throughout the grounds, as well as, we ask that attendees maintain 6' social distances when around others who did not travel to the event together. Limited amount of daily admission will be sold solely online to help adhere to social distancing protocols.
As specific details emerge, we will keep our social media pages and website up to date with hours of operation, directions, vendor applications, event maps and daily entertainment schedules.
We look forward to providing a safe and enjoyable event for all to enjoy. For more information visit: sanjoaquinasparagusfestival.net or call/text 916-370-3647
Parking is $10 per vehicle, $5 per Motorcycle CASH ONLY
The following COVID-19 safety protocols will be in effect for Admission Safety:
• All guests must wear a face mask, unless actively consuming food or beverage.
• All tickets will be digital.
• All guests will be required to submit to a temperature check prior to entering the ticket gates.
• All guests must maintain six feet of social distancing from those not in your immediate party.
• All guests must adhere to any requirements set forth by state and local officials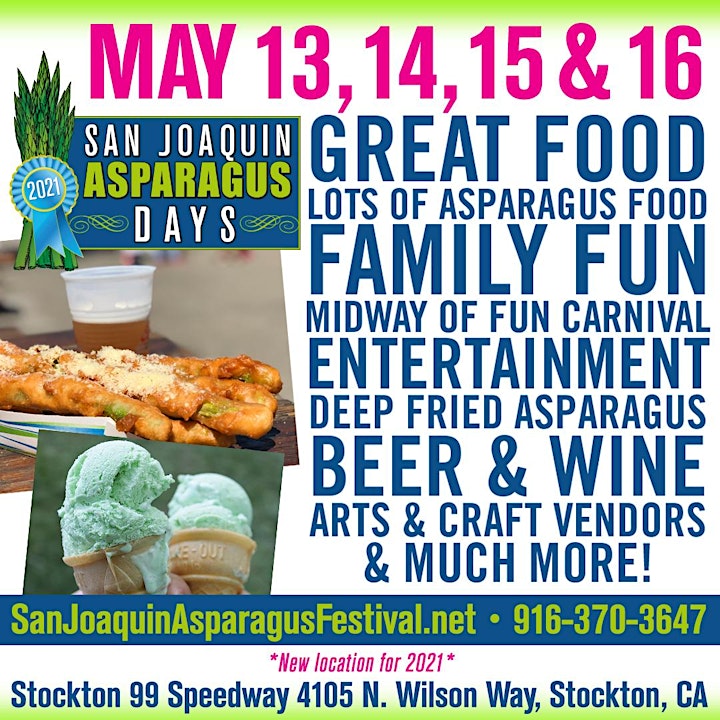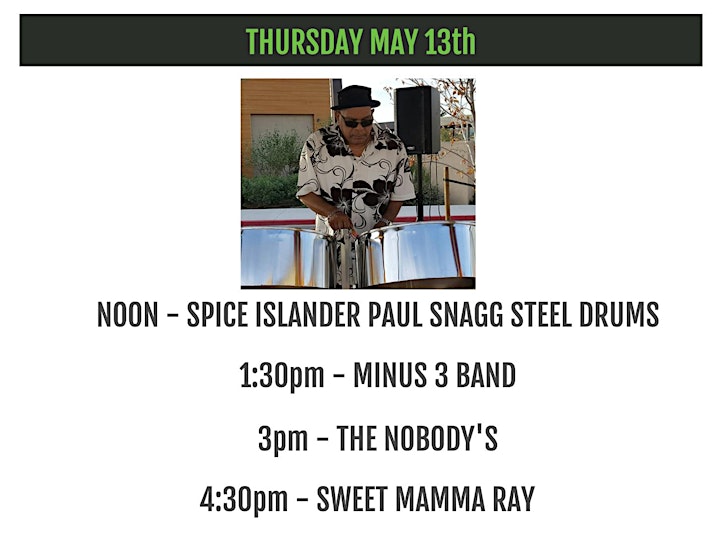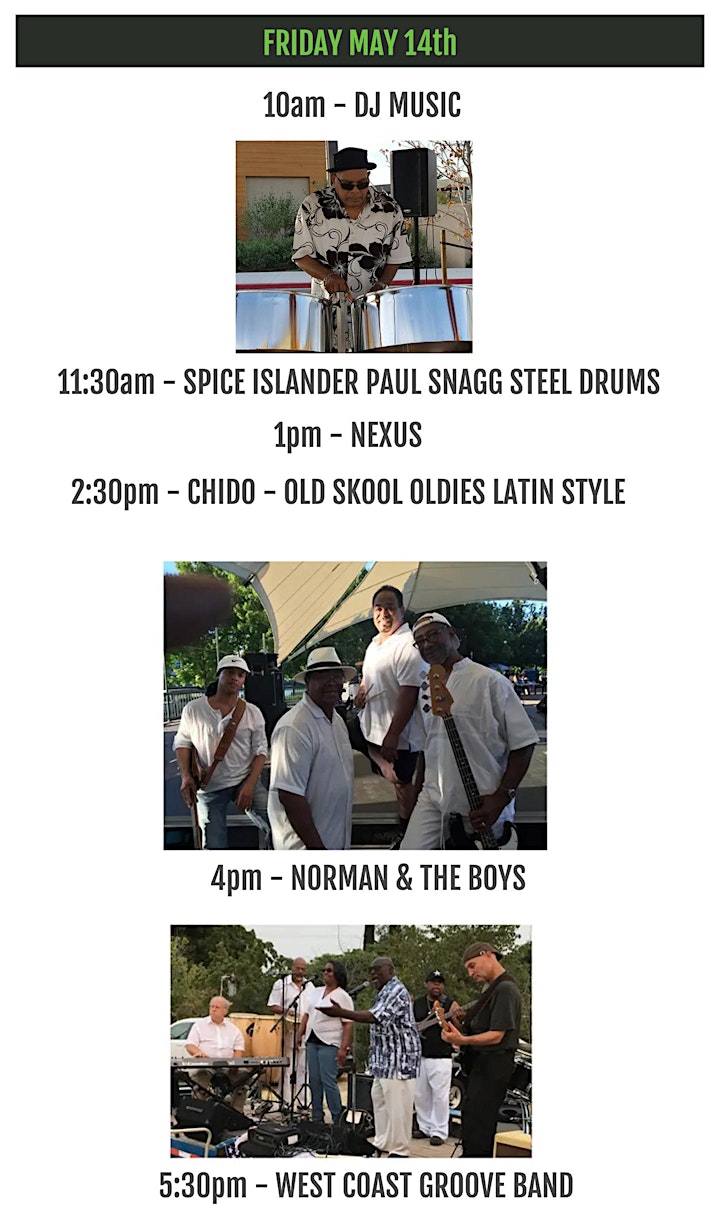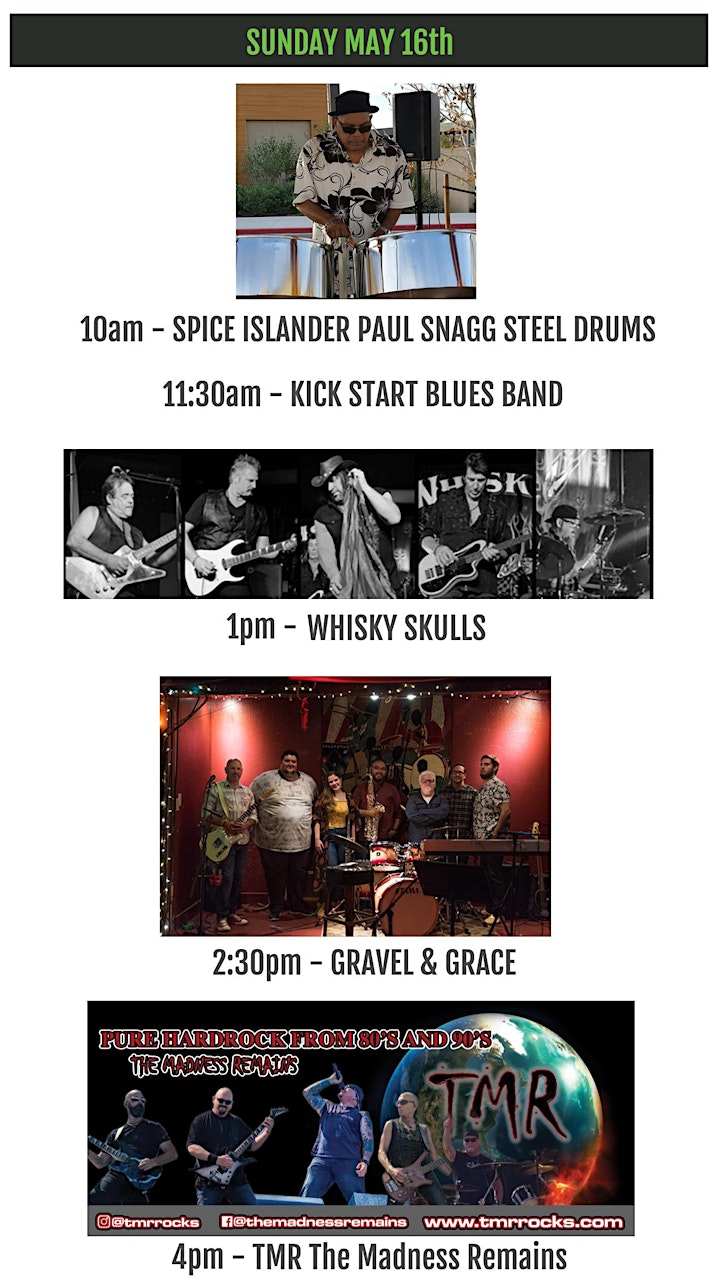 Assumption of the Risk and Waiver of Liability Relating to Coronavirus/COVID-19
The novel coronavirus, COVID-19, has been declared a worldwide pandemic by the World Health Organization. COVID-19 is extremely contagious and is believed to spread mainly from person-to-person contact. As a result, federal, state, and local governments and federal and state health agencies recommend social distancing and have, in many locations, prohibited the congregation of groups of people. The San Joaquin Asparagus Days ("the Event") has put in place preventative measures to reduce the spread of COVID-19; however, the Event cannot guarantee that you or your child(ren) will not become infected with COVID-19. Further, attending the Event could increase your risk and your child(ren)'s risk of contracting COVID-19.
By signing this agreement, I acknowledge the contagious nature of COVID-19 and voluntarily assume the risk that I, my child(ren), and my family could be exposed to or infected by COVID-19 by attending the event and that such exposure or infection may result in personal injury, illness, permanent disability, and death. I understand that the risk of becoming exposed to or infected by COVID-19 at the Event may result from the actions, omissions, or negligence of myself and others, including, but not limited to, Event employees, volunteers, and program participants and their families.
I voluntarily agree to assume all of the foregoing risks and accept sole responsibility for any injury to myself, my child(ren), and family including, but not limited to, personal injury, disability, and death, illness, damage, loss, claim, liability, or expense, of any kind, that I, my child(ren), and family may experience or incur in connection with attendance at the Event. ("Claims").
On my behalf, and on behalf of my children and family, I hereby release, covenant not to sue, discharge, and hold harmless the Event, its employees, agents, and representatives, of and from the Claims, including all liabilities, claims, actions, damages, costs or expenses of any kind arising out of or relating thereto. I understand and agree that this release includes any Claims based on the actions, omissions, or negligence of the Event, its employees, agents, and representatives, whether a COVID-19 infection occurs before, during, or after participation in Event.
THIS SECTION MUST BE CAREFULLY READ AND SIGNED BY THE APPLICANT IN CONSIDERATION OF BEING PERMITTED TO ENTER FOR ANY PURPOSE ANY RESTRICTED AREA (herein defined as including but not limited to the racing surface, pit areas, infield, paddock area, grandstand area and all walkways, concessions and other areas appurtenant to any area where any activity related to the EVENT(s) shall take place, or being permitted to compete, officiate, observe, work for, or for any purpose participate in any way in the EVENTS(s), THE UNDERSIGNED, for himself/herself, his/her personal representatives, heirs, and next of kin, acknowledges, agrees and represents that he/she has, or will immediately upon entering any of such restricted areas and will continuously thereafter, inspect such restricted areas and all portions thereof and which he/she enters and with which he/she comes in contact, and he/she does further warrant that his/her entry upon such restricted area or areas and his/her participation, if an, in the EVENT(S) constitutes an acknowledgement that he/she has inspected such restricted areas and that he/she finds and accepts the same as being safe and reasonably suited for the purposes of his/her use, and he/she further agrees and warrants that if, at any time, he/she is in or about restricted areas and he/she feels anything to be unsafe, he/she will refuse to participate further in the EVENT(S), will immediately advise the officials of such unsafe situation and will leave the restricted areas and not return.
1. HEREBY RELEASES, WAIVES, DISCHARGES AND COVENANTS NOT TO SUE THE PROMOTERS, PARTICIPANTS, EVENT OPERATOR, EVENT OWNER, SPONSORS, ADVERTISERS, OWNERS AND LESSEES OF PREMISES USED TO CONDUCT THE EVENT(S), PREMISES OR EVENT INSPECTORS, SURVEYORS, INSURERS, UNDERWRITERS, CONSULTANTS OR OTHER PERSONS OR ENTITIES WHO GIVE RECOMMENDATIONS, DIRECTIONS, OR INSTRUCTIONS OR ENGAGE IN RISK EVALUATION OR LOSS CONTROL ACTIVITIES REGARDING THE PREMISES OR EVENT(S), THEIR PARENTS, SUBSIDIARIES, WHOLESALERS, AFFILIATED CORPORATIONS, AND EACH OF THEM, AND THE DIRECTORS, OFFICERS, AGENTS AND EMPLOYERS OF EACH OF THEM, ALL FOR THE PURPOSES HEREIN REFERRED TO AS THE "RELEASEES" FROM ALL LIABILITY to the undersigned, his/her personal representatives, assigns, heirs, and next of kin for any and all loss of damage, and any claim or demands therefore on account of injury to the person or property or resulting in death of the undersigned whether caused by the negligence or gross negligence of the "RELEASEES", or otherwise while the undersigned is in or upon the restricted area, and/or competing, officiating in, observing, working for or for any purposes participating in the EVENT(S).
THE ADMISSION PURCHASER HAS READ AND VOLUNTARILY SIGNS THE RELEASE AND WAIVER OF LIABILITY AND INDEMNITY AGREEMENT FOR ALL WHO THEY ARE PURCHASING ADMISSION FOR AND THEMSELVES, and further agrees that no oral representations, statements or inducements apart from the foregoing written agreement have been made.