You're Invited to the 2021 REACH Sporting Clays Event
About this Event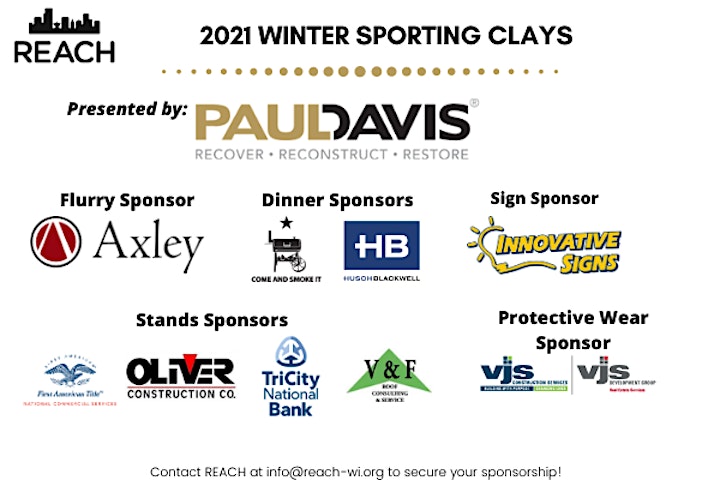 Join the 2021REACH Winter Sporting Clays, presented by Paul Davis Restoration!
Come out and compete with networking, drinks, food, and fun!
Teams of 4 will compete in the Sporting Clays followed by networking, drinks, and food catered by Come and Smoke It, the award winning BBQ from Husch Blackwell's Derek Taylor!
Get your team together – and reserve your space today to come out to shoot!
ATTENTION ANNUAL SPONSORS! The Winter Sporting Clays event is not included in the our Annual Sponsorship package benefits.
Safety Alert: We love hosting events & we love supporting our local community organizations. In spite of COVID-19, the REACH Board has decided to continue with our events for 2021 while taking the appropriate precautionary measures to accommodate teams and shooters during this time of safety concerns.
Each event this year will be hosted and organized to offer safe and comfortable fun while allowing for competition and networking.
This event will have the following safety precautions:
This event is being held completely outdoors. We will do all we can to make teams and players feel safe, but we also request diligence in respecting the needs of your teammates. The inside bar will be available to pick up drinks and for a limited number of guests during networking.
Dress Warm! See above!
Hand sanitizer stations will be set up and masks will be available.
If there are concerns you feel we haven't covered, please let us know. We are happy to hear the ideas & thoughts of our supporters!
We are looking forward to this great event!
Don't shoot? Join us for networking outside and fantastic Come and Smoke It! BBQ!
Schedule
Registration - 2:30
Safety Announcement - 3:00
Shoot - 3:15
Networking/Dinner - 4:30-6:00
Register online or, if you prefer to pay by check, email info@reach-wi.org