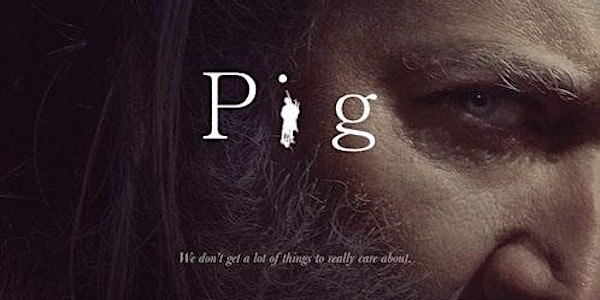 2021 PROXY Fall Film Festival: PIG
A free, outdoor screening of PIG, a compelling meditation on the role of loss in the human experience from director Michael Sarnoski
When and where
Location
PROXY 432 Octavia Street San Francisco, CA 94102
About this event
PIG
Directed by Michael Sarnoski, 2021 [R]
"Despite a few scenes here and there of Rob snarling, "I want my pig back!" this movie is not the kind of offbeat goof Cage has become infamous for lately. "Pig" is a rich character study, marked by several riveting Cage monologues, as Rob ruminates on the tricky taste of persimmons, or as he warns the Portland status-seekers that the things they think matter will be wiped away when catastrophe comes."
- Noel Murray, LA Times
PIG stars Nicolas Cage as Robin Feld, a former Portland chef who has retired to the woods to hunt for truffles alongside his trained pig, Apple. When Apple is stolen, Robin returns to the city and restaurant community he left behind. Poised to be a smash-and-grab thriller, PIG sheds expectations and plays out as a meditation on the nature of loss and its role in the human experience. Alex Wolff lends his talents in a supporting role, playing a truffle broker whose family history is tied to Robin's former restaurant.
Watch the trailer here: https://www.youtube.com/watch?v=gH6vhlNTLUk&ab_channel=MovieclipsTrailers
Presented by HERE FOR NOW, the FREE, Friday evening film screenings begin at dusk with 'doors' opening at 6:00 pm. Film begins at sundown around 7:10PM
THIS RSVP DOES NOT GUARANTEE A SPOT - ALL SEATING AT PROXY ARE ON A FIRST COME, FIRST SERVED BASIS
Come early to claim a good spot, enjoy an ice-cold beer from Fort Point Beer Company (all proceeds support outdoor cinema at PROXY!) and delicious food from the Al Carajo food truck!
Consistent with SFDPH Guidelines, no masks or distancing will be required for all vaccinated attendees. All PROXY staff will be wearing masks when interacting with the audience.
Check out our tips for enjoying movies outside at PROXY.