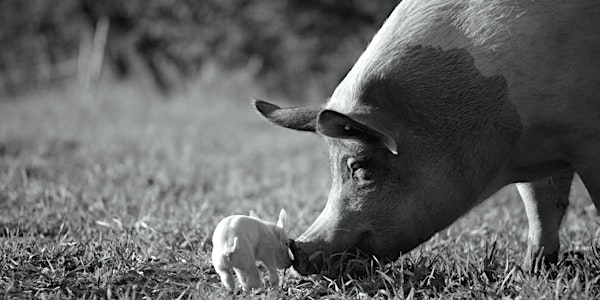 2021 PROXY Fall Film Festival: GUNDA
A free, outdoor screening of the transcendent nature documentary GUNDA, directed by Viktor Kossakovsky
When and where
Location
PROXY 432 Octavia Street San Francisco, CA 94102
About this event
GUNDA
Directed by Viktor Kossakovsky, 2021 [G]
"Gunda may be a meditational slow-burn, but as it unfurls its immersive audiovisual tapestry it hovers between non-fiction observation and lyrical insight, and to that end feels like an advancement of the nature documentary form. At the same time, there is an air of activist intent lurking just outside the parameters of each scene, as it builds an argument against animal cruelty that transcends the boundaries of shrill polemics. If it doesn't convince meat-eaters to hold the bacon with their eggs — or order eggs in the first place — it might at least compel them to taste some of the pain."
- Eric Kohn, Indiewire
GUNDA is a black and white documentary centering the lived experiences of a series of farm animals - a one-legged chicken, a family of cows, and the eponymous pig Gunda and her brood of piglets. The films calls the viewer in to experience the lives of these animals on their own terms, demanding empathy for their inner lives. It is a hypnotic experience and case for veganism, without ever communicating through voiceover or written text. A masterclass in nature documentary and activist filmmaking from director Viktor Kossakovsky, GUNDA expands what can be accomplished with a camera and a crew.
Watch the trailer here: https://www.youtube.com/watch?v=afZ6n7lwx48
Presented by HERE FOR NOW, the FREE, Friday evening film screenings begin at dusk with 'doors' opening at 6:00 pm. Film begins at sundown around 7:30pm.
Come early to claim a good spot, enjoy an ice-cold beer from Fort Point Beer Company (all proceeds support outdoor cinema at PROXY!) and delicious food from the Viva Vegan food truck!
Consistent with SFDPH Guidelines, no masks or distancing will be required for all vaccinated attendees. All PROXY staff will be wearing masks when interacting with the audience.
Check out our tips for enjoying movies outside at PROXY.