Sales Have Ended
Ticket sales have ended
Thank you for registering for Project Live Well! Classes will be virtual (online) and will run weekly beginning February 4th through June 30th. You will receive additional information about class schedule after registering. For questions, email info@ffbww.org or call (608) 305-4422.
Join the Foundation for Black Women's Wellness for Project Live Well and start 2021 off right with a commitment to your wellness!
About this event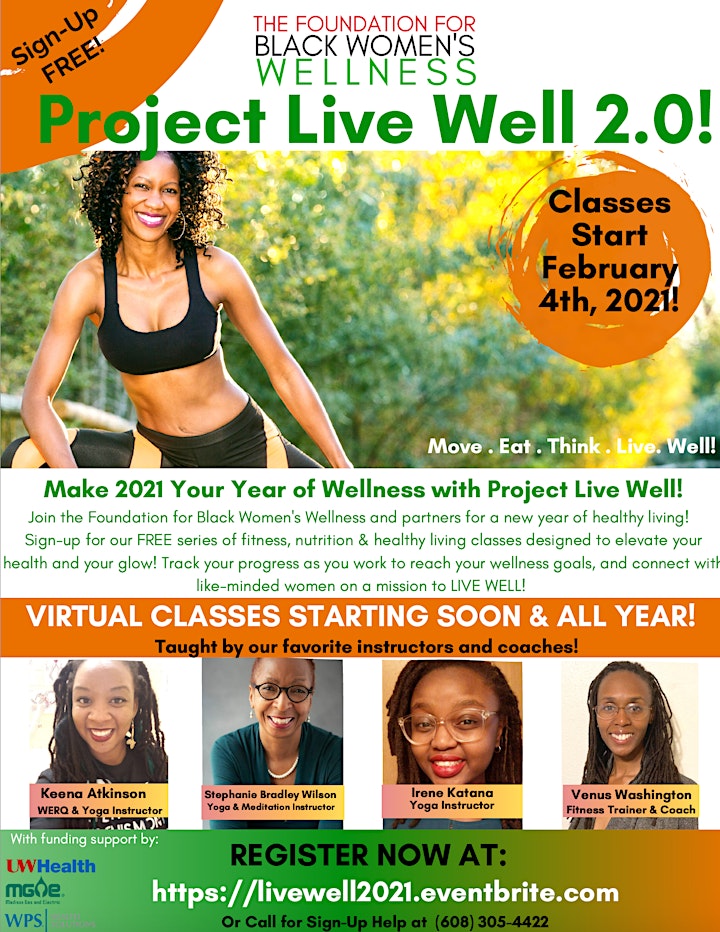 Make 2021 Your Year of Wellness with Project Live Well!
Join the Foundation for Black Women's Wellness and partners for a new year of healthy living! CLASSES BEGIN ON FEBRUARY 4th!
Sign-up for our FREE series of VIRTUAL fitness, nutrition & healthy living classes designed to elevate your health and your glow! Track your progress as you work to reach your wellness goals, and connect with like-minded women on a mission to LIVE WELL!
A combination of fitness and nutrition classes will be offered between January and June 2021 taught by expert instructors in the field! They will push, support, and inspire you!
More details and weekly class schedule will be shared with participants after sign-up.
This program is FREE to participate -- and DONATIONS are always accepted!
REQUIREMENTS:
Age: Participants must be 13 and older.
Waiver: Participation in Project Live Well is voluntary. By signing-up, you confirm that you have consulted your physician or healthcare provider and that you are cleared for physical activity.
SIGN UP TODAY!