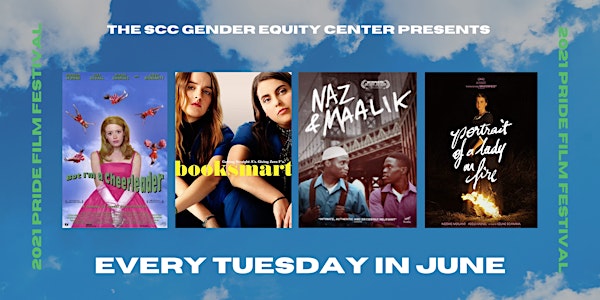 2021 Pride Film Festival
Join us for a weekly screening of queer cinema each Tuesday in June!
About this event
Week 1 - But I'm a Cheerleader
Megan (Natasha Lyonne) considers herself a typical American girl. She excels in school and cheerleading, and she has a handsome football-playing boyfriend, even though she isn't that crazy about him. So she's stunned when her parents decide she's gay and send her to True Directions, a boot camp meant to alter her sexual orientation. While there, Megan meets a rebellious and unashamed teen lesbian, Graham (Clea DuVall). Though Megan still feels confused, she starts to have feelings for Graham.
Week 2 - Naz & Maalik
Two closeted Muslim teens living in Brooklyn struggle to come clean about their sexuality.
Week 3 - Booksmart
Academic overachievers Amy and Molly thought keeping their noses to the grindstone gave them a leg up on their high school peers. But on the eve of graduation, the best friends suddenly realize that they may have missed out on the special moments of their teenage years. Determined to make up for lost time, the girls decide to cram four years of not-to-be missed fun into one night -- a chaotic adventure that no amount of book smarts could prepare them for.
Week 4 - Portrait of A Lady on Fire
France, 1770. Marianne, a painter, is commissioned to do the wedding portrait of Héloïse, a young woman who has just left the convent. Héloïse is a reluctant bride to be and Marianne must paint her without her knowing. She observes her by day, to paint her secretly.
Week 5 - Hannah Gadsby's Nanette
Join our party at 6pm: https://www.tele.pe/join/bb29b747b9625bcf