Sales Have Ended
Registrations are closed
The 2020 SAME San Antonio Post Elections have ended
Sales Have Ended
Registrations are closed
The 2020 SAME San Antonio Post Elections have ended
To vote in the 2021 SAME San Antonio Post Elections.
About this event
VOTING DETAILS
You MUST BE as San Antonio Post member in good standing to vote - see Post membership rosters.
Only one vote per member is allowed.
If you want to enter a "WRITE-IN" candidate in lieu of the candidate(s) listed for a position, please be sure the individual is a member of the Post and interested in the position.
Be sure to vote for each elected position.
The deadline to vote is Monday, November 15, 5 pm (CT). Select the "SAPOST VOTE" registration above to vote.
You will be voting for candidates for five (5) available elected Board positions. The details about the six (6) candidates are below.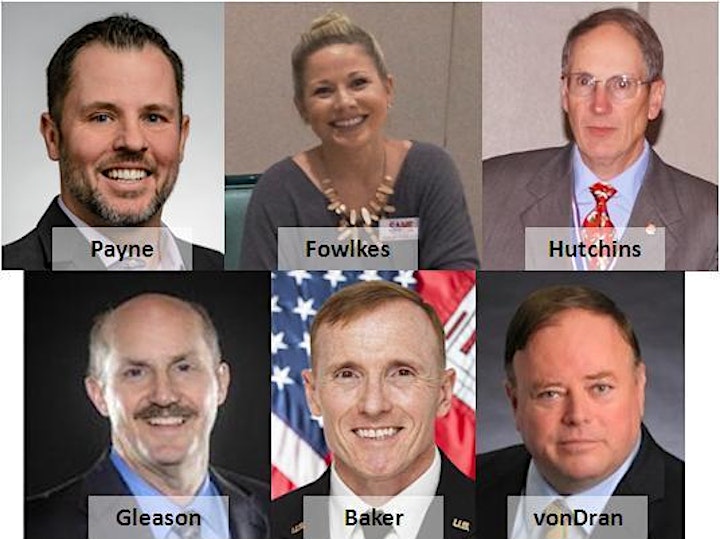 ELECTION CANDIDATES
2022 VICE PRESIDENT/2023 PRESIDENT-ELECT:
Zakary Payne - Zakary, a SAME Young Professional member, is an Executive Associate with Matrix Design Group in the Government Consulting Services division. He most recently served as one of two Vice Presidents for the Pikes Peak Post and was scheduled to assume the role of Post President in June 2021 had he not relocated to San Antonio. Zakary also currently serves as the SAME Programs Chair for the Leader Development Community of Interest (COI) responsible for developing and securing content for monthly meetings and annual conferences. He also helped shape the Leader Development Program (LDP) curriculum as both a member of the COI and a graduate of the inaugural LDP class. Zakary wants to serve on our Board because he believes in the mission and vision of the Society and wants to make a difference at both the local and national level.
2022 SECRETARY:
Sarah Fowlkes - Sarah, a SAME Young Professional member, is a Marketing specialist for AmaTerra Environmental, Inc. She has served as the Post Secretary for the last 2 1/2 years and wants to continue her service with the Post. Sarah participated in and graduated from the Post's Leadership Lab Program, helped with the UTSA and UT Student Chapters, serves on the Young Professional and Golf Tournament Committees, and runs the one-on-one sessions at our Small Business Market Research Fair. She has attended the SAME SBC for the past 4 years, as well as attending other Posts' conferences. Sarah loves being an active member of the Post and wants to continue her involvement.
2022 TREASURER:
Sam Hutchins IV, F.SAME - Sam is a Senior Engineer with City of San Antonio who oversees Public Works project management software, schedulers and reporting/dashboards/databases. Sam is a member of the SAME Academy of Fellows and has been our Post Treasurer since 2002 and also serves as a Post Golf Committee volunteer helping make our Post Education & Mentoring Fund Golf Tournament a huge success each year. Sam enjoys being part of the Post Board and has been excellent at maintaining our financial records over the past years. He is planning on retiring in 2022 which will allow him even more time to be involved in Post activties.
2022-23 DIRECTOR, LEADERSHIP & MENTORING (L-M):
Don Gleason - Don is President of Achieve New Heights, LLC which supports small business growth by developing team members and focusing on process standardization to be a professional services firm. He also is President of the Military Transition Roundtable which supports like-minded military and spouses in their goal to transition from the military to civilian careers. Don has a passion for leadership development in organizations. He has served as the Co-Director of the Post's Leadership Lab Program since 2019, our Wounded Warrior and Community Support Director from 2017-18, Vice President of Kaiserslautern Post, Co-Director of the European Region SAME Conference and Vice President of the BIg Sky Post. Don wants to fill the void for small businesses that don't have a formal leadership program.
2022-2023 DIRECTOR, INDUSTRY-GOVERMENT ENGAGEMENT (IGE)
Col John Baker, USA - John is Director of Operations at the U.S. Army Installation Management Command responsible for the operations, emergency management, strategic planning, and training support for the 55,000-employee organization with a $10 billion annual budget providing services and infrastructure for 75 Army installations worldwide. He has also been a 2-time District Commander with the U.S. Army Corps of Engineers. He has served in leadership roles at the Baltimore, San Francisco and Rhine-Main Posts. John wants to continue to serve the engineering profession in support of our military and believes he has much to offer the Post regarding Industry-Government Engagement.
Ed vonDran - Ed is the Chief Engineer and President of Alpha Terra Engineering Inc, a small architecture, engineering, and environmental consulting firm, currently celebrating 25 years in business. His mission in life is service to others. Currently, as a disabled veteran, he led his company on a focused mission to improve conditions for veterans by providing professional services aiding the Veterans Administration. Ed previously served on the Post Board as our Education and Training Director, has bee a member of the Scholarship Committee for the past five years and a regular volunteer for our support of local science fairs. Ed wants to continue to serve the Post as a Board member and the local community.
Thank you for taking time to vote in this year's Post elections!