2021 Portland Biblical Worldview Educators Conference
Join us for the first Biblical Worldview Conference for educators and parents.
About this event
BJU Press is excited to bring you the first-ever Biblical Worldview Educator's Conference held in the Northwest!
Sessions will include a variety of best practices in both primary and secondary education by experienced educators and national consultants.
Sessions will include topics like:
Helicopters and Snowflakes - Dealing with Today's Parents
Technology in Your Classroom
Making Heritage Come Alive
Reading: The Phonics, the Fundamentals, and the Final Grade
Language Arts Beyond Reading: A look at Grammar, Writing and Spelling
Administrator-led sessions will be specifically designed to help with a variety of current issues facing Christian schools. (Presented by Blair Bryant, superintendent of Cedar Park Christian Schools.)
Sessions will include:
Administrators' Round Table: Open discussion about current events
Keys to the Kingdom: Fundraising and Financial Aid
Why Christian Material?
We will also be holding an evening session for parents, grandparents, and guardians! This will be a time of fellowship and learning. Founder of Renewanation, Author, and National Trainer, Jeff Keaton will be addressing: Six Reasons Why We Must Give our Children and Grandchildren a Biblical Worldview. You will be inspired to become more and more intentional about the biblical worldview development of the children in your care.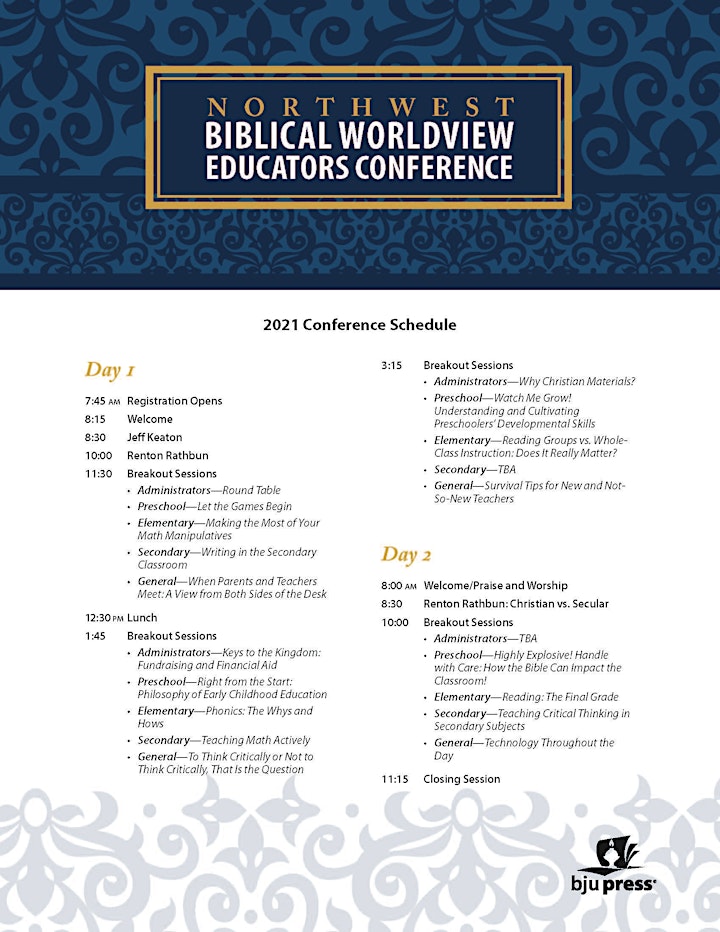 If location or dates work better with your schedule, a similar event will be hosted in Seattle, WA at Cedar Park Christian School, on August 18 - 19.
https://bwvseattle.eventbrite.com/?ref=estw
Organizer of 2021 Portland Biblical Worldview Educators Conference