Enjoy Porches and Peaches musical performances and shopping local vendors at Marketplace at The LEX. Music , History ,shopping and PEACHES!
About this event
Saturday, July 31, 2020
$11 ticket per person includes Porches & Peaches Performances at FIVE historic locations around town. Tickets/wristbands will be available for pick up beginning at 9am at "will call" at The LEX July 31, 2021.
All 5 performances will be held at historic locations within walking distance to the LEX.
First performance begins at 11am. Last performance begins at 4:45pm. Location map for performances will be available with wristband at will call.
9am - Doors at The LEX open for picking up/purchasing tickets and shopping the Marketplace until 4pm.
Peach treats and Adult beverages will be available throughout the day for purchase.
Marketplace will include up to 24 craft vendors, a few local farmers, Johnson's BBQ available beginning at 10:30am and the sale of delicious local peaches from Rasa's Orchard and Meier Farms, weather permitting a good crop between now and then.
Our wonderfully talented performers include:
Al Jolly
Al Jolly has been entertaining audiences for the past 35 years in a variety of formats. His innovative singing style coupled with incredible guitar/piano skills have left audiences feeling they have witnessed a truly gifted musician. Al has produced several albums, been a guest artist on many more, been involved in the production of many advertisements, opened concert shows for multiple artists, performed in every conceivable entertainment setting from large concert halls to small lounges and bars. An evening spent listening to Al Jolly should not be missed if you are truly interested in enjoying the talents of a gifted musical entertainer! Additionally, Al has spent 24 years as a high school instructor.
"A voice softly rough, with tight, original phrasing." Columbia Daily Tribune "A voice like an angel, guitar licks that float." Kansas City Star "Jolly's energy, unique musical delivery, intense lyrical compositions provide the listener with a great performance." – St. Louis Post Dispatch
Davis and McCarty
Davis and McCarty are a mandolin and guitar duet, in the tradition of many great brother duets of the early days of country music. Having met in the KC bluegrass scene some fifteen years back, they now share the stage with various others in several different bands. They team up now to revive some of the old standards of country, bluegrass, and folk. Both are multi-instrumentalist, and bring a polished and fresh approach to this music. Their hope is to inspire the next generation of analog lovers in a world that seems to be increasingly digital.
Len Audsley
Len Audsley is a vocalist and has been performing for many years in the Western MO and KC area - Mostly with his friends in Lexington... In 2011 he started a new musical adventure with his own YouTube Channel, and has since performed with many other musicians from all parts of the World... Many different types of music are represented in his videos.... Len remains very active today on YouTube... Then around 2014 he launched a live solo show - performing popular music from the past and present... Much of his material is very nostalgic in nature and the songs are always a big hit!
Randy Rudd
Randy was the lead singer/guitarist/pianist for the Sons of the Pioneers for seventeen years, both in Branson and on tour throughout the United States and Canada. He has appeared on radio, television and on such renowned stages as the Beverly Hilton, Earnest Tubb's Record Shop, Billy Bob's in Fort Worth, and the Grand Old Opry.
Beam and Eads
Beam & Eads is a local entertainment duo, who have performed more than a thousand shows in the past twelve years locally and throughout Missouri, Kansas, and Oklahoma. Watch for more information regarding performers here and on The LEX Facebook page.
Location map for performances will be available with wristband at will call.
COME BY AND CHECK OUT THESE PERFORMANCES!
Many thanks to our gracious "Porch Hosts" and Sponsors!
Jeff and Michelle Simpson ~ Pam Foreman ~ Jerry and Susan Kirkpatrick ~The Heist
Jenifer Jellum Re/Max ~ Kathy Adkins Riverview Realty ~ Dee Va Spa and Salon ~George and Charolette Stier ~ Beyond The Fold ~ JAM DJ Service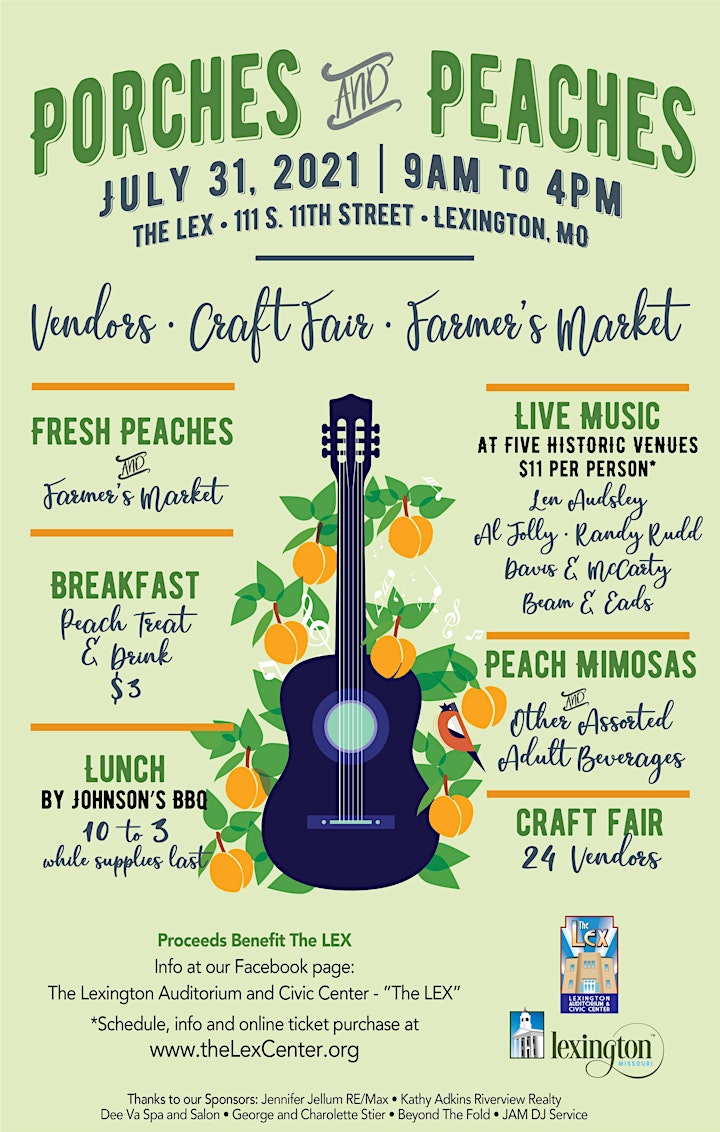 Organizer of 2021 Porches and Peaches (Marketplace at The LEX, Performances around town)