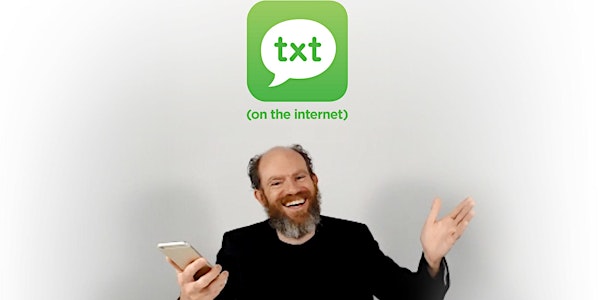 2021 Pittsburgh Virtual Fringe Festival presents #txtshow (on the internet)
The best show you'll write all year, this crowdsourced immersive multiscreen performance features a script written anonymously by YOU!
Refund Policy
Contact the organizer to request a refund.
Eventbrite's fee is nonrefundable.
About this event
This event has been created due to COVID-19.
------------------------------
• Experimental Production of the Year, The Young-Howze Theatre Awards (2021)
• Les Meilleures Expériences Immersives, UXmmersive (2021)
• NoPro Critic's Picks, No Proscenium (2020)
• Best Artful Adaptation to the Pandemic, Orlando Weekly Best of Orlando® (2020)
• Artistic Innovation Award, St Lou Fringe Virtual Festival (2020)
In the midst of an international virtual tour* (during a global pandemic), award-winning performance artist and actor Brian Feldman will bring the online version of one of his signature projects to the 2021 Pittsburgh Virtual Fringe Festival, as one of 55 events available to audiences virtually as part of this year's online-only festival.
The best show you'll write all year, #txtshow (on the internet) is a crowdsourced immersive multiscreen performance featuring a mysterious character named txt (pronounced "text") who recites a script written anonymously in real-time by a live audience (on the internet).
Created and performed by Brian Feldman, this live, interactive performance takes place on Zoom, originating from his D.C. apartment.
Please Note: Audience members must keep their camera and microphone on the entire show. This show contains audience interaction. The content of the show is based entirely upon what audience members write in anonymity. Recommended for 18+.
*5-countries, 16-cities, 70-shows (as of April 9, 2021)
This project was supported by the D.C. Commission on the Arts and Humanities.
To see the full 2021 Pittsburgh Virtual Fringe Festival lineup, visit: PittsburghVirtualFringe.com
------------------------------
Run Time: 45 minutes
Performances:
Thu, May 6 @ 8:30 PM EDT
Fri, May 7 @ 9:00 PM EDT
Sat, May 8 @ 9:15 PM EDT
Sun, May 9 @ 5:00 PM EDT
All shows are in Eastern Daylight Time (EDT) (UTC-4).
Participating from another time zone? Check the time difference here.
------------------------------
Location:
Zoom (on your computer, phone, or tablet)
On the day of the performance, ticket buyers will receive an email from projects@brianfeldman.com with a link to the Zoom meeting.
------------------------------
Tickets: $10
Only 22 tickets available per performance.
------------------------------
Hashtags: #txtshow #PGHFringe
Twitter: @txtshow @BrianFeldman @PGHFRINGE
Instagram: @brianfeldmanprojects @pghfringe
Festival Event Page: pittsburghvirtualfringe.com/event/txtshow
------------------------------
Reviews:
"An experience unlike anything in live theater."
– Amy Kotkin, DC Metro Theater Arts
"In the year of virtual Fringe, I was hoping for at least one show that fully embraced the digital medium. I got my wish with #txtshow."
– Michael Poandl, Asheville Stages
"Such an intriguing and innovative concept, it's far more than the simple, one-way online broadcast performances that have substituted themselves in place of real-world delivery in traditional theatres... #txtshow (on the internet) is easily the best Zoom call I've dialed into during 2020."
– The Greater Manchester Reviewer
"With #txtshow, Feldman has succeeded at creating something that tests the limits of theatre as a form and plays with the boundaries of the performer-spectator relationship."
– Allie Marotta, No Proscenium
"This is a work of experimental theater, and I daresay it's the best."
"I've spent a lot of time on Zoom in 2020, and can't recall an hour anywhere near as entertaining as this curious Fringe experiment."
– Jason Whyte, Australian Arts Review
"This online pandemic world we live in is NOT favorable to theater events. While parking is cheaper and you can bring your own beer, there's no sense of audience or shared discovery. But if you MUST do a show online, #txtshow might be the archetype."
"Suffice it to say that, in this horrible period during which live performance has been suspended and the lively arts are experimenting with alternative ways in which to engage the audience and remain relevant, #txtshow (on the internet) is an offering that embraces the imposed limitations of the moment."
– Christopher Henley, DC Theatre Scene
"#txtshow (on the internet) offers a unique theatrical experience, in both senses of that description. It seems like a great show to attend with a group of friends, especially if you have interesting friends. But even solo, #txtshow (on the internet) is the most fun subverting the lines between audience and creator that you'll have this pandemic."
– John R. Ziegler and Leah Richards, Thinking Theater NYC
"It's like a livestream at a conference, with everyone responding in real-time to whatever is happening. With all of the thematic links between the tweets, it's sometimes tough to believe that Feldman isn't reading them out of order to emphasize the relatedness of some of the topics. He swears that he reads them as he receives them."
"I had no idea what to expect for my first live show on the internet, but this was a pretty amazing introduction... all eclectically performed as almost a stream of consciousness by Feldman's character."
"I found myself laughing louder than ever at this performance. The uninhibited mind is a strange and quirky beast... #txtshow [is] a Mad Lib with an emphasis on Mad."
– Thomas Thorspecken, Analog Artist Digital World
"For my #theater people — this was a smiling hour of fun — the audience writes the lines in real time."
------------------------------
About Pittsburgh Fringe:
Pittsburgh's artist-led performing and visual arts festival!
About Brian Feldman Projects:
Brian Feldman is an award-winning performance artist and actor. He lives in Washington, Douglass Commonwealth where, as the news website DCist noted, "In a city that has an advocacy group exploring how to 'make D.C. weird' – and is still struggling – Brian Feldman is a shining beacon of eccentricity." His work has been featured on television, radio, in print, and online, earning critical comparisons to the likes of Marina Abramović, David Blaine, John Cage, Christo, Marcel Duchamp, Tehching Hsieh, and Andy Kaufman. Since August 2003, he has presented 400+ performances of 130+ projects at 175+ venues and festivals in cities worldwide via Brian Feldman Projects, one of the world's premier presenters of experimental time-based art.
Facebook Event: https://j.mp/txtpgh_fb
Press Release: https://j.mp/txtpgh_docs