Iowa Legal Aid's Community Economic Development Project is offering a free legal compliance training for nonprofit boards of directors.
About this event
Please join Iowa Legal Aid's Community Economic Development Project for a free, virtual legal compliance training for nonprofit boards of directors.  Attendees will come away with practical knowledge about how to manage their responsibilities as members of nonprofit boards of directors and thereby build more sustainable and resilient organizations. Though the workshop will be held online, attendees should expect an interactive presentation with plenty of opportunities to engage with and virtually meet other nonprofit professionals in Iowa. Attendees will be encouraged to turn on their webcameras to participate.
Featured speaker will be Bill Boyd, Past President of the Iowa State Bar Association, who will highlight the importance of good corporate governance and speak about his many years of experience representing nonprofit organizations.  Members will also enjoy a panel discussion and question and answer session from a variety of people with experience serving on boards of directors to discuss best practices, overcoming obstacles, lessons learned and much more!
Please register to receive the training materials along with the link to attend the workshop. A finalized agenda and presenter list is forthcoming.
For questions, concerns, or accommodations, please contact Samantha Wagner at Iowa Legal Aid at swagner@iowalaw.org.  This event is free and open to the public, but priority will be given to board members of small nonprofit organizations serving low-income Iowans.  We reserve the right to prioritize attendees, if the need arises.
** This event is for informational purposes only.  The materials and information presented will not be legal advice and should not be relied upon or construed as legal advice.  Registering for or attending this event does not create an attorney-client relationship with Iowa Legal Aid or any speaker or attendee.
About The Presenters:
Bill Boyd recently completed his term as the President of the Iowa State Bar Association.  He is an attorney at Nyemaster Goode, where he concentrates his practice in the areas of corporate law, regulatory law, and commercial law and represents clients in the financial services, insurance, health care, and nonprofit sectors. He is a frequent speaker on corporate governance, privacy, and business entity issues and editor of two books published by the American Bar Association focusing on nonprofit law and governance. 
https://www.nyemaster.com/attorneys/willard-l-boyd-iii
Samantha Wagner is a Staff Attorney at Iowa Legal Aid, where she provides legal services and representation to low-income entrepreneurs in both litigation and transactional matters. Samantha graduated from the University of Wisconsin-Madison Law School, and received her Bachelor of Arts from Drake University. She is admitted to practice law in Iowa, Texas, and Wisconsin (inactive). Samantha has extensive experience working with immigrants and works to provide culturally-competent and creative solutions to clients' legal issues. In her free time, she works to destigmatize mental health, especially for the legal profession, and serves as a cultural ambassador for the Midwest.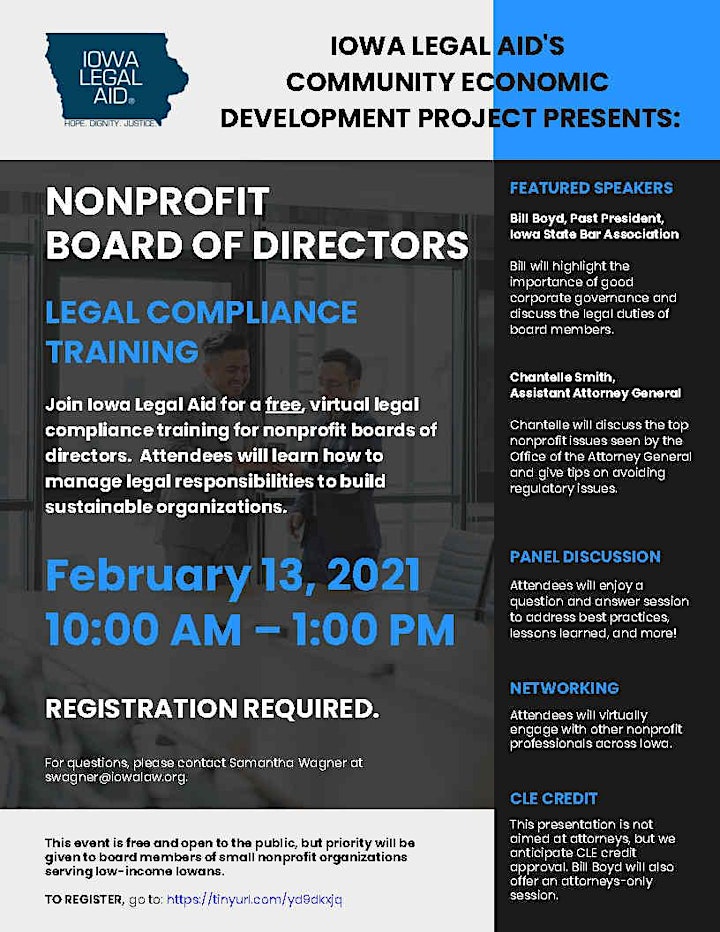 Organizer of 2021 Nonprofit Board of Directors Legal Compliance Training
Iowa Legal Aid makes hope, dignity and justice available to low-income Iowans. We provide legal assistance and education that protect fundamental rights, basic necessities and access to the judicial system. We use the power of the law to ensure low-income residents of Iowa have stable income, safe and sustainable housing and the ability to gain complete autonomy from an abusive domestic partner.

Iowa Legal Aid's Community Economic Development Project helps low-income entrepreneurs and small business owners who qualify for our services with a variety of legal matters.  We also represent nonprofit organizations who focus on serving low-income Iowans.  For more information about applying for our services, visit our website https://www.iowalegalaid.org/.