REGISTER FOR THE 2021 NMPP ENERGY ANNUAL CONFERENCE TODAY! September 7-8, 2021 -- The Lincoln Marriott Cornhusker Hotel, Lincoln, NE
About this event
Representatives from nearly 200 member communities in six states are invited to attend the 2021 NMPP Energy Annual Conference in Lincoln, NE. This year our keynote speaker will be Kris Paronto, former U.S. Army Ranger and Private Security Contractor. More information on the Conference, as well as printable registration materials, can be found by clicking here.
The NMPP Energy Annual Conference gives attendees the chance to participate in a variety of energy and community development activities, while networking with peers and industry experts. This year's Conference will include industry-relevant topics including Mutual Aid, Annexation, Employee Recruitment and Retention and much more.
*Companies interested in sponsoring this event please note, since the September Conference will be a shortened event, we will not be offering an exhibit hall/space but are still inviting you to attend and have the chance to interact with NMPP Members and staff. Registration will include company information and logo presence in event branding. Opportunities to be listed as a title sponsor for the social hour, breakfast and lunch events are available on a first come first serve basis with a limited number available per event.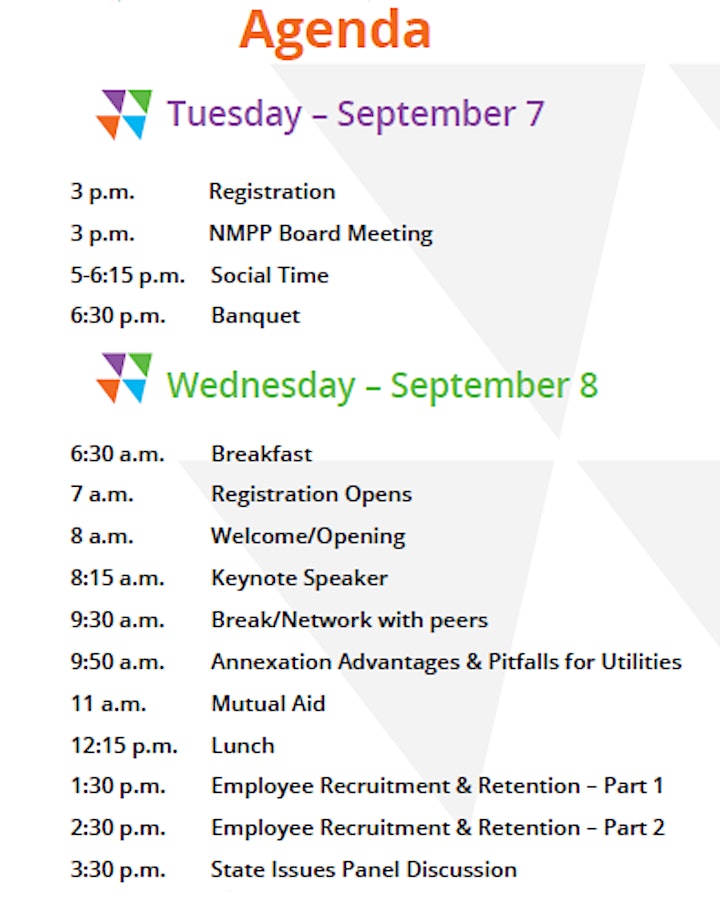 Organizer of 2021 NMPP Energy Annual Conference
NMPP Energy is a nonprofit, member-owned coalition of four organizations providing electricity, natural gas and utility-related services to nearly 200 member communities across six Midwest and Mountain states. NMPP Energy's organizations promote the benefits of joint action and local control.