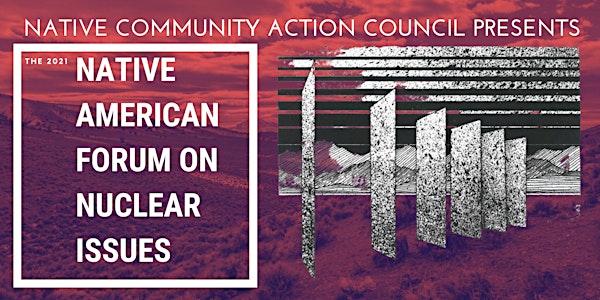 2021 Native American Forum on Nuclear Issues
The Native American Forum on Nuclear Issues (NAFNI) 2021 Virtual Event is a 5- Day Speaker Series from April 26, 2021, to April 30, 2021.
About this event
The event focuses on the impacts that nuclear issues have on Native American communities across the country.
Speakers include :
MONDAY, DAY 1: April 26, 2021
Joe Kennedy; Affected Indian Tribe & Yucca Mountain
Beata Pena-Tsosie; Protecting the Most Vulnerable Advocacy and Resistance to Nuclear Colonialism
Dr. Tommy Rock; Uranium Mines in Navajo Nation
TUESDAY, DAY 2: April 27, 2021
Myron Dewey; Protecting the Sacred, Through Indigenous Eyes
Steve Newcomb; Nuclear Testing & the Doctrine of Discovery & Domination
WEDNESDAY, DAY 3: April 28, 2021
Leona Morgan; Nuclear Colonialism and Climate Change
Carletta Tilousi; Havasupai Grand Canyon Uranium Mining
THURSDAY, DAY 4: April 29, 2021
Manny Pino; The Continuing Legacy of Nuclear Colonialism
Keith Andren; Western Shoshone Cultural Educator
Winona LaDuke; Building the Next Economy
FRIDAY, DAY 5: April 30, 2021 SPEAKER PANEL
Joe Kennedy
Beata Pena-Tsosie
Dr. Tommy Rock
Winona LaDuke
Featured artists include Jack Malotte, Sarah Caligiuri, and Bryan Hudson.