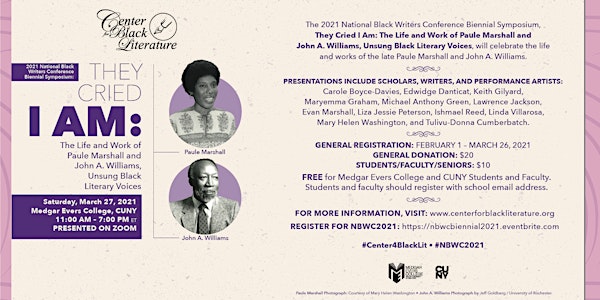 2021 National Black Writers Conference Biennial Symposium
National Black Writers Conference Biennial Symposium 2021 (Unsung Black Literary Voices)
About this event
The 2021 National Black Writers Conference Biennial Symposium (#NBWC2021), They Cried I Am: The Life and Work of Paule Marshall and John A. Williams, Unsung Black Literary Voices, will celebrate the life and works of the late Paule Marshall and the late John A. Williams. All are welcome to attend!
Featured program highlights will include a keynote address, roundtable discussions, and dramatic readings. Confirmed speakers include Carole Boyce-Davies, Edwidge Danticat, Wallace Ford, Keith Gilyard, Maryemma Graham, Michael Anthony Green, Donna Hill, Lawrence Jackson, Evan Marshall, Liza Jessie Peterson, Ishmael Reed, Linda Villarosa, Mary Helen Washington, and Jamia Wilson.
ESSENCE Best-Selling Author Donna Hill and Medgar Evers College Faculty Member Wallace L. Ford will serve as hosts for the day.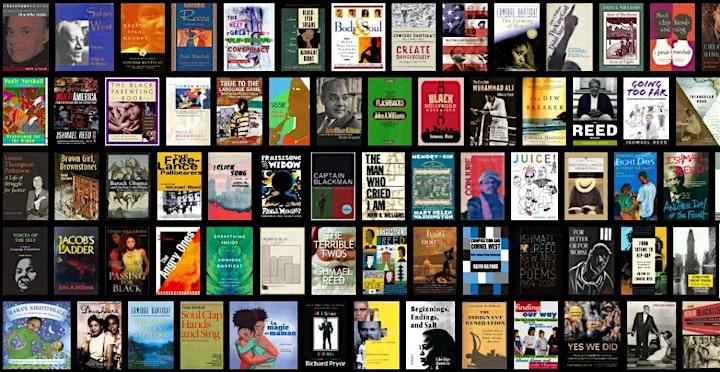 Books by all the speakers at #NBWC2021 are available for sale via the African American Literature Book Club. Click HERE for more.