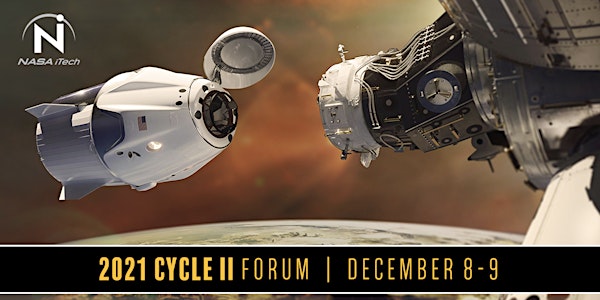 2021 NASA iTech Cycle II Forum
NASA iTech seeks cutting-edge technologies with both a commercial market path and application to NASA's mission.
When and where
Location
North Carolina State University James B. Hunt Jr. Library 1070 Partners Way Raleigh, NC 27606
About this event
Companies representing the top entries in the 2021 NASA iTech Cycle II will present their innovative technologies to NASA center chief technologists, industry experts, and potential investors at North Carolina State University in Raleigh on Dec. 8-9, 2021.
NASA iTech received over 100 white papers submitted from companies across the U.S. addressing one of five focus areas to enhance future NASA mission and capabilities: Enabling Technologies for Commercialization of Low-Earth Orbit, Hybrid Electric Aircraft Technologies and Alternative Fuels, Physics-Based Machine Learning for Artificial Intelligence, Technologies Using NASA Data to Foster Climate Resilience, and X-Factor Innovations
Companies presenting at the 2021 Cycle II forum include (in alphabetical order):
Astrapi Corporation - Dallas
Spiral Modulation
Addressing capacity and signal power-constrained communication channels and enabling more information to be transmitted through frequency ranges with less signal power
Atmo - Berkeley, California
Weather Prediction Systems
AI-enabled hardware-software systems integrating hybrid NWP/deep learning models to increase the performance of weather forecasts for governments
Cerfe Labs - Austin, Texas
CeRAM
A new class of non-volatile microelectronic memory with potential to scale beyond today's memory technologies while also providing features required to deploy adaptive intelligence
Fathom Science LLC - Raleigh, North Carolina
Metocean Intelligence
High-resolution, high-fidelity marine environment data analytics and forecasts using cloud computing to support operations and enable better planning decisions
Harmony Aeronautics LLC - College Station, Texas
Silent Drive (S-Drive) Integrated Propulsor
Novel propeller and magnet-gear motor topologies to quietly generate thrust with peak aerodynamic and electric efficiency, high torque density, and high reliability
Osazda Energy - Albuquerque, New Mexico
MetZilla Technology
Materials engineering solutions to improve the long-term durability of photovoltaic solar cells for terrestrial, space, and remotely piloted vehicle aircraft applications
Parthian Energy - Los Angeles
Parthian Electromagnetic Sensor (PES)
A unique battery sensor to prevent fires to ensure safety when powering low-Earth orbit vehicles
Precursor SPC - Seattle
Physics-Based Machine Learning for Geospatial Intelligence
Actionable, time-specific information to assess geospatial events, space weather, and earthquake, risk
Ten-Nine Technologies - Tulsa, Oklahoma
TENIX Cathode Additive
A drop-in nanomaterial for battery cathodes that could double power delivery during both takeoff and landing for sustainable electric flight
VegaMX - New York
Fusion & Fires
Highly accurate fire management and decision support tools that predict and monitor wildfires using physics and data driven methodology with a combination of space, airborne and ground-based sensor.
Video of the showcase presentations will be available online, Dec. 14 at
https://livestream.com/nasaitech/2021cycle2forum
In response to Executive Orders "Requiring Coronavirus Disease 2019 Vaccination for Federal Employees"; "Ensuring Adequate COVID Safety Protocols for Federal Contractors"; and North Carolina State University's COVID-19 safety protocols, all attendees will be required to conform to the following:
Proof of vaccination, except in limited circumstances where an attendee is legally entitled to an accommodation, is required for in-person attendance.
Unvaccinated attendees will be required to provide a negative COVID test 48 hours prior to arrival on campus.
Face coverings are required in all indoor spaces on campus, regardless of vaccination status, unless an individual is actively eating or drinking indoors. If you do not have a mask, one will be provided to you.
Face coverings are not currently required in outdoor spaces for vaccinated individuals, but they are encouraged, especially in large crowds. Anyone who has not been fully vaccinated should continue wearing a face-covering outdoors.
Face coverings will continue to be required on NC State's Wolfline buses.
Physical distancing is encouraged.
Hand sanitizing stations will be available.