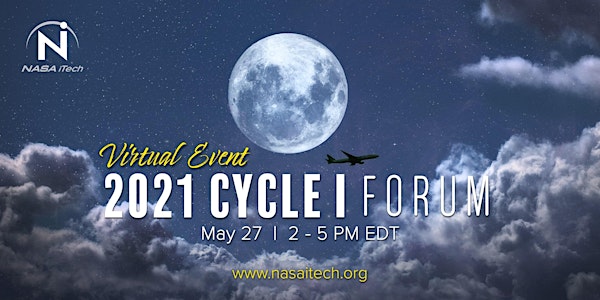 2021 NASA iTech Cycle I Forum
We invite you to join us for the 2021 NASA iTech Cycle I Forum
About this event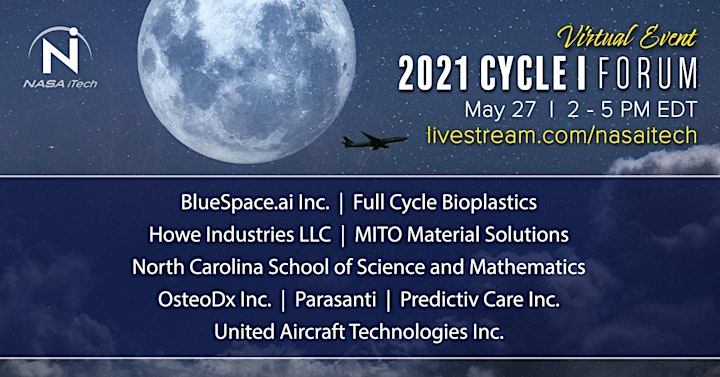 NASA's unique government program, NASA iTech, seeks out cutting-edge technologies with applicability to NASA's mission. For the virtual 2021 NASA iTech Cycle I, the Agency is identifying strategic technological innovations that have the potential to meet demands of life on Earth and space exploration.
Through a competitive selection process, NASA is seeking solutions in the areas of Advancements in Mining; Autonomous Systems for Aeronautics; Community Integration of Advanced Air Mobility (AAM); Electric Aircraft; Enabling Technologies for Handling and Ride Quality in Urban Air Mobility Vehicles; Power Generation/Energy; Quantum Sensors; Resource Optimization; Small Satellite Technology; Small Spacecraft Technology; Space-Age Packaging Solutions; Synthetic Biology; X-Factor Aeronautics; and X-Factor Innovations.
From the submissions, NASA's Center Chief Technologists select finalists, whose innovations show the greatest potential for commercialization and solutions to problems in space and here on Earth, to participate in the 2021 NASA iTech Cycle I Forum, a virtual event.
The finalists will present and workshop their solutions. You will participate alongside NASA, innovators, investors and industry leaders in a series thematic discussions and impact tables. At the conclusion, the 3 winners of the 2021 NASA iTech Cycle I will be announced.
For more information about NASA iTech visit www.nasaitech.org.