2021 NABSE Southeast Regional Conference
Delivering on the Promises: Equity, Social and Racial Justice
About this Event
Join Equal Opportunity Schools and school leaders from Charlotte-Mecklenburg and Pasco County in this community building session: From Ripples to Waves - Creating a Culture of Equity. In this session, our speakers will touch on the impact of instructional leadership, learning styles of African American students, mental health and SEL supports, and best practices surrounding implicit racial bias.
During this conference, leaders will be challenged to think about how equity work can be infused in all aspects of school culture: from instructional leadership and goal setting, to professional development around implicit racial bias, to mental health and SEL training for staff, to student learning experiences and expectations of students of color, and increasing parent/community involvement.
Keynote Speakers
Dr. Eddie Moore Jr. - Building a Community of Cultural and Racial Competency
Robert Jackson - Becoming the Educator They Need: Mindsets, Strategies and Beliefs for Educating Black and Latino Males
Speakers
Laura Stewart - Delivering on the Promise of Literacy for All: YES, We Can!
Hotep and Dr. Donnie Crenshaw - The Minority Report
Candice Washington and Harold Dixon - Using Data Informed Practice to Engage Family and Community
Marlon Smith - "Family Financial Freedom"
Dr. Geneva A. Stark - "Ensure Every School District has a Racial Equity Policy"
Sonya Coleman - Curriculum Associates
Stephanie Sneed, Esq. - Issues Impacting African Americans
Dr. Geneva A. Stark - Ensure Every School District has a Racial Equity Policy
Dr. Roger Todd - Using Behavioral Science to Help Families Close the Attendance Gap
Eddie Lincoln, Dr. Tracey Conrad, Marquise Roberson, Kristin Ward - From Ripples to Waves: Creating a Culture of Equity
This conference will feature workshops, presentations, resources, and opportunities to network virtually with schools, affiliate members and communities looking for answers to achieve equitable solutions to challenges facing today's youth.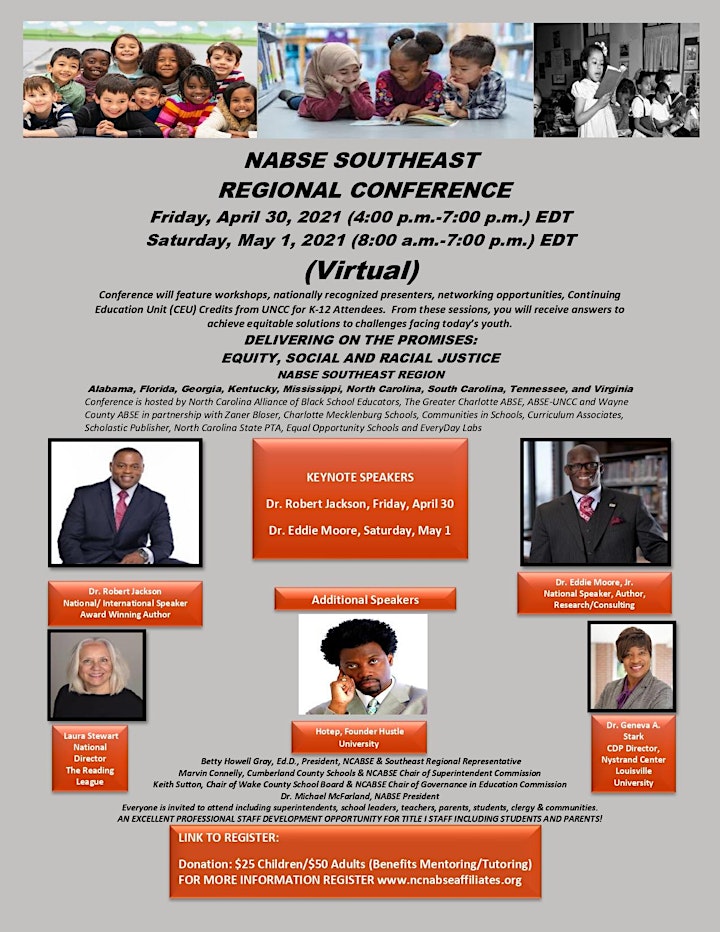 Date and Time
Location
Refund Policy