2021 MTBA Annual Symposium, Presented by MTBA.
About this event
Midwest Taiwanese Biotechnology Association proudly introduces you:
2021 MTBA Annual Symposium, at Northwestern University, Chicago, IL.
Midwest Taiwanese Biotechnology Association (MTBA) is bringing back our annual symposium (MTBS) to hybrid format (both in-person and online-streaming) this year! The MTBS will be held on 9/18/2021 (Sat.) and 9/19/2021 (Sun.) at Robert H. Lurie Medical Research Center at Northwestern University in Chicago, IL, and we are proud to announce various programs including keynote speeches, workshop, academic panel discussion, and industrial panel discussion.
Please don't hesitate to invite all your friends to join our annual symposium!
美國中西部臺灣人生物科技協會 (Midwest Taiwanese Biotechnology Association, MTBA) 在2021年再度將實體年會(Annual Symposium)呈現給大家。9/18 (週六)到 9/19 (週日) 於芝加哥的西北大學舉行,主題分別是 Keynote Speech, Workshop, Industry Panel Discussion 和 Academia Panel Discussion。
我們邀請在世界各個角落的朋友一起參與年會!年會豐富精彩,也同時開放線上同步直播,大家趕快報名 2021 MTBA annual symposium吧!
Speakers:
Keynote Speakers:
Academic Keynote Speech: Cathy H. Wu, Ph.D.
Industrial Keynote Speech: Chuan (Joe) Shih, Ph.D. 石全
Science Policy Workshop Speaker:
Rachel K. Owen, Ph.D.
Academic Panelists: Returning to Taiwan.
Chuan-Chih Hsu, Ph.D. 許全智
Yu-Wei Wu, Ph.D. 吳育瑋
Jer-Young Lin, Ph.D. 林哲揚
Academic Panelists: Different academic career paths.
Yi-Hsien Chen, Ph.D. 陳易賢
Hsuan-Chieh (Joyce) Liao, Ph.D. 廖軒節
Min-Yu Sun, Ph.D. 孫敏瑜
Erica Cai, Ph.D. 蔡佩珊
Industrial Panelists: Different jobs in the biotechnology industry.
Shih-Hsun (Sean) Cheng, Ph.D. 程士勳
Elizabeth Tseng, Ph.D.
Tzu-Ching Wu, Ph.D. 吳子青
Agenda: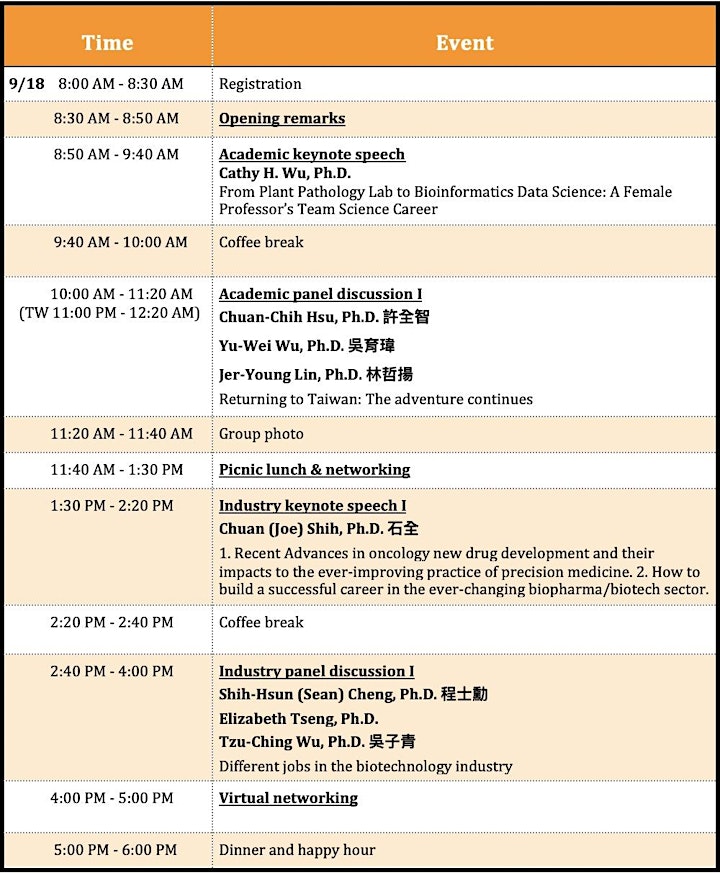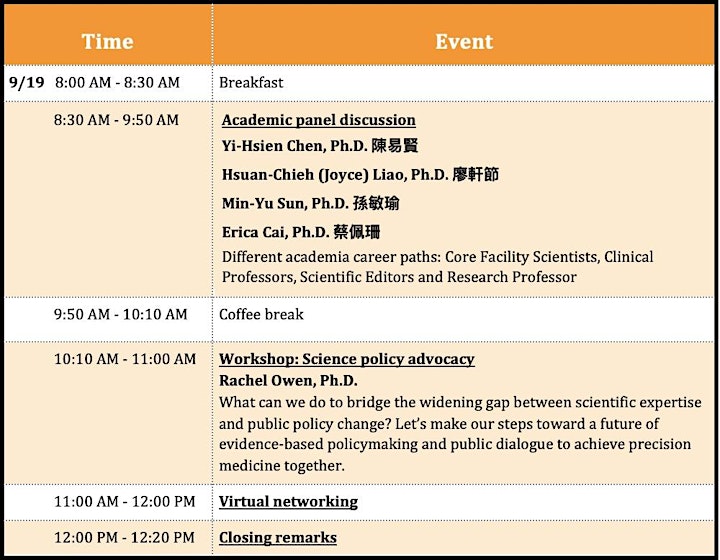 與會規定 (Participation Guideline):
1. 若有身體不適歡迎改為線上參加,我們會全額退費。
Free free to let us know if you want to participate virtually anytime after in-person registration because of a health issue, and you will receive a full refund.
2. 與會者每天必須回答COVID-19相關問題、量體溫,才能入場。
Participants need to finish the COVID-19 questionnaire and measure body temperature before entering the indoor meeting venue.
3. 為避免疫情擴散,與會者年會後若為COVID-19確診者請回報主辦單位。
In order to follow the COVID-19 self-isolation and contact tracing guideline, please let us know if you test positive for COVID-19 after the symposium.
4. 工作人員當天會現場通過快篩才入場工作。現場備有酒精、乾洗手等清潔用品。
All of the symposium staff will test for COVID-19 before the symposium. The symposium will provide hand sanitizer for participants.
5. 進入伊利諾州可能會需要出示疫苗證明,如已接種請攜帶。
Travelers entering the State of Illinois might need to provide the COVID-19 vaccine record, please bring yours if you are fully vaccinated.
6. MTBA 年會現場一切規定依照芝加哥及西北大學當時防疫守則為準。
The MTBA Symposium will follow COVID-19 rules and guidelines of the City of Chicago and Northwestern University.
https://www.northwestern.edu/coronavirus-covid-19-updates/university-status/on-campus-activities/events.html
Noted:
Participants that would like to attend the virtual symposium are still required to register for the event. The online-streaming YouTube link will be sent out along with the program welcome letter before the event starts. Thanks for your cooperation.
預計參與線上活動的朋友,也請麻煩填寫報名表單。同步直播的YouTube連結會在活動開始前隨電子會議手冊與與會事項寄出至各位的電子信箱。再次感謝各位的配合。