15 Finalists, 15 innovative solutions—Who will win? Join us — REGISTRATION IS FREE!
About this event
Calling all Investors, Medical Device Innovators, Biotech Entrepreneurs, Academics, Students, and Life Sciences Industry Professionals:
Join the worldwide life sciences community online as the $200K Challenge finalists selected through a competitive process last spring receive their share of our $200,000 purse of sponsor-provided, in-kind resources that can help take an innovation to the next level -- or even to market!
We are excited to share that attendees from anywhere can learn about these startups and bring their own questions. During the networking portion of the event, meet with the finalists in easy-to-navigate break-out rooms and learn more about their innovative solutions.
CASH AWARDS: $50K FROM MASS LIFE SCIENCES & $25K FROM M2D2!
Examples of in-kind resources awarded in the Challenge include lab space, equipment, and legal/regulatory guidance.
We've seen past winners advance to larger funding rounds, commence clinical studies, and enter strategic partnerships with global life sciences companies. Join us as we announce this years winners!
TICKETS ARE FREE:
Awards Celebration — Wednesday, April 7th @ 5pm ET
Join us for the announcement of the $200K Challenge winners!
Mary Ann Picard, M2D2 Director of Operations, commented on the Finalist selection process: "Every year, the Challenge gives us a peek at amazing early-stage ideas in medical devices, medtech, biotech, and therapeutics. This year is our second time hosting the Challenge virtually. We are excited that attendees from anywhere can learn about these startups' innovative solutions."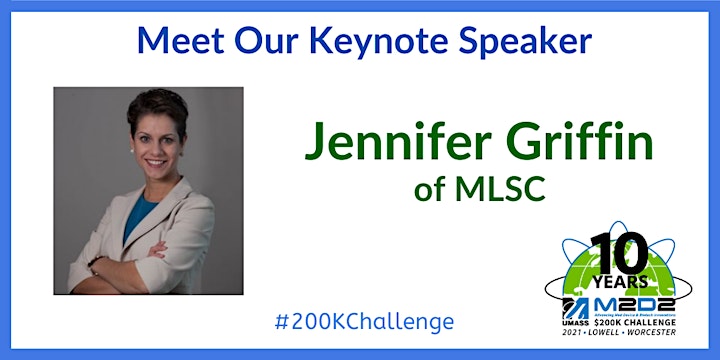 Vice President, Industry Strategy and Investments , Massachusetts Life Sciences Center
Jennifer has over 10 years of experience working to develop life science technologies in the public, private and academic sectors. She has advised investors, universities, and management teams around the globe and is currently responsible for developing the State's investment strategy to strengthen the life sciences industry in Massachusetts.
Jennifer joined the MLSC in September of 2017 as the Vice President, Industry Strategy and Investments. In her role, she develops and manages the investment strategy for a variety of initiatives and partnerships for the life sciences industry, including with private, public, and nonprofit stakeholders. These include investments targeted at seeding early-stage companies, supporting underrepresented entrepreneurs, accelerating industry –academia partnerships, as well as attracting and retaining life science companies in the Commonwealth of Massachusetts.
Meet 2021's $200K Challenge Finalists
15 finalists have been selected from more than 170 applicants for the 10th Annual M2D2 $200K Challenge.
AcousticaBio – Reformulated intravenously-delivered biologics for subcutaneous injections
Aidar Health – A non-invasive, hand-held, home monitoring device.
Apercu – Non-invasive and mobile on-catheter monitoring system for CAUTIs
Assure Technologies – Precise syringe for accurate small volume medication measurements
BioSens8 – Novel class of biosensors
Breegi Scientific, Inc. – Single use wearable airlock head chamber system
D&P Bioinnovations – Immune modulating anti-inflammatory organ regeneration platform
General Prognostics Inc. – Platform for continuous blood biomarker monitoring
Kalia Health – Urine-based POC detection test for preeclampsia
SaluTech Limited – Novel biomaterial that mimics conductive velocity
Theromics Inc. – Thermal accelerant for the ablation of soft tissue
Tremedics Medical Devices – Bioresorbable stent composed of poly-L-lactide fibers
Tritheter Corp – Smart catheter system
UMass Medical School – Novel In-vitro and in-vivo hydrogel
Weill Cornell – 3D rendering MRI technology
THANK YOU TO OUR 2021 SPONSORS: