2021 Kenya Diaspora Conference: Fri. & Sat. August 27-28, 2021 Four Points by Sheraton Hotel, Seattle Airport South, Seattle,WA
About this event
The global COVID -19 pandemic has been very disruptive worldwide and wrecked havoc everywhere. Kenyans in the Diaspora have not been spared but through God's grace and resilience we are rebounding. As America opens back up we hope to resume our robust Economic Diaspora Development and Advancement agenda and invite you to join us in the effort. The Diaspora Conference is also an opportunity for us to hit the reset button, rebuild and seize new opportunities that await us. It is also a great chance to reconnect with fellow Kenyans and Americans to discuss and chart the way forward for our community.
For our business community, partners and vendors, the conference is a great conduit to connect with potential customers and create lasting bonds.
This Conference is a collaboration of Kenyans in America and their affiliated organizations that form the Association of Kenyan Diaspora Organizations, Inc. Our primary focus is to advance our common welfare. The Conference theme this year is "Diaspora Expanding Partnership for a Brighter Future" wherein business leaders, government officials, Kenyans such as yourself will have the opportunity to meet and engage directly with fellow Kenyans. It is also a great opportunity to create lasting business partnerships that has a potential to blossom into great ideas and success.
Topics up for discussion include business and investment opportunities of mutual interest including Governance, Banking, Healthcare, Tourism, Africa Growth & Opportunity Act (AGOA), Real Estate, public infrastructure, Women and Youth, and Diaspora representation.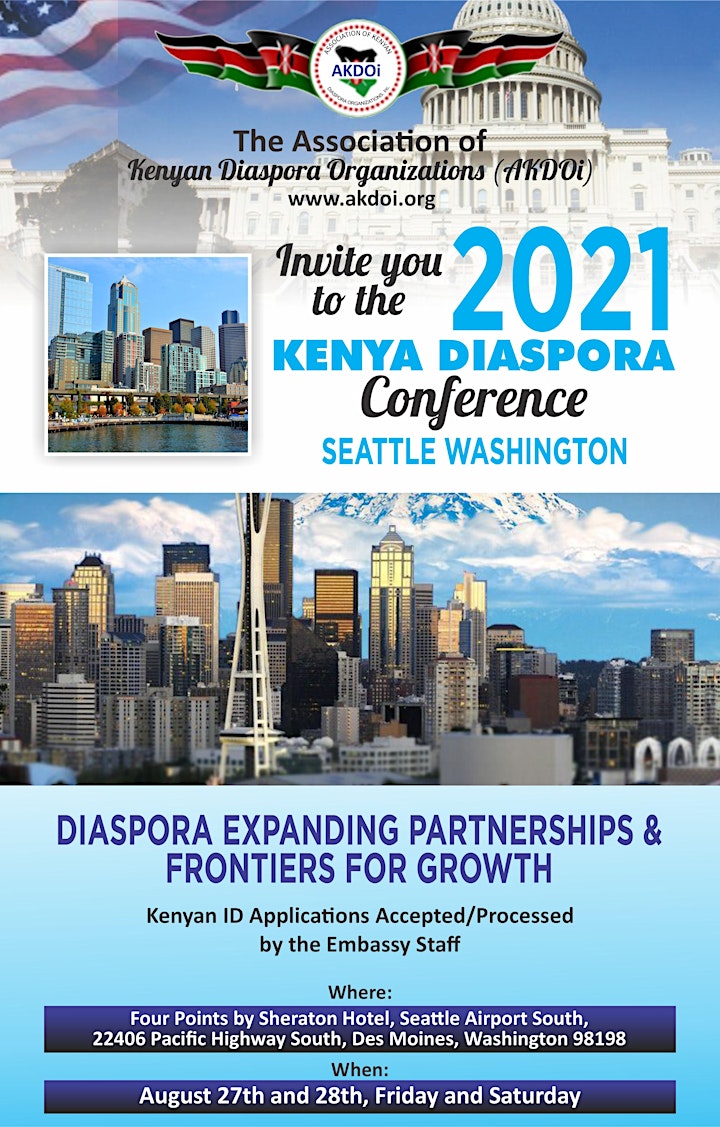 Organizer of 2021 KENYA DIASPORA CONFERENCE
The Association of Kenyan Diaspora Organizaions, Inc. is a coalition of Diaspora Organizations spread across the world with its primary headquarters in the United States. Our objective is to unite and advance our common welfare i.e. economic, health, social and political. In this umbrella, you will find unity of purpose and commitment to serve all of our people wherever they are as well as our homeland, Kenya.