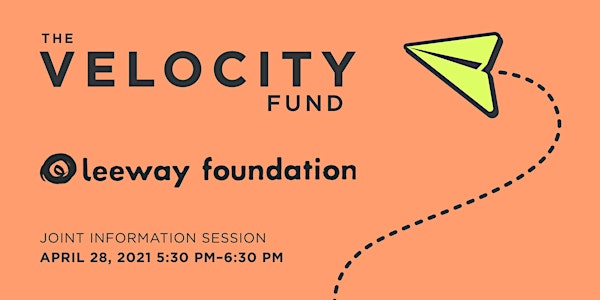 2021 Joint Information Session - Velocity Fund & Leeway Foundation
2021 Joint Information Session - Velocity Fund & Leeway Foundation
About this event
Join us on-line –Wednesday, April 28th at 5:30PM– for a double-header of artists opportunities where you can learn more about The Velocity Fund –AND– The Leeway Foundation.
Find out about upcoming grants and answer any questions about the application process in this Joint Information Session.
Our community partner for this event– Fleisher Art Memorial – will kick off the short presentations, serving as our host as we convene remotely via Zoom.
After registration, we will send the direct link to the talk. Please note: by participating in this event, Zoom will log your attendance information, and although we are not recording the conversation, it will be accessible by the administrator.
w. velocityfund.org/ –AND–- https://www.leeway.org/
f. facebook.com/thevelocityfund/ –AND– facebook.com/leewayfound/
i. instagram.com/thevelocityfund/ –AND– instagram.com/leewayfound/

The Velocity Fund directly supports artists to organize ​new ​collaborative projects throughout the city of Philadelphia by awarding grants up to $5000. Philadelphia's visual artists are a diverse community of makers and thinkers from multiple social, economic and cultural backgrounds. The ​Velocity ​Fund is open to a wide range of experimental practices, particularly those that emphasize collaboration between artistic genres leading to expanded audiences, fresh outcomes and an enriched multi-disciplinary discourse.
The Velocity Fund is administered by Philadelphia Contemporary and is supported by The Andy Warhol Foundation for the Visual Arts's Regional Regranting Program.
Application Deadline: June 14, 2021

Leeway Foundation's grantmaking programs, the Art and Change Grants and the Leeway Transformation Awards fund women, trans*, and gender nonconforming artists and cultural producers living in Greater Philadelphia (Bucks, Camden, Chester, Delaware, Montgomery, and Philadelphia Counties), who engage in art and social change work.
Leeway supports the natural intersection of art and social change. We understand that art is not born in a vacuum. Art is created within a context. Who we are, where we live, how we relate to our communities, and how we view the world influence what we create, how we create, and why we create art for social change.
The Art & Change Grant offers up to $2,500 in art for social change project-based funding. → Deadlines: March 1 & August 1
The Transformation Award offers $15,000 of unrestricted funding for artists who create art for social change and have done so for the past five years or more.
→Deadline for Stage 1: May 15