Come #ConnectAndCollect with Ocean Conservancy for the 36th Annual International Coastal Cleanup Event at Kingman Island
About this event
Covid-19 Precautions*
Due to anticipated number of volunteers, masks for the duration of the event are highly encouraged, regardless of vaccination status. Masks will be required when under tents or in crowded areas, unless you are actively eating or drinking. All Ocean Conservancy staff will be masked at all times during this event. Food provided for this event will not be communal but rather, grab and go. Group resources, such as water dispensers and restrooms, will be disinfected often during the event. If you are feeling unwell or know that you have been exposed to Covid-19, we ask that you please sit this event out. Thank you for your cooperation!
The Event
Scientists estimate that more than 17 billion pounds (8 million metric tons) of plastic enters our ocean every year. These plastics not only threaten marine life­, but can also impact us. We depend on the ocean for the air we breathe, the food we eat, and the water we drink. Making a difference for our ocean is easy. The International Coastal Cleanup has brought together more than 16 million people from 150 countries and counting to be part of the world's largest volunteer effort to protect the ocean. Volunteers have collected over 340 million pounds of trash along our coastlines and waterways! Will you join us this year?
Ocean Conservancy's 2021 DC International Coastal Cleanup event is on Saturday, September 18th from 9:00am – 12:00pm. Join us on Kingman Island along the Anacostia River (near RFK) to remove debris before it reaches the ocean. Breakfast, lunch, and supplies will be provided, including sun screen and bug spray. ***Just make sure to wear closed-toe shoes, bring a reusable water bottle, and your mask!***
Don't forget the Data! The information collected about the trash removed incredibly valuable for finding long term solutions for trash free seas. Be a part of the solution: download our Clean Swell app before the Cleanup to keep track of the trash you collect! 
Register for this free event with Eventbrite.
Getting There
Please note that there are two other events taking place at the RFK fields and parking lots on September 18 (a farmers market and a kickball tournament). If you plan on taking the Metro, a shuttle will be available to take you from the Stadium-Armory Metro Station to Lot 6 of RFK Stadium where staff members will direct you to Kingman Island.
Metro Directions: Take the Metro to the Stadium-Armory Station. When you exit the train, follow exit signs to Stadium Armory. Take the escalator to street level and look for event volunteers who will direct you to the shuttle. Shuttle will operate between the Stadium-Armory Metro Station and Lot 6 at RFK Stadium from 8:30 am - 1:00 pm. PLEASE NOTE: If you exit the train and follow the signs to DC General Hospital, you will need to walk 3 blocks north on 19th St SE to get to the shuttle. Participants can check first train times at their station here: https://www.wmata.com/rider-guide/stations/index.cfm and then see what time they will arrive at Stadium-Armory by using the WMATA trip planner found here: https://www.wmata.com/
Parking: If you plan to drive to the event, free parking is available in Lot 6 of RFK Stadium. When you arrive, look for the Ocean Conservancy tent in the parking lot under the elevated Metro train track. Staff members will direct you to Kingman Island. The kickball tournament participants are required to pay to park, but parking will be free for any ICC volunteer. If an attendant is posted at the parking lot entrance, please show them the image below and tell the attendant you are part of the "Ocean Conservancy International Coastal Cleanup."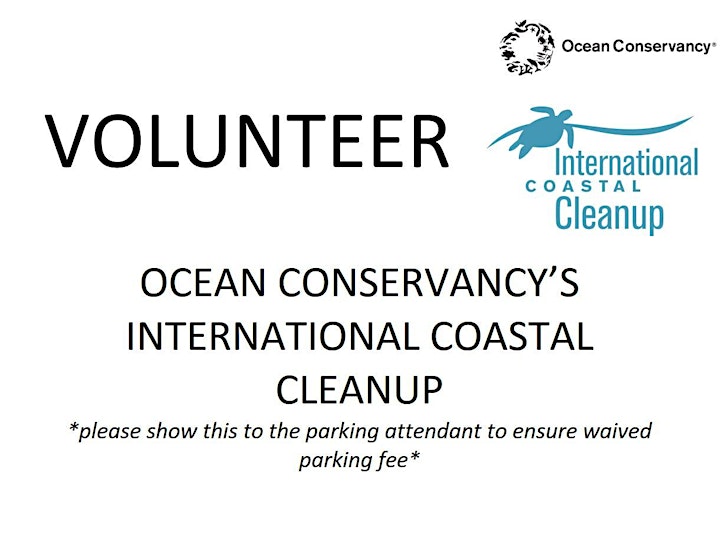 Weather
We will keep you notified of the event's status via email if inclement weather seems probable. If it rains, we'll likely proceed, unless there is a chance of thunder and/or lightening. Make sure to check your email in the days leading up to the event for updates from us.
Banner photo image: Keegan Callender
Organizer of 2021 International Coastal Cleanup DC, Kingman Island