Sales Have Ended
Ticket sales have ended
To adhere to COVID-19 guidelines, seating is limited. No ticket are sold on show day. All tickets MUST BE purchased in advance. Don't miss out on this spectacular event! If you are bringing a child, please indicate during checkout. They are included in the headcount. Thank you! Tivisay - Event Promoter. 901.268.5721
Sales Have Ended
Ticket sales have ended
To adhere to COVID-19 guidelines, seating is limited. No ticket are sold on show day. All tickets MUST BE purchased in advance. Don't miss out on this spectacular event! If you are bringing a child, please indicate during checkout. They are included in the headcount. Thank you! Tivisay - Event Promoter. 901.268.5721
INBA amateur natural bodybuilding competition. Categories include; Bodybuilding, Figure, Physique, Classic Physique, Bikini Divas & more!!
About this event
Saturday, November 27 , 2021
It's Thanksgiving Weekend. What shall I do?
JOIN US @ this OUTDOOR EVENT! PLEASE WEAR A MASK FOR ENTRY.
Natural bodybuilding competition. Categories include; Bodybuilding, Figure, Physique, Classic Physique, Bikini Divas, Bikini Mamas, Angel, Sports Model, Evening Gown, Ink, Body Quest, Kids & Teen Fitness & More! This competition is a PNBA Pro Qualifier. One newly PNBA Pro will win the Title of Mr. or Ms. Florida!
Registration and show information can be found by visiting www.naturalbodybuilding.com. And on social media at:Facebook: ELITE-Physique-Championships-928328823922109IG: tivisayb
SHOW TICKETS:* $25.00 per ticket - General Admission
Tickets ARE SOLD AT THE DOOR! Tickets can be purchased via cash or by phone: Cash App, Venmo, Paypal, Zelle.   
*  Children under 12 are FREE 
Doors open at 8:30 AM.  Please wear a mask for entry. Show begins at 9 AM SHARP. Come and join the fun! Following the show is a live band starting at 2 PM.  
PARKING INFO: Parking at Shephard's Beach Resort is $10.00 for the entire day with an event ticket.  Must use valet parking.
Notice for: Video, Camera, Audio, and No Live Streaming. No video equipment will be allowed in the venue. NO DETACHABLE LENSE CAMERAS are allowed. No soliciting of photo or video services is allowed on the premises. No camera bags, tripods and other equipment is allowed in the venue. The International Natural Bodybuilding Association prohibits the use of camera/video photography, video recording, audio recording, and live streaming at any of its sanctioned or promotional events. Express permission must be granted and approved by the INBA/PNBA Head Office.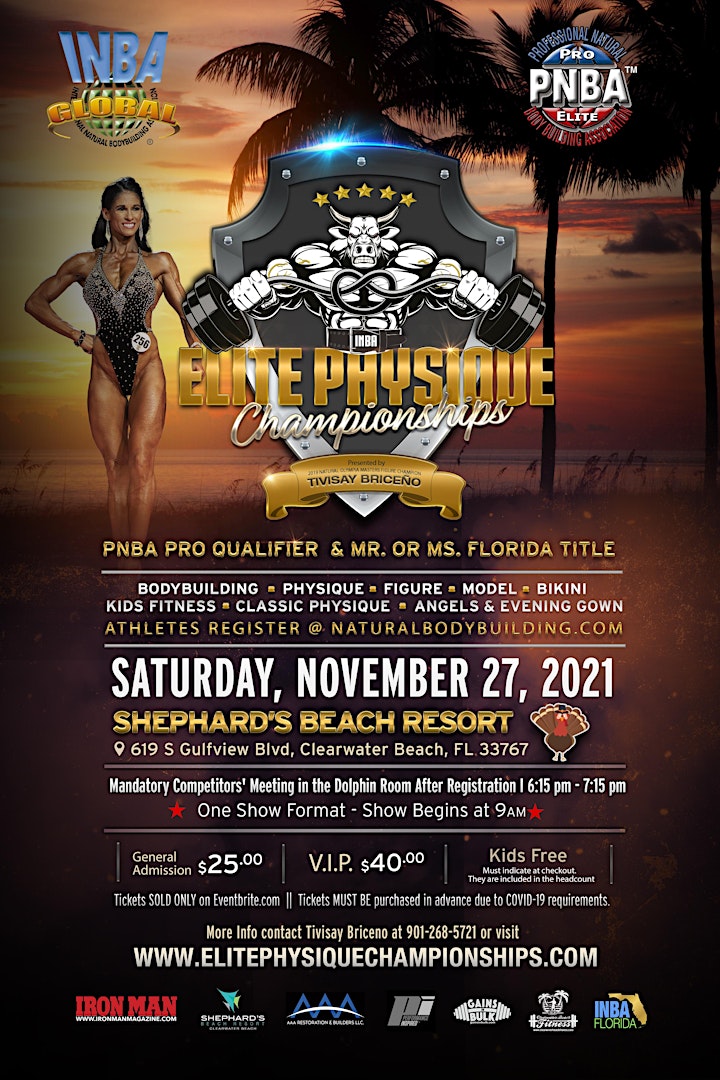 Organizer of 2021 INBA Elite Physique Championships - Natural Bodybuilding
INBA Elite Physique Championships is promoted by the 2019 Natural Olympia Figure Masters Champion, Tivisay Briceno.  This is Tivisay 5th year promoting Elite Physique Championships, an amateur bodybuilding competition.  A resident of Clearwater, Florida, Tivisay has 11 years experience as a professional bodybuilder, holding (3) three professional cards; PNBA Figure, PNBA Angel and IFBB Figure.  She's also judge competitions for NPC and OCB.  Tivisay is currently a NASM Certified Personal Trainer and a NASM Corrective Exercise Specialists. Tivisay is also a Financial Analyst for Eckerd Connects' Early Head Start program.