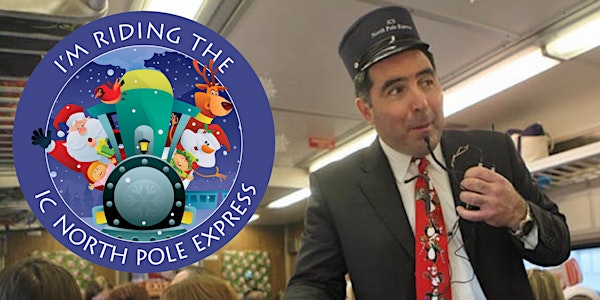 2021 IC North Pole Express has sold out!
The 2021 IC North Pole Express tickets have sold out. Thank you.
When and where
Location
Newburyport Commuter Rail Station 25 Boston Way Newburyport, MA 01950
About this event
The Annual IC North Pole Express will leave the Newburyport Commuter Rail Station for the North Pole on Saturday, December 4th, 2021
Ticket sales will open to the public on Saturday, November 6th, 2021 at 7:00 am. Maximum of 10 tickets allowed per order. No refunds or exchanges. Ticket Cost: $40.00 plus fees. Once tickets are sold out, you may sign up for our waitlist. In the event additional tickets become available, Eventbrite will offer them to customers on the waitlist.
Train Departure Times: 
11:20 am, 1:20 pm, 3:20 pm, and 5:20 pm
Event Information
The 50 minute round trip adventure includes a reading of "The Night Before Christmas", visits from Christmas characters, Santa and his elves, and a Tinsel Treat bag to enjoy at home. Please note there will be no eating or drinking on the train as per MBTA Covid regulations. A silver bell will be presented to each child. Come in your pajamas or as you are. It is truly a magical experience for children and parents alike. Remember to bring your camera!
Event Boarding & Location:  Please plan to arrive at the Newburyport Train Station [see map] 45 minutes before your scheduled departure.  This will allow enough time to enjoy the Polar Village, have your tickets scanned and receive your wristbands for boarding the train. Please allow the IC NPE platform managers to escort your entire group to the train car, and settle in without stress.  Your departure time is on your ticket.
Parking:  The cost of parking is included in your ticket price this year. There is plenty of parking available at the train station. Passengers riding the 11:20 and 3:20 trains should park at the Boston Way parking lot. Passengers riding the 1:20 and 5:20 trains should park at the Route 1 side parking lot.  Direct access to the train will only be available from the Polar Village (the station off Boston Way – see map).  Passengers who park in the Route 1 parking lot may cross the railway tracks to get to the Polar Village
Seating:  Please plan to meet your entire group in the Polar Village as boarding will occur once the entire group has arrived. There will be no reserved seating. Platform managers will escort all riders to a train car.
Platform managers will escort all riders to the train cars. Each passenger car will be clearly numbered 1-7.
Attire: Children are encouraged to wear their pajamas. 
Polar Village Shopping: A link will be sent to ticket purchasers to our online Polar Village for the opportunity to pre-purchase festive items.
Restrooms: There are portable restroom facilities in the Polar Village, but only one restroom on the train.  Please plan accordingly and encourage children to use facilities before boarding the train.
Format: Each train car will have its own conductor.  Santa will visit each train car after we reach the North Pole.
Handicap Accessibility: There are designated handicap accessible areas on the train. Please contact us in advance at icsnpe@gmail.com in order to make sure that we are able to accommodate your needs.
Event Protocol
Tickets may be purchased online via Eventbrite and will be processed immediately. No refunds or exchanges. Ticket orders will be filled in the order they are received until they are sold out. In the event more tickets are made available, we will offer them to those who register for the waitlist through Eventbrite. Reselling tickets for more than the ticket cost plus fees is prohibited.
Ticket holders assume all risks related to Covid-19 and will not hold the Massachusetts Bay Transit Authority or Immaculate Conception School liable for any illness.
In accordance with the MBTA anyone over the age of 2 must wear a mask at all times while on the MBTA property which includes the train and the Polar Village regardless of vaccination status.
Due to the enormous efforts required to put on this event, the North Pole Express will run rain, snow, sleet or hail. No refunds will be issued if you miss your train.
The entire event takes place on the train. No one will be allowed to leave the train when it stops for turn-around at the North Pole.
No strollers or car seats will be allowed on the train. No equipment will be permitted in the aisles of the train. All bags must be stored overhead.
All seats will be occupied. Please bring as little on board as possible.
Children age one and older MUST have a ticket. Infants under the age of one MUST sit on an adult's lap.
Parking Information - Passengers riding the 11:35 and 3:15 pm trains should park at the Boston Way parking lot. Passengers riding the 1:15 and 5:30 trains should park at the Route 1 side parking lot.
Event History
2021 marks the 20th year that Immaculate Conception School has created this experience right in Newburyport! The event has become more popular with every passing year. In total, over 69,700 people have ridden the trains over the past several years in what has become one of the premier Christmastime events on the North Shore. This year, over 3,700 people will ride the rails on our magical journey to the North Pole.
Immaculate Conception School
Our school, in downtown Newburyport, MA, has been providing a quality education to children from the North Shore and Seacoast regions since 1882. We promote an enthusiasm for learning, encourage students to reach their full potential, and foster the development of each child's moral compass, to become confident problem solvers, and compassionate future leaders.
IC North Pole Express By the Numbers
Countless volunteer hours are required to create the IC North Pole Express Event
2,600+ People will ride the train this year
2,148 miles from Newburyport to the North Pole
Hundreds of volunteer positions are filled on event day
35 Conductors will work the ride.
7 Train Cars will run the route
3 Feet of snow fell during the 2003 IC North Pole Express
The IC North Pole Express is our school's largest fundraiser.
100% of the net proceeds go directly towards funding the operating expenses of the school.
Thank you! We appreciate your support!
Questions about tickets: Please contact Eventbrite with any questions or issues related to tickets. Other questions may be directed to icnpexpress@icsnewburyport.com. Our parent volunteers will do their best to respond to questions within 72 hrs.