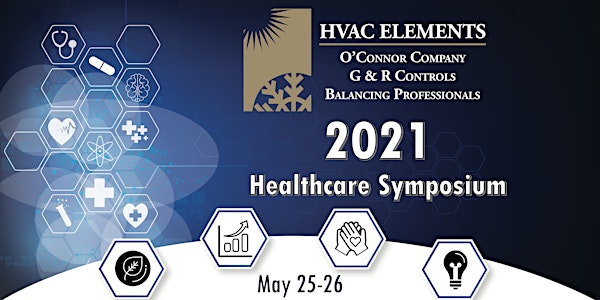 2021 HVAC Elements Healthcare Symposium
Join us for a two-day event focusing on improving healthcare environments.
Date and time
May 25, 2021 · 11am - May 26, 2021 · 1pm CDT
Location
Hilton Garden Inn Sioux Falls Downtown 201 East 8th Street Sioux Falls, SD 57103
About this event
Conserving Energy, Saving Money and Enhancing Patient Experience
HVAC Elements (O'Connor Company, G & R Controls and Balancing Professionals) is hosting a Healthcare Symposium on May 25-26, 2021 at the Hilton Garden Inn Downtown in Sioux Falls, SD. As we look to serve and inform the healthcare industry, we invite you to a two-day symposium on relevant building environment topics. Educational seminars will be held on May 25 from 12 noon to 6:00 p.m. and May 26 from 8:00 a.m. to 12:00 noon.
The event will kick off with Master of Architecture, Dr. Stephanie Taylor, MD, M. Arch as the keynote speaker. Dr. Taylor worked as a physician for several decades before obtaining her Masters in Architecture and Infection Control certification to gain a better understanding of the impact of a building's environment on patient well-being. Currently her patient care commitment focuses on improving healthcare environments and workplace processes resulting in better patient outcomes and reduced risk to infectious disease.
Educational seminars will be offered from various HVAC experts who specialize in products used in healthcare applications. Topics include surgical suite equipment, humidity's impact on hygiene, energy management and operational savings, chillers, filters, hot water system design and best practices in building automation. Professional Development Hours (PDHs) will be offered for each session.
A product showcase will be on display throughout the duration of the event for attendees to view and ask additional questions.
Event is free of charge, but we ask you to register for planning purposes. If needed, hotel room reservations can be made during the registration process.
Registration EXTENDED to May 10!
Schedule:
Tuesday, May 25
11:00-12:00 Registration & Product Show
12:00 Welcome & Lunch
12:30-1:30 Keynote Speaker: Dr. Stephanie Taylor
1:30-2:20 Humidification, New Technologies, and Energy Efficiencies for Healthcare by Condair
2:20-3:10 Healthcare Filtration Updates with Ashrae 170-2021 Ventilation Standards & Design Guides to Optimize Filters and Energy by AAF
3:40-4:30 Helping Hospitals prevent and reduce Healthcare Associated Infections (HAI) by implementing a Pressurized Spaces Program using ASHRAE 170 by Siemens Industries
4:30-5:20 ​Enhanced Airflow Measurement Strategies by Ebtron
5:30 Cocktail hour/Product Show
Wednesday, May 26
7:00 Breakfast & Product Show
8:00-8:50 Air Distribution for the Modern OR by Price Industries
8:50-9:40 HVAC Equipment Design and Efficiency for Healthcare Facilities by Daikin
10:00-10:50 How to Make Your HVAC Systems Pandemic Ready with Needlepoint Bipolar Ionization by Global Plasma Solutions
10:50-11:40 Hot Water Boilers & Hydronic Heating Systems by Thermal Solutions
11:40-12:00 Wrap Up
12:00-1:00 Lunch
HVAC Elements will monitor current and projected COVID-19 infection rates to determine when or if changes in delivery format will be required. If you need to alter your participation due to corporate travel restrictions, positive COVID-19 test result, close contact with positively infected person, etc. please contact Amy Rans (amy.rans@oconnorco.com or 605-336-0333)
About the organizer
HVAC Elements is the marketing arm which includes O'Connor Company, G & R Controls and Balancing Professionals. The three independent businesses cover different aspects of the commercial HVAC business. Being a part of HVAC Elements allows customers easy and direct access to expertise in HVAC equipment, building controls, energy management and testing, analyzing and balancing of HVAC systems.